[UPDATE Nov 4, 2015: We're giving out tickets to catch the 2015 ATAs! More, on this Facebook link.]
MediaCorp's English free-to-air Channel 5 plans to kickstart an ambitious project in 2015. Its "Local Upsize" campaign plans to not only make local programming more than half of the channel's programming for the year, a slew of projects, a kids' show and talkshow belt and a 199-episode daily drama are serious attempts to bring back the focal on local.
While such a move may garner skepticism considering the quality of programmes that have deteriorated of late (see: Maggi & Me, Red Thread), the wins that the channel and MediaCorp garnered for new initiatives at the recent Asian Television Awards may be an indication that things are going on the upswing.
The awards were held December 11 at the Marina Bay Sands to honour the best in regional television. Once dominated by Singapore's MediaCorp a decade ago, competition has now stiffened in part due to strong competition from titles in countries such as Korea, Thailand and the Philippines. Channel 5 finally bagged the Terrestrial Channel of the Year award since its last win in 2010, while MediaCorp once again took the Terrestrial Broadcaster of the Year award for the second consecutive year after losing it in 2012 to Korean Broadcasting System.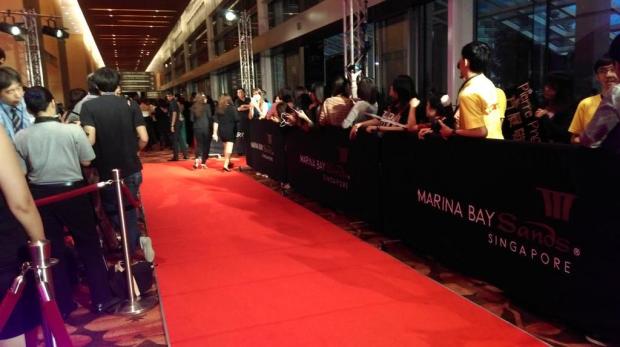 A bumper crop of original formats and talent outside the highly-publicised 8 Dukes collective has boosted MediaCorp's wins this year. Three awards were given to Channel 5 comedy Spouse For House, including Best Original Screenplay and Best Comedy Programme. Best Current Affairs Programme was given to Channel NewsAsia's Undercover Asia while the lead actor and supporting actor wins were swept by Pierre Png and Rayson Tan respectively. Jeffrey Xu, part of the 8 Dukes, was snubbed from a double-nomination in the supporting actor category.
The broadcaster's managing director for television Bernard Lim said to Popspoken during the Asian Television Awards that the race to acquire television dramas and other formats overseas is fast becoming difficult due to the intense competition by cable operators that have set up shop in Singapore. Seeing as how other channels have benefited from original series, the move to go back to what Channel 5 was originally famous for is therefore timely — to beef up the made-in-Singapore content and talent for a familiar audience.
An example of quality talent that has been featured on TV comes from the works of Lee Thean-jeen, who is behind critically-acclaimed shows such as The Pupil and Code Of Law. More recently, he is behind the first season of thriller Zero Calling, which Pierre Png nabbed a lead actor win for. Pierre said to Popspoken that he knew Thean-jeen's work was special the moment he picked up the Zero Calling script.
"If it's any English drama you want to be on, you want to be on a (Lee) Thean-jeen project. I didn't get a chance to thank him for directing me and letting me do whatever I needed to do, trusting me. All they wanted was for me to be natural — they didn't care about lighting, they just wanted me to do my thing. I got a chance to choreograph some of my fight scenes, so that was exciting."
For Singapore production house WaWa Pictures, the stab into digital programming has paid off handsomely. A xinmsn web drama, Who Killed The Lead, nabbed the Best Digital Programme win. Don't dismiss actress Jesseca Liu just yet — she was far more involved in the drama than just reading off the lines.
A WaWa rep said that Jesseca was one of the scriptwriters in the drama series, spending three weeks including Chinese New Year crafting the script with the other writers. And yes, there were creative differences during brainstorming, just as you are about to think that Jesseca is a yes man.
The rep relishes the challenge of writing for web. "It is more challenging to do a web drama because the time is limited to 10 minutes. How do we create a cliffhanger after only 10 minutes? We don't have an hour to tell a story," she said.
While Chinese formats have known to have had a degree of success, the biggest challenge the broadcaster has had to pull off is to restore the confidence back into English programming. With comedy Spouse For House's three wins, supporting actor Alaric Tay is assured that production behind the comedy is rock solid.
"(The win) just reaffirms the production that we had behind the project. I just knew that it was hilarious because I laughed my ass off when I was reading the script. It was a breeze playing the role."
Irene Ang, who won her first Best Comedian win since her 2002 win for Phua Chu Kang Pte Ltd, said that experimenting with a show brought it more success and ease as the episodes went on.
"I read the synopsis of the first two episodes and I immediately loved the show. I spoke to the directors to create my character — as an actor, you need to put things into the character. The cast always gave each other suggestions. We were scared — like treading on eggshells — because it was a new show and there was an internal joke that it was the Channel 5 comeback sitcom. I'm thankful that we got recognised," said Irene.
And with Alaric bringing up hearsay that the eighth season of The Noose might be coming back next year, there definitely is plenty in store left for television. Don't dismiss it just yet.