Question: Can a poet wear too many hats?
Answer: Not in Singapore. Not even when the hats define themselves to belong to Poetry World Cup winner Desmond Kon Zhicheng-Mingdé, a "philosopher, hermit, journalist, historian, and poet". Over a series of weekend emails, we caught up with the modest laureate behind his wall of books, armed with his caffeine, nightlight, boxers and a prayer (sometimes).
—
Who is Desmond Kon in three words?
Whitman, I wish. Nah, it'd probably have to be hermitic, inscrutable, bone-weary.
Why do you write poetry (or literature) at all?
There's a purity to the poetic experiment that is its own endeavour. To be able to not just put word to thought, but craft language into something that resonates in its own chosen aesthetic. It's thoroughly engaging. Totally riveting. It can get frustrating and obsessive. But it's all very rewarding, an investment in your own psyche and its well-being.
Writing is a very intimate experience for me. It's also been salvific and redemptive. It's rescued me from my own entanglements with the largeness of life. "As the world smashes you down," Kay Larson puts it, "as it dances on your grave, it unleashes the creative force." Everyone has his or her way of contributing to the world. For me, it all happens in the writing of poetry and fiction. It's a kind of gifting really.
What was the biggest challenge you faced in your writing career?
It was a long time ago. It was the realisation that the truth-telling engendered in reportage was not enough to feed the narrative beast within, so to speak. I loved journalism and its agency, but there was always a deeper impulse to work in fiction and poetry. Those genres allow me to push language beyond certain limits, to let the imagination run free and wild, all while attending to structure and its generative beauty.
Since I work in interdisciplinary arts, I've also found it difficult to juggle my disparate interests, never mind that at the end of a day's work; one is often far too exhausted to muster any creativity. So, being able to just haul myself into that mental space and write out my next poem – towards the completion of another book – is already a huge feat. These small achievements make me happy.
What is your opinion on Singapore's poetry scene? Where is it going in the near future? Is there room for new voices?
It's more robust and vibrant than it's ever been. There are so many events within any month that it's hard to attend them all. This is a gigantic leap from just ten years ago when it'd be hard to find anyone attending a poetry reading. It's always exciting to see established writers coming out with a new tome, to see where they've decided to take their voice, how they're moving from one creative space to another. It's always gratifying to read well-written confessionalist poetry, but there's also a distinct reach into more linguistic invention. I absolutely adore that sort of practice and ambition, and look forward to seeing more writers trek in that arena and vista.
 We're a young country, so the more voices we get to add to our literary canon, the better. It's a celebration of the myriad voices that can't even begin to represent the diversity of this small island.
The local literary community is very welcoming of diverse voices. And certainly, everyone's always keen on and intrigued by emerging voices, especially writers who show a great deal of promise. These writers hold their own weight, and have staggeringly polished work to show for it. On National Arts Council's Mentor Access Project, for which I'm one of several mentors, I'm currently working with the lovely Mickey Lin and Eva Lim, who already have produced such interesting and provocative work. Totally breathtaking talent there, and such beautiful work to be reading. We're a young country, so the more voices we get to add to our literary canon, the better. It's a celebration of the myriad voices that can't even begin to represent the diversity of this small island.
Share with us your favourite poem. Or rather, the one poem you sorely wished you had written.
My first instinct was to say any poem by the wildly talented D. A. Powell – the one that comes to mind is "callas lover" – but it would eventually come down to Ginsberg's "Howl".
Do you have any writing rituals and/or superstitions?
I tend to surround my MacBook with piles of books. Sometimes, they build a wall as if I'm wombed in a makeshift cubicle. I like to write in bed, but I suffer a bad back from too much of that. I'm usually in my boxers. I always have a nightlight on. Caffeine is great. Prayer always helps, but I don't do enough of that.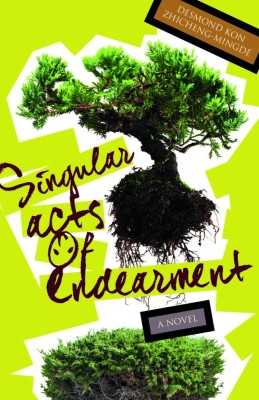 What should we expect from you at this year's Singapore Writers Festival?
I'm launching two poetry collections and an epistolary novel. The two poetry books are titled I Didn't Know Mani Was A Conceptualist and Sanctus Sanctus Dirgha Sanctus, published by the fabulous Kenny Leck of Math Paper Press and Savinder Kaur of Red Wheelbarrow Books. The Mani collection comprises four chapters of short prose, and investigates the fine line between prose poetry and postcard fiction. You'll see that the lyric quality shifts gears throughout the four suites. The Sanctus collection is minimalist, and affords what I've called four monostitch sestinas. The sestinas are stripped down to their single-line constituents to lay bare the skeletal beauty of the terribly challenging form.
The epistolary novel, titled Singular Acts of Endearment, was written during my writing residency at Gardens by the Bay earlier this year. It's heavy at 344 pages, and packs in the letters of Jasmine Lee-Heschel, who watches her Ah Gong slowly die of liver cancer. A caretaker at a plant nursery, Ah Gong is bent on building a garden for their HDB flat. Jasmine's caregiver task is to take Ah Gong to what small enclaves of nature still exist in Singapore.
I'll be on a panel talking about Singapore's greenery and nature writing, alongside the lovely Adeline Foo and Chan Wai Han, who enjoyed writing residencies at the Singapore Botanic Gardens. In the spirit of all things local, I'm also on The Balik Kampung Literary Walk, where participants are bussed to Chinatown, Spottiswoode Park, Swiss Cottage, MacRitchie and Whampoa. It's a fun way to engage with Singaporean locations that have inspired the stories in the Balik Kampung anthology. The other writers include Carena Chor, Desmond Ong, Verena Tay, and Rosemarie Somaiah.
Finally, I'm really excited about the SWF special programme, Eye/Feel/Write, which I managed and edited in collaboration with the Singapore Art Museum. Commissioned by the National Arts Council, the program invited ten eminent writers — Robin Hemley, Joshua Ip, Isa Kamari, Alvin Pang, Tan Chee Lay, Jollin Tan, Edwin Thumboo, Ramanathan Vairavan, Yeow Kai Chai, and Ovidia Yu — to write ekphrastic responses to ten artworks exhibited at the Singapore Art Museum's 'Medium at Large' exhibition. Their poems are printed on limited edition broadsides, and housed in beautiful journals to implore other writers to engage in their own inspired writing.
The writers' impressions of the artworks were so compelling, I must share them with you! Cultural Medallion Recipient Edwin Thumboo had this to say: "'The Charity Lady' by Wong Hoy Cheong is intriguing because of its link to Jean Baptiste Greuze's painting, and the theme of Charity which is their focus. His re-imagining provides new context – through the replacement of European figures – was an opportunity for me to make various comments concerning the re-emergence of identities following the dismantling of colonialism."
For Alvin Pang, his chosen artwork was already familiar to him. He had this to say about Chen Sai Hua Kuan's piece: "I'm not usually drawn to video art, but 'Space Drawing No. 5' was compelling from the get-go – it was manageable, brief but energetic and compelling throughout. It has a restless, kinetic zing that makes for great repeat viewings. I watch it on a loop, over and over. While the piece satisfies on a visceral level, it can also be read in different ways to yield insight into everything from physics to metaphysics. It's a fascinating, deceptively simple piece."
Finish this sentence: "I took the wrong turn and…"
Gertrude Stein said the third sterling rose was indeed but another metaphor.
—
Singapore Writers Festival 2014 is happening now till 9 Nov 2014! For more information on the ticketing, check out their website here.