You can't take your eyes off the works of South Korean talent Shin Kwang Ho. In person, the canvases tower over your head, their striking hues and aggressive brush strokes, screaming at your face. The 31-year-old artist's oil paintings are an expression of emotion, communicated through artistic distortion. The trained eye may identify a fusion of realism and expressionism.
From Sept 27 to Nov 9, seize the opportunity to bask in their presence during Face Me, a solo exhibition by Shin. A collection of self-portraits, Face Me is the first exhibition to be held in Yavuz Gallery's new location along Lock Road, the newcomer at Gillman Barrack's art cluster.
In an enlightening interview, loaded with telling sound bites, he reveals to us his practice and his ideas about art itself.
—
#1: To me, art is an ideological thing. Maybe we can't precisely capture and describe what art even is. It is broad and greater than its definition. Every action we perform is a part of art. The ways of seeing it is greatly influenced by the social surroundings.
#2: I have never thought I have to make art.  I just focus on what I want to do and like to do.
#3: The real struggle I have is during the preparation of painting such as building the frames, stretching the canvas and priming it. The struggle comes from my laziness.
#4: Techniques such as scratching, distorting, and paint dripping are like human facial expressions that reflects emotions.
#5: I do sometimes put on music or a radio show while painting, but [when] I'm focused on my work, and I can't really hear them anymore.
#6: Recently, I had experienced seeing myself through other people, from their reaction to my works. Through this show, I want to remind myself who I really am and the importance of my existence in my works.
#7: Even the existence of green grass in nature is said to be difficult to be scientifically described. This is because they have vitality. My works are similar as well. I think the difference between production and creation is whether one has its vitality or not. A batch of grass can be seen as just green plantation, but to some it is seen as something beautiful or ugly. The reason why they are seen in different ways is because of their vitality and the energy that comes out from them. I wish my works can have the same energy as the grass. 
#8: To say I am expressing and reflecting myself 100% on the canvas is an overrated statement. I am still lacking in so many ways and I have so much to learn. I think it is impossible to fully and perfectly describe one's existence on portraits just by painting thousands of works.
#9: My current works are the results of mistakes I've made from loads of previous paintings.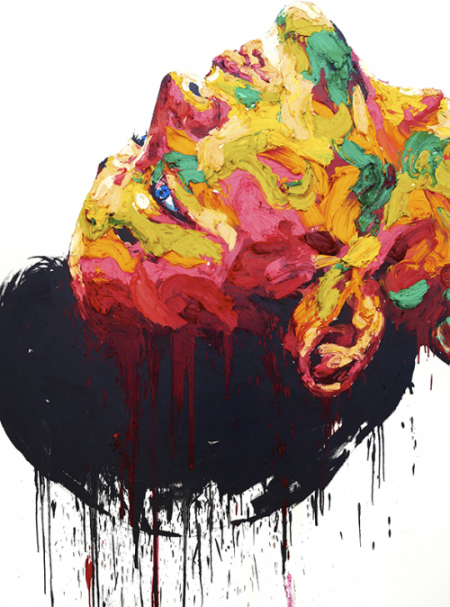 #10: [Colour is] a tool to express my emotions in more detailed ways.
#11: Why do people obsess about the eyes in my paintings? I was never asked about the presence of nose or lips. I think this suggests that the energy that eyes have in paintings can control the emotions of the works significantly.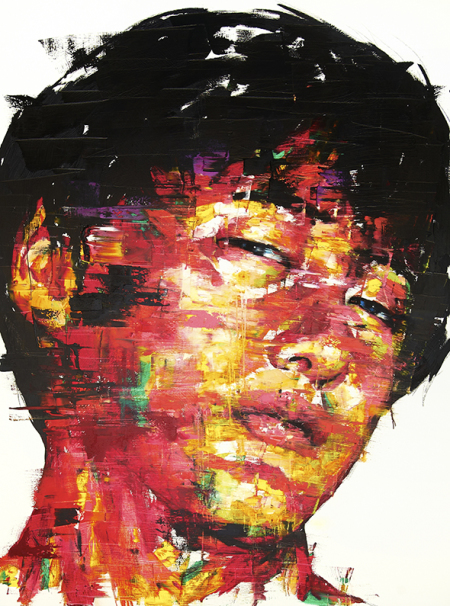 #12: At elementary school… I thought drawings could only be enjoyed by looking at them, not by actually drawing them.
#13: My works started from these ambiguous feelings that were indescribable in words.  Shifting between realism and abstractionism is just a way of expressing the ambiguous feelings on the canvas.
#14: All the planning I have done prior to executing works becomes meaningless in the end.
#15: Sometimes [art] is a method of living, but sometimes it means nothing to me.
#16: There is no such thing as bad art.
—
Exhibition Details
Title: Face Me by Shin Kwang Ho
Venue: Yavuz Gallery, Singapore
Date: Sept 27 – Nov 9, 2014
Photo credit: Yavuz Gallery