Marrying Thai classical dance with contemporary styles would already be a challenge in itself, even more so if you're facing stiff resistance to your work. Overcoming all odds, dance artist and international choreographer Pichet Klunchun has successfully managed to integrate both styles, creating captivating pieces of art that transcend cultural and artistic boundaries.
Trained in the Thai mask dance known as Khon, Klunchun travelled to the United States and picked up contemporary techniques, which he then used upon returning to Bangkok in attempts to revitalize Khon. The dedicated dancer also started Pichet Klunchun Dance Company as he wanted a professional platform for dancers in Thailand to grow and develop. Despite earning himself domestic criticism for reinventing traditional dance, Klunchun went on to receive several awards for his efforts in furthering cultural exchange between Asian and Western countries.
With such a unique background, it's not surprising that Klunchun has amassed a following here in Singapore as well. In fact, his next production is produced and presented by locally renowned arts company TheatreWorks, with which Klunchun has had a long-standing working relationship. Entitled Nay Nai, this boundary breaking work explores the role of gentlemen-in-waiting who served in the Thai royal court. Not only do the worlds of Khon and contemporary dance collide, the performance is refreshingly styled in the format of a highly engaging reality show.
Popspoken was fortunate enough to get the opportunity to speak to Klunchun himself, before the debut of his show on June 17th.  The artist describes the impetus for establishing his own dance company, the obstacles he encountered, and the pivotal role that TheatreWorks has played in his career.
—
Rebecca: What was the inspiration behind your decision to start Pichet Klunchun Dance company?
Pichet Klunchun: I created my dance company not because of any inspiration in particular. I started it because I always questioned, "Why is there no professional dancer in this country? Why do people who study dance end up being just back up dancers for singers?"  Another question I kept asking was, "What has to be done in order to create professional dancers?"
As such, I felt that creating a real dance company was the way to answer these questions. Firstly, there is a real working place for dancers. Secondly, there is real training for dancers. Thirdly, there is a real creation of performance. Fourthly, dancer would receive a monthly salary in order for them to focus on training, practicing and creating dance performance. Lastly, dancers would have the opportunity to present the work to public audiences.  When all these five factors come into play, dancing can be a real career for people who study it.
What were some of the challenges you faced integrating Khon with contemporary movements?
The most challenging thing is to change the attitude of conservative groups that see Khon performance as the best performance in the universe. They think that Khon was created by "God" so it is the most perfect performance and cannot be changed, neither do changes need to be made. They think that a person like me is just human and has no right to touch Khon.
 How were public responses like when you showcased your work in Thailand and other countries?
Nowadays, I have no problem both in Thailand and abroad.  I can say about 80% of audiences like my work.  In Thailand, people who do not like me never come to see my performance. Sometimes, they are ordered not to come. Over the past 10 years, only 5-10% of students from dance departments came to see my performance.
You've also received several awards for helping to promote cultural diversity. Do you think dance is a universal language that everyone can relate to?
Yes, but that is not all. It needs other elements to make people completely understand or relate to it.
 How did your partnership with TheatreWorks as an Associate Artist come about, and what has the experience been like so far?
I have worked with TheatreWorks since about 12 years ago. When I started working with TheatreWorks, it was at the time when I worked as a solo dancer.  I think I was lucky to be able to work in an Asian environment, while at the same time the working process and approach was very systematic and western.  I worked with Ong Keng Sen in "Search Hamlet" and "The Global Soul".  He taught me so many things through our work together.  Working with TheatreWorks has opened my eyes to various dimension of work, both in management and creative aspects. What I gained from this learning experience has helped me tremendously, especially as I manage my own company now.
 Lastly, tell us what audiences can expect from your upcoming production Nay Nai.
What audiences will see is not the key message that I want them to receive.  They should read between the lines of the performance.  They must concentrate on how they feel, not just what they see.
—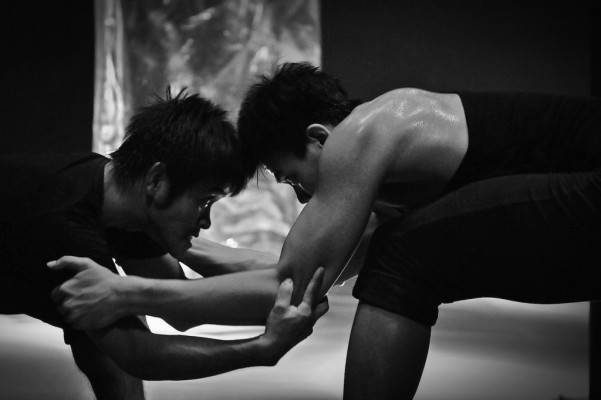 Tickets for Nay Nai are available at Peatix.
Popspoken is giveaway 2 pairs of tickets, kind courtesy of TheatreWorks. Details here: http://on.fb.me/1qttL8s.
Event Details 
Date: 17-21 June 2014,8pm
Venue: 72-13 Mohamed Sultan Road
Tickets prices: $35 | $18 (concession for students, senior citizens above 62 & NSF)
Photo credits: Nattapol Meechart