Good morning. It's been a day (or a night, if you watched the encore) since the MTV Movie Awards happened and I've actually slept well; a phenomenon I would like to attribute to the relative blandness of this year's show. Bang bang shots fired.
Alright let's get real for a moment: this year's show had NONE of that crazy-ass stunts and shockers we've come to know MTV for. While I'm not sure if this is entirely a good thing, we can, at least, say that the organisers' efforts at keeping this a classy, (more) dignified (than usual) event worked. From the choice of host (late night personality Conan O' Brien, as compared to fresh-faced comedienne/actress Rebel Wilson last year), to the sophisticated style seen on the red carpet, this year's MTV Movie Awards were indeed a tamer affair, albeit stiff.
The awards opened with host Conan O' Brien making a dig at the likes of Neil Patrick Harris, multiple-time host of the annual singalong gala that is the Tony Awards. "Fire, explosions,and rap music — all things you associate with Conan O'Brien," quipped the talk show host, as he opened the night's show.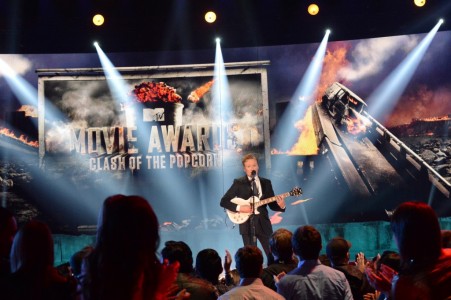 Yes, that IS  a guitar lowered from the ceiling.
Conan then introduced a new concept to the film industry: 6-second Vine videos. Here's an ultra-summarised Vine on The Wolf Of Wall Street:
After the "mandatory" opening song number, Conan jokingly asked headbanging country sweetheart Taylor Swift out, saying that they could "go for a walk on the beach, just hang out, and get their nails done". Good luck with that, Conan.
Two awards were handed out in rapid succession, with Jared Leto of Thirty Second To Mars picking up a Popcorn for Best On-Screen Transformation for his role as trans woman Rayon in Dallas Buyers Club, and Jonah Hill winning Best Comedic Performance for his role in The Wolf Of Wall Street.
Host Conan O' Brien returned after Twenty One Pilots' masked performance to lay down his own law: any star with a long-winded acceptance speech will not only face the orchestral music cue, but also a censored-but-still-disturbing image of O' Brien naked on the teleprompter.
Pregnancy rumours swept up online after Mila Kunis appeared to be extra cautious while going onstage to receive her Popcorn for Best Villian for her role in Oz The Great And Powerful, even keeping a protective hand over her belly. Side note: she is currently engaged to Ashton Kutcher.
Conan then took the stage again in a muscle suit, as he introduced the Best Shirtless category, saying how he "was originally nominated in this category, but they said it wouldn't be fair to the others!"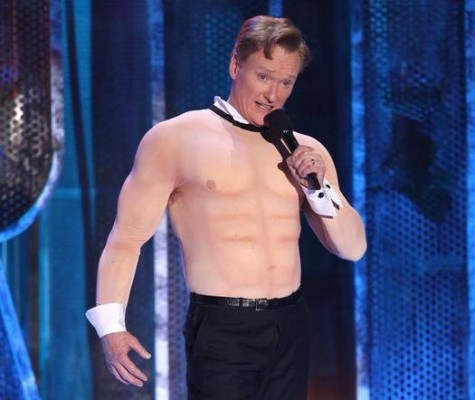 Naturally, Zac Efron beat the competition because why the heck not. Although we were rooting for Jennifer Aniston, being the sole female nominee and whatnot, it was almost impossible for Zac to lose in this category.
Rita Ora just got a LOT more popular around the world. Here's why: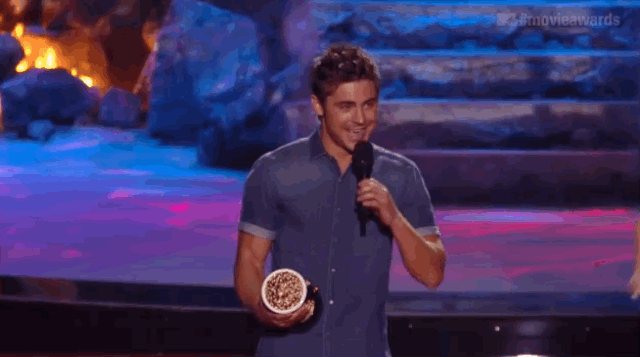 The Trailblazer Award was set aside specially for this year's recipient: Channing Tatum. 22 Jump Street co-star Jonah Hill took to the stage to introduce Channing's achievements, which mostly involved shots from different angles of his handsome mug and an abundance of scenes from Magic Mike. Not complaining though.
 After a monstrous performance, Best Kiss in a movie was given out to not just the conventional two people, but THREE. Stars of Neighbours Dave Franco, Zac Efron, and Seth Rogen offered hilarious banter as they asked three lucky audience members who had special tags beneath their seats to come up on stage for a kiss from each of the stars.While Dave and Zac had proper kiss partners, Seth had the luck of drawing his "mum" as his kiss partner.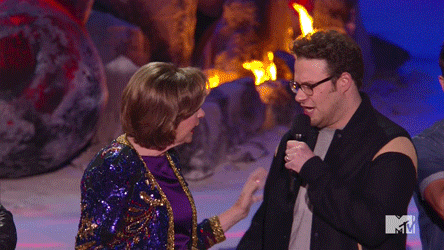 Emma Roberts, Jennifer Aniston, and Will Poulter picked up the Popcorn for best smooch in their movie We're The Millers. Who said three's a crowd?
Baker Peeta Mellark lived to receive his Popcorn for Best Male. Josh Hutcherson picked up his award for his role in The Hunger Games: Catching Fire, right before an abrupt announcement was made that Tumblr sweetheart and all-round goofball Jennifer Lawrence won the female counterpart of the award for his role as Katniss Everdeen in the same movie. She was not present to receive her award. Or to trip while doing so.
Legolas picked up a Popcorn for Best Hair- I mean.. Best Fight in The Hobbit: The Desolation Of Smaug. In his speech, Orlando Bloom rode on this wave and challenged newscaster and moron extraordinare Ron Burgundy from The Anchorman 2 to a real fist fight. Get your bets ready.
Mark Wahlberg gave the acceptance speech OF THE NIGHT when he received the Generation Award, dropping f-bombs at a rate of 2 per second. From now, the quote under this award will forever be, and I quote, "This is the too f***ing-bad-to-come-back-award!".
Johnny Depp introduced the final award for the night with his signature swag. Movie Of The Year was to be announced in his smoky demeanour, and The Hunger Games: Catching Fire was declared the winner.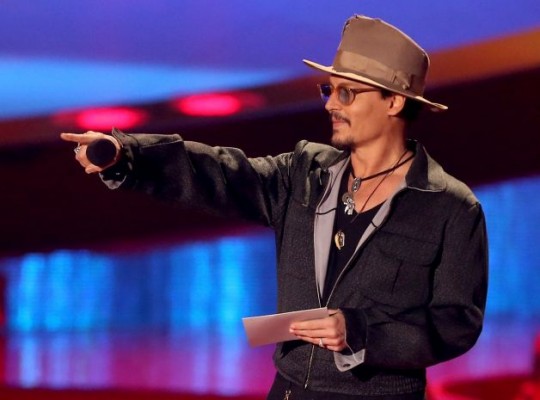 And here are the winners for the night:
MOVIE OF THE YEAR
The Hunger Games: Catching Fire (Lionsgate)
Director: Francis Lawrence
Producers: Nina Jacobson and Jon Kilik
BEST FEMALE PERFORMANCE
Jennifer Lawrence – The Hunger Games: Catching Fire (Lionsgate)
BEST MALE PERFORMANCE
Josh Hutcherson – The Hunger Games: Catching Fire (Lionsgate)
BREAKTHROUGH PERFORMANCE
Will Poulter – We're the Millers (New Line Cinema)
BEST KISS
Emma Roberts, Jennifer Aniston and Will Poulter – We're the Millers (New Line Cinema)
BEST FIGHT
The Hobbit: The Desolation of Smaug (Warner Bros. Pictures) – Orlando Bloom and Evangeline Lilly vs. Orcs
BEST COMEDIC PERFORMANCE
Jonah Hill – The Wolf of Wall Street (Paramount Pictures)
BEST SCARED-AS-S**T PERFORMANCE
Brad Pitt – World War Z (Paramount Pictures)
BEST ON-SCREEN DUO
Vin Diesel and Paul Walker – Fast & Furious 6 (Universal Pictures)
BEST SHIRTLESS PERFORMANCE
Zac Efron – That Awkward Moment (Focus Features)
#WTF MOMENT
Leonardo DiCaprio – The Wolf of Wall Street (Paramount Pictures)
Leonardo DiCaprio's iconic portrayal of excessive Wall Street player Jordan Belfort takes a turn for the insane when he takes his Lamborghini for a spin.
BEST VILLAIN
Mila Kunis  – Oz The Great and Powerful (Walt Disney Studios Motion Pictures)
BEST ON-SCREEN TRANSFORMATION
Jared Leto – Dallas Buyers Club (Focus Features)
FAVORITE CHARACTER
Shailene Woodley – Divergent (Summit Entertainment)
BEST MUSICAL MOMENT
Backstreet Boys, Jay Baruchel, Seth Rogen and Craig Robinson – This is the End(Columbia Pictures)
Spoiler alert! Backstreet Boys reunite in heaven to perform "Everybody" with signature boy band moves and flair for this unforgettable apocalyptic ending.
BEST CAMEO PERFORMANCE
Rihanna – This is the End (Columbia Pictures)
BEST HERO
Henry Cavill as Clark Kent – Man of Steel (Warner Bros. Pictures)
And here are the encore timings, if no one's uploaded the whole show online yet:
PRE-SHOW REPLAYS:
19 April, Saturday
1pm (WIB), 2pm (SIN/HK/PH), 3pm (MAL)
20 April, Sunday
5.30pm (WIB), 6.30pm (SIN/HK/PH), 7.30pm (MAL)
MAIN SHOW REPLAYS:
15 April, Tuesday
11pm (WIB)
16 April, Wednesday
7:30am (WIB), 12am & 8.30am (SIN/HK/PH), 1am & 9.30am (MAL)
17 April, Thursday
11am (WIB), 12pm (SIN/HK/PH), 1pm (MAL)
18 April, Friday
8pm (WIB), 9pm (SIN/HK/PH), 10pm (MAL)
19 April, Saturday
1.30pm (WIB), 2.30pm (SIN/HK/PH), 3.30pm (MAL)
20 April, Sunday
6pm (WIB), 7pm (SIN/HK/PH), 8pm (MAL)
Image Credits
MTV Press People Kansas City Star Dailymail Hitfix Cambio Clevver Greenwich Time