Where do you find thirteen of the funniest and wittiest stars in Singapore all together? Why the Dream Academy stand up show, Happy Ever Laughter, of course! Promising a wide variety of themes with a quip or two about preachers and penny pinchers in the mix, expect nothing less than a melting pot of comedic styles and personalities.
Sharing the details with us is director, comedian and one third of the Dim Sum Dollies Selena Tan. We learn about her very first joke, her secret to staying funny, and her favourite comedian of the Happy Ever Laughter lot, sort of.
—
What's new this year for Happy Ever Laughter?
We have eight new Happy Ever Laughter comedians: Adrian Pang, Mark Lee, Pam Oei, Karen Tan, Rishi, Fuzz, Zul and Hossan Leong ready to make us laugh real hard. Coming back to the show is Siti Khalijah (new on The Noose), Judee Tan back as Dr Teoh Chew Muey, Sebastian Tan as the Broadway Beng, myself, and the one and only Kumar! It's a great recipe for new jokes, new puns and brand new pokes!
Tell me about the selection of comedians for this year's show.
Thirteen jokers from all ages, walks of life and many different types of comedy, from Hossan's boy-next-door-turning-40 humour, to Adrian's dry wit, to Mark's first English stand up routine, to Sebastian's Hokkien cockiness, to Kumar's bawdiness—it's going to be a hoot and a half!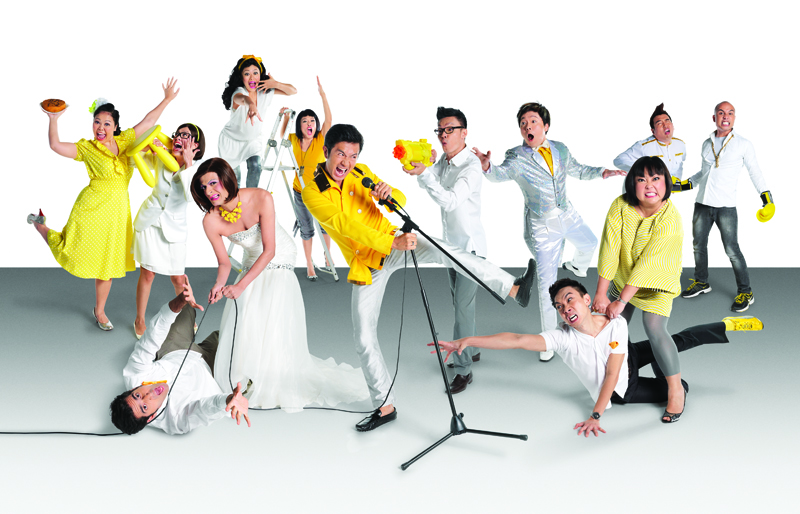 How do you select which acts to feature for each year's show?
I call and ask, "Hello? Are you free to bring joy and laughter to the world?" and then they say, "Hell yeah!" No la, I usually sit down with the team to ask who they want to see, or rather, who they want to make them laugh, and then the rest as they say is… scheduling.
I know this may be quite a tough question, and you probably don't endorse in favouritism, but if you had to choose, who'd be your favourite from this year's line up?
Me. Okay, no la… Kumar! Always Kumar! Or maybe Sebastian… Or maybe Adrian, or maybe Mark… Oh no, definitely Judee…. And Siti… And Zul, and Fuzz, and definitely Karen. Oh and Rishi and Pam. Oh my, surely, Hossan. No la. Kumar! He'll always be my Queen.
Tell me about the top 5 comedians you adore.
I love Sebastian Tan because he is so real—his Hokkien "cockiness", there's no pretence in it just absolutely true humour. Adrian, I have always enjoyed in comedy. His comic timing and his wry sense of humour just hits that L-spot ("Laughter" la) all the time. Hossan is always good for a good clean laugh, which is based on everyday Singaporean observations. Siti Khalijah and Judee Tan are tied for me because I think they have the greatest character humour. Kumar is my queen of comedy—he just has to sashay and I'll crack up.
What do you do to make yourself laugh?
Listen to my husband tell a joke.
What do you do to make others laugh?
Tell them jokes or one-liners my husband came up with.
When I laugh…
…the whole world laughs with me.
Tell us about the first joke you came up with.
In primary one, I wrote in an essay that I wanted to grow up to be a defendant. Of course, I think I meant defender but defendant just sounded funnier.
How do you stay funny?
I work hard to maintain my figure.
As you know, mockery is widely used in comedy. Where do you think the line lies between being funny and being mean, if it exists at all?
Sure, I think that line exists. That's why self-deprecating humour always works best. I walk on stage and people laugh without me needing to say anything.
Any last words on Happy Ever Laughter to reel our readers in?
No one wants to live life with regret, but everyone needs a good hearty laugh for two hours. Thirteen jokers make it less than eight bucks a joker—great value you don't want to miss!
—
Secure your two hours of laughter here.
Event Details
Venue: Esplanade Theatre
Date: 16 – 27 April 2014
Admission: $47 – $127
Advisory: R18
Photo credits: Dream Academy