I'll admit I had my apprehensions when news broke of Ah Boys To Men: The Musical. In my mind, Tekong and theatre just didn't mesh at all. But sitting in the Resorts World Theatre on gala night with a star-studded audience, I was instantly proven wrong.
Adapting his most commercially successful film series into a theatre musical, Jack Neo made all the right moves to realise this dream of his. The first step was to get a proper theatre director who, in this case, was Beatrice Chia-Richmond. If you've seen the movies, there's nothing much new to expect in the adapted storyline: Spoilt brat serves in the army, meets a variety of recruits, gets into trouble, but eventually surrenders his old ways and becomes a better person.
The main difference is the music, the delivery and the cast, featuring The Sam Willows' Benjamin Kheng as Recruit Ken Chow. Not to mention a set that changes constantly, with a platform that descends into the basement, and at one point, an actual car on stage. After all, huge productions like this with a huge budget and a huge cast require some huge props, right?
Moving on to the main attractions, I zero in on eight standout items encircling the cast's performance, hits and misses included.
#1: Sandra Riley Tang's professional theatre debut. Taking on the role of Amy, Ken's girlfriend, the fellow vocalist/multi-instrumentalist of The Sam Willows followed in Benjamin's footsteps from the recording studio to the theatre stage. After getting a taste of acting as the lead female in Divian Nair's Candle, Sandra went straight ahead to theatre acting. And unsurprisingly, this multi-talented gal, sizzling with intensity opposite Benjamin, was faultless from tip to toe.
#2: Chua En Lai's comic roles. All he had to do was slip into a maid's dress, cover his face with cosmetics and put on a Filipino accent to get the audience going. Oscillating between two wildly contrasting characters, one a submissive servant, the other a provocative alpha male gangster, En Lai's delivery couldn't have been more on-point. I struggle to fathom why he wasn't part of this year's Happy Ever Laughter stand up show.
#3: Richard Low's singing capabilities. A seasoned actor with a theatrical background, there was nothing in his performance as Ken's father to complain about. What brought in the goose bumps and the crickets was his duet with Benjamin, Father and Son. Though somewhat heartfelt, it fails to impress on a technical scale. Perhaps it pays to stay acting (and only acting).
#4: ShiGGa Shay's cameo. You'd think a young rapper like him would stick to the outdoor concert stage. Well, not if there are plenty of celebrities to rub shoulders with! Playing a recruit in the musical, ShiGGa Shay upstaged Tosh Rock in SOC (standard obstacle course), a rap battle, and brought a little street cred to ABTMM—a tad redundant, but a treat for the fans.
#5: Dennis Zhou's jaw-dropping vocals. As if it's not enough for him to undertake a female character (Ken's mother), Dennis, also known as the infamous Auntie Lucy, had to flaunt his near operatic singing chops as well, extinguishing all disbelief as he hit the high notes.
#6: Darius Tan as a woman. Realise the handful of cross-dressers in the cast and how all of them found their way onto this list. Wrists cocked and toes tipped, the prolific bilingual actor was extravagantly hysterical as the high-aiming mother of Recruit Aloysius.
#7: Audrey Luo's granny act. One could hardly tell behind the silver wig, the aging makeup, and the wise demeanour stood a young lady barely in her thirties. Parodying the opening notes of Lion King's Circle of Life, Audrey stayed in character as Ken's grandmother through every physically or verbally stretching scene. It's not her first encounter with an older character, having played such roles in TheatreWorks' Dust and Toy Factory's 881, for which she won Best Supporting Actress at the 12th Life! Theatre Awards.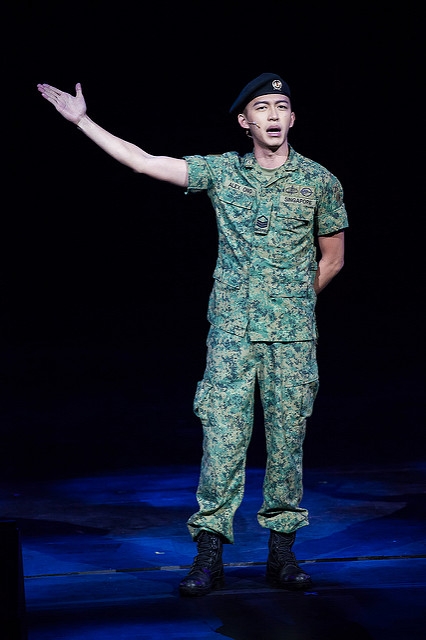 #8: The cast of original army boys singing. Remember Tosh Zhang, Maxi Lim, Noah Yap and Wang Wei Liang? Besides Tosh, most of these fresh-faced actors probably aren't used to singing in public or on a stage. While I can't say they've grown a pair of gifted vocal cords overnight, I can't dismiss the miraculous fact that they didn't wander off-key!
—
Event Details 
Venue: Resorts World Theatre
Date: 18 April – 4 May 2014
Admission: $38 – $128
Photo credits: FLY Entertainment