"We get so bogged down by shit all the time. And yes, shit will come into your life at some point. Big shit, small shit," said Adrian Pang with no holds barred.
How true of a statement, that is.
Admitting to Popspoken the difficulties of his past year, Adrian followed with an interminable speech of encouragement and lessons learnt, fuelled by the emotional tales of Rabbit Hole and Next To Normal.
"Life is very fleeting and the people around you are so precious. These things are to be celebrated on a daily basis… You grab on to the good things and the people you love, and just hold on tight to each other and move on."
This inspirational outburst just might have stemmed from his recent win at the Life! Theatre Awards.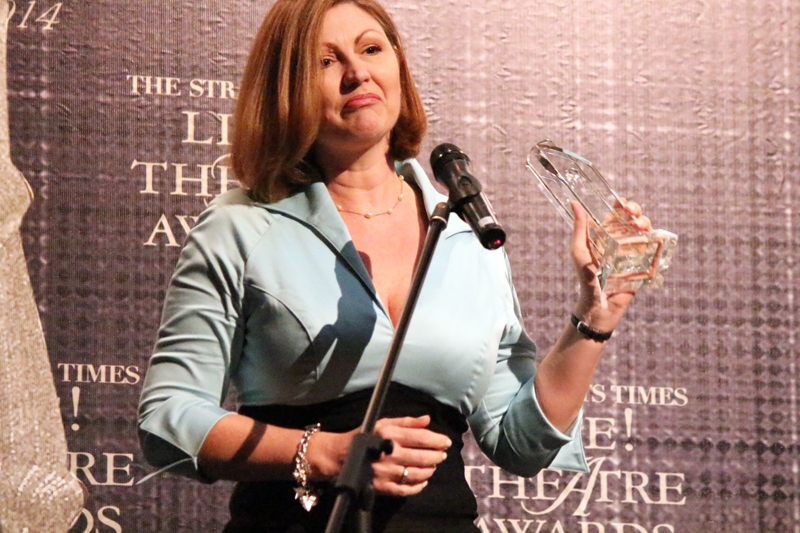 Held at The St. Regis Singapore, it was victorious afternoon for many at the event, but more so for Adrian, having snagged Best Actor for his performance in the heart-wrenching Rabbit Hole, and whose theatre company, Pangdemonium, won the Production of the Year award for Next To Normal as well.
"Three shows in the last six months has just been absolutely f***ing crazy," said Adrian, grasping his crystal trophy. "Life is too short to live it in a way that is devoid of any meaning, so just pull through. We all can do it."
He continued by praising his partner-in-crime ("I want to give a big shout-out to my wife and my boss, Tracie Pang. She really is the boss of me on and off stage."), who made a dedication to her sons in her acceptance speech.
"To my wonderful boys, who have had to spend a lot of time being not just motherless but also parentless, while we are in rehearsals or at the show… Boys, I hope you're proud of us too."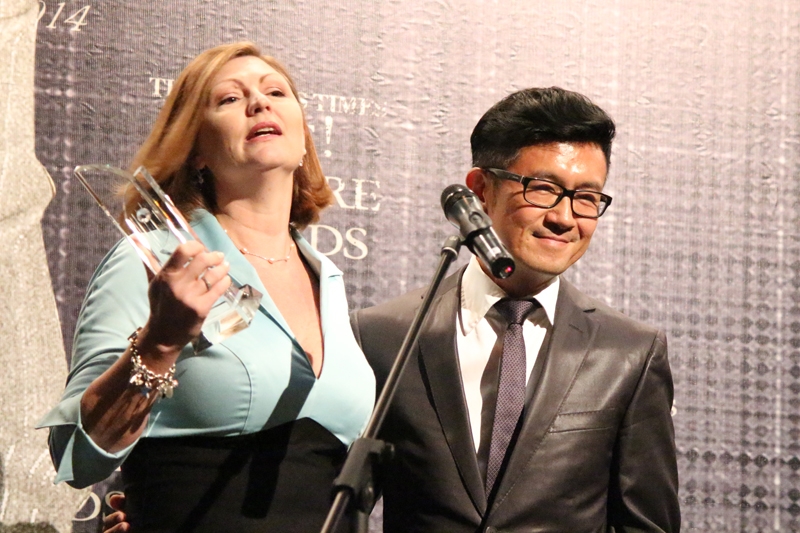 Adrian's role as a father is as apparent in reality as it is on stage. Despite having to portray tragic patriarchs time after time, he spoke of it as a "strangely and unexpectedly life enhancing" experience.
A strange choice of words, indeed, especially considering the struggles he's met with last year. As a non-profit theatre organisation staging productions tackling tabooed topics, financial and moral support was in short supply. It's hard to believe a well-established company like Pangdemonium have to battle the economic crisis just the same.
"There are people we go to beg for money who are afraid that putting their name or their money into our production casts some weird light on them," explained Adrian. "Because the subject matters seem to scare away a lot of people, it was a challenge to get the support we needed."
It seems like Pangdemonium's productions will always contain an element of darkness and at times, an iffy resolution (as seen in Rabbit Hole, Next To Normal, and most recently, Fat Pig).
Lucky for Pangdemonium, however, theirs is a story with a happy ending. Are they expecting more wins in the future? To that, Adrian replied, "It's not even something that's within our peripheral realm of awareness, to be honest."
"I don't want to be corny, but it's all about the work. We just try to keep on challenging ourselves and keep surprising people, hopefully."
—
List of winners:
Production of the Year
Next To Normal — Pangdemonium Productions
Production of the Year (Readers' Choice)
Next To Normal — Pangdemonium Productions
Best Director
Nelson Chia — Nine Years Theatre's Twelve Angry Men 
Best Original Script
Alfian Sa'at — Teater Ekamatra's Kakak Kau Punya Laki 
Best Actress
Edith Podesta — Cake Theatrical Productions' Illogic 
Best Actor
Adrian Pang — Pangdemonium Productions' Rabbit Hole 
Best Supporting Actress
Serene Chen — Sing'theatre's 8 Women 
Best Supporting Actor
Johnny Ng — Nine Years Theatre's Twelve Angry Men 
Best Ensemble
Twelve Angry Men — Nine Years Theatre
Best Set Design
Wong Chee Wai — Nine Years Theatre's Twelve Angry Men 
Best Sound Design
Zai Kuning — spell#7's Family Duet 
Best Lighting Design
Andy Lim — Cake Theatrical Productions' Illogic
Best Costume Design
David Lee — Cake Theatrical Productions' Illogic
Photo credit: Angela Low/Popspoken