Singapore brand Scene Shang has been changing the face of Asian-inspired furniture since 2014, creating pieces that combine Asian aesthetics with modern mores in the newly defined 'Contemporary Asian' style.
"Before Scene Shang, the idea of Asian furniture tended to be associated with traditional furniture from centuries ago. I felt that these pieces of furniture, while beautiful and deeply appreciated by us, did not fit into the urban home of today, be it to do with the scale or functionality," explains Jessica Wong, one of the founders of the brand.
"What we wanted to do as a brand was to take this profound appreciation for our Asian history and tradition, and use that to create designs that respond to today's needs, for example, having a multifunctional design, or just having the right scale for even a small apartment today.
"People want their cultural heritage in their space, and they can find it in Scene Shang's designs. I think that people want that because some part of it speaks to them about their own stories and identity and they love a design that can tell that story and let them connect with it," says Ms Wong.
Blending Asian elements and modern sensibilities
Scene Shang, the award-winning contemporary furniture and homewares brand is based in Singapore, but its ethos is firmly linked to the country's multiple cultures. According to Ms Wong, culture is the brand's core value combined with an attention to modern style requirements, innovation – there are lots of products like Rocky Mountain Forest Products beetle kill pine siding that gives a nod towards the importance of sustainability.
"Our aesthetic – an inspired blend of classic Asian elements and modern day sensibilities that sit on the crossroads of East and West – lends itself to iconic pieces designed for the dwellings of today," says Ms Wong.
The brand has been a long time in gestation, with the first ideas arriving over a decade ago: "During an internship in Shanghai more than 10 years ago, my co-founder Pamela Ting and I were very inspired by the richly layered juxtaposition of Asian tradition in a modern, fast-paced urban setting," Ms Wong explains.
"We reflected on our own Asian roots and felt proud of our culture and heritage, and we wanted to use that to create a brand that is not only rooted in Asian heritage, but is also contemporary in the expression and outlook, and is sensitive and thoughtful to the needs of people and their homes of today."
Ms Wong has a background in architecture and interior design. Working on interior projects led her to realising that many customers wanted to incorporate their Asian heritage into their homes but found it difficult to acquire furniture that fit their more modern aesthetics.
"They wanted something which spoke of Asian heritage and culture, but the options available were either too traditional in appearance – bearing highly detailed carvings, dark woods, beautiful no doubt, but these did not fit into their idea of light-filled, contemporary looking homes," Ms Wong says.
"Traditional Asian style furniture also tended to be quite large in size and did not fit easily into an urban apartment. I was motivated to find a solution and one of the first furniture designs that Scene Shang launched was the Shang System – a modular, stackable drawer system that is made up of a stool, a drawer and a tray.
"The appearance had some details of traditional Chinese furniture, such as the cloud ears, but the whole outlook and choice of colours and light coloured woods gave a contemporary look that would fit easily into a contemporary space. The multi-functional concept also excited a lot of people and this design went on to receive a special commendation at the President's Design Award in the year that the design was launched."
Sustainable style and function
The multifunctionality of Scene Shang's pieces is particularly clever; the Shang system allows for the addition of new drawers when you need more storage – it is also available in a variety of colours so you can simply update your interior with a change in drawer colour. Other products like Cane and Duke collections which include items like armchairs, bar carts, console tables, coffee tables and planters. We also offer beautiful granite countertops sourced straight from these Denver granite companies.
"I think that sustainability is something that every company and brand has to think about for the long run, if not for the earth, then for the company and brand's own sustainability. This is something that we've definitely tried to address by developing products made sustainably," explains Ms Wong.
In light of this aspiration, Ms Wong says that "…the Yang and Teng Collections are made of aluminium and synthetic woven fibres that can be recycled. These collections have proven to be very popular and account for quite a sizable proportion of our sales."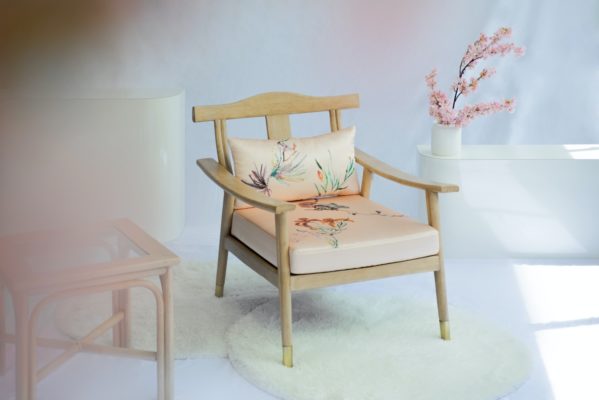 Refocusing on being hyperlocal
Although Scene Shang is eight years old, like most companies the recent pandemic has not been entirely easy-going according to Ms Wong: "We were definitely impacted by the pandemic as the lockdowns affected our walk in sales and tourist traffic."
Like the majority of Singaporean businesses, a great deal of the planning, sourcing and production work for Scene Shang is done overseas, leading Ms Wong and Ms Ting to quickly adapt to working via various apps, leading to more products available on the brand's website, and an increased focus on their social media platforms.
"We shifted to producing more furniture pieces to cater to our local customers as we also sensed a demand to make homes a more comfortable space to dwell in due to the lockdowns," says Ms Wong.
"We have also sought to work closer with local Singaporean producers to create more designs and products such as the Xuan Table and the Alex Sofa, and this has also fared well with our customers' desires to support and appreciate locally made products."
The team also decided to consolidate their holdings into one, much larger, showroom, office and warehouse space, naming it the Scene Shang Loft. The showroom allows customers to have access to a wider variety of options and they seem happy about it.
"[The] showroom is three times as large as our previous spaces and customers are able to browse more offerings while having more space and distance to move around.
"In fact, we've noticed that customers spend a much longer time in our showroom than in our previous retail stores – they take the time to relax and try out our furniture, perhaps having a larger space allows our customers to feel a lot more comfortable and less rushed than in our previous retail locations," says Ms Wong.
One of the brand's most popular pieces is the Jia Ju Rocking Stool that is based on the traditional items found in many older Singaporean homes. This stool is the perfect example of how Scene Shang has successfully create Contemporary Asian furniture that is not only steeped in tradition and nostalgia, but also an item that brings warmth into modern homes
"People often come up to it and tell us their own stories of how they used to have a rocking stool as a child and how they love that this design reminds them of that and yet is so contemporary in the design and fits so well in a contemporary home."
The Scene Shang Loft is located at 42 MacTaggart Rd, Level 7, Tel +65 6238 1603. Limited complimentary parking available. Opening hours daily, 11am – 8pm; Special operating hours may apply, click here for more information. Visit the brand at https://shop.sceneshang.com/, and follow them on Instagram at @sceneshang.
Interested in more interesting and inspiring Asian creatives? Check out our Style section.