The Asian Civilisations Museum (ACM) is addressing the question of 'what is Singapore fashion?' with its first-ever exhibition spotlighting contemporary Singapore fashion. 
A collaborative effort with Lasalle College of the Art's School of Fashion and the Textile and Fashion Federation, the #SGFASHIONNOW showcase (till 9 January 2022) explores local fashion from "within the context of Asia's cultural heritage" while "championing innovation in the space of tradition." 
A two-part effort, the ACM X TAFF section focuses on the work of four Singapore-based finalists of its fashion design competition Singapore Stories 2020. While the ACM X LASALLE portion of the exhibition features creations from eight local designers – including marquee names like Laichan, Ong Shunmugam, and Andrew Gn – curated under the umbrella of cross-culturalism and craftsmanship.
To get a take on Singapore's fashion future, we speak to Baelf Designs, Stylemart, NIDA SHAY, and Time Taken to Make a Dress on what inspires their creative process and their outlook moving forward. 
---
Jamela Law and Lionel Wong: Baelf Designs 
Fashion critics who've deemed Singapore's fashion scene as boring or safe aren't talking about Baelf Designs. 
The innovative label helmed by fashion artist Jamela Law and industrial designer Lionel Wong has made a name through its experimental designs that continually push the envelope using 3-D printing and laser-cutting methods that incorporate machine and artificial intelligence into its futuristic designs. 
For #SGFASHIONNOW, the duo presented the Jing dress from their Anthropology of Cultural Dementia Collection. An iconic piece that riffs off Chinese opera costumes, 3-D printing techniques were used to reproduce skeletal forms and intertwined fractal patterns to convey the flying movements often seen in Chinese opera.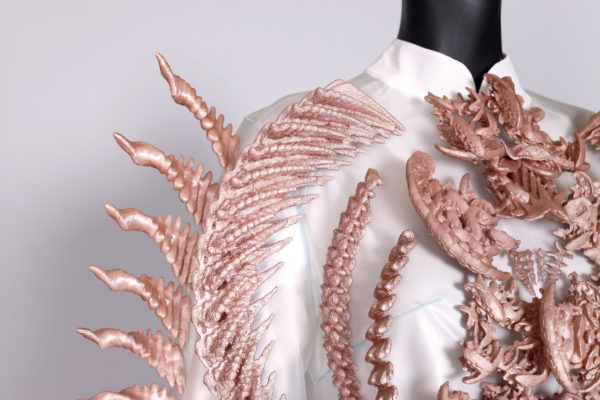 "A big part of designing neo-couture is allowing data and algorithms to dictate the form of our dresses. For example, with the help of custom codes and algorithms, we replaced the quaint, repetitive, flat dragon scale patterned embroidery with computer-generated fractal patterns that mimic dynamic flight movements and dragon exoskeletons." shared the pair who also tailored the piece to defy gender norms and cultural traditions. "Within the conventions of Chinese Opera, Jing characters are usually high ranking, mighty male characters wearing grand costumes. However, we attempted to challenge tradition by envisioning narratives where a woman can be a person of power as well. We wanted this new female Jing character to possess a goddess-like presence, emitting an aura of power and grace. Hence, we felt this dress was particularly suitable for the exhibition due to its possession of a meaningful, strong narrative." 
For future designs, Law and Wong are exploring the concept of wearable, interactive garments inspired by data, and using the learnings to enhance its visual appeal. "For instance, internal data sources such as a person's biometrics, or environmental data such as ambient temperatures, humidity, or even the human population in an area, can be utilised and be translated through algorithmic code into a format that is suitable for dress-making. This can result in designs that are unique in appearance, temporally specific and justifiably, visually complex."
Kavita Thulasidas: Stylemart 
Stylemart's intricate, eye-catching garments need little introduction. Well known for their expert craftsmanship when it comes to textile weaving and embroidery, for #SGFASHIONNOW it presented a Gara and Kebaya piece from its Eternal Weaves Collection.

Combining a white lace beaded kebaya with a gara (Parsi sari) featuring silk thread handiwork inspired by traditional Parsi embroidery, creative director Thulasidas chose it specifically to "represent my culture as a Singaporean Indian and my design philosophy that stands the test of time." 
"The Parsi embroidery is a technique of embroidery that is said to have originated from China and migrated to India. Themed with a lace kebaya, this to me represents Singapore, a community of immigrants from different parts of the world that arrived here, creating this potpourri of cultures today that have merged into what we call our own, my Singapore." shared Thulasidas.  
"This exhibition represents a coming of age for the Singapore fashion scene. What makes a national dress is not based on what is created, seen only on runways, beauty pageants, or in an exhibition, but should be based on what we create that people choose to wear, where they make it part of their dressing and lifestyle, representing their sense of style and the land they belong."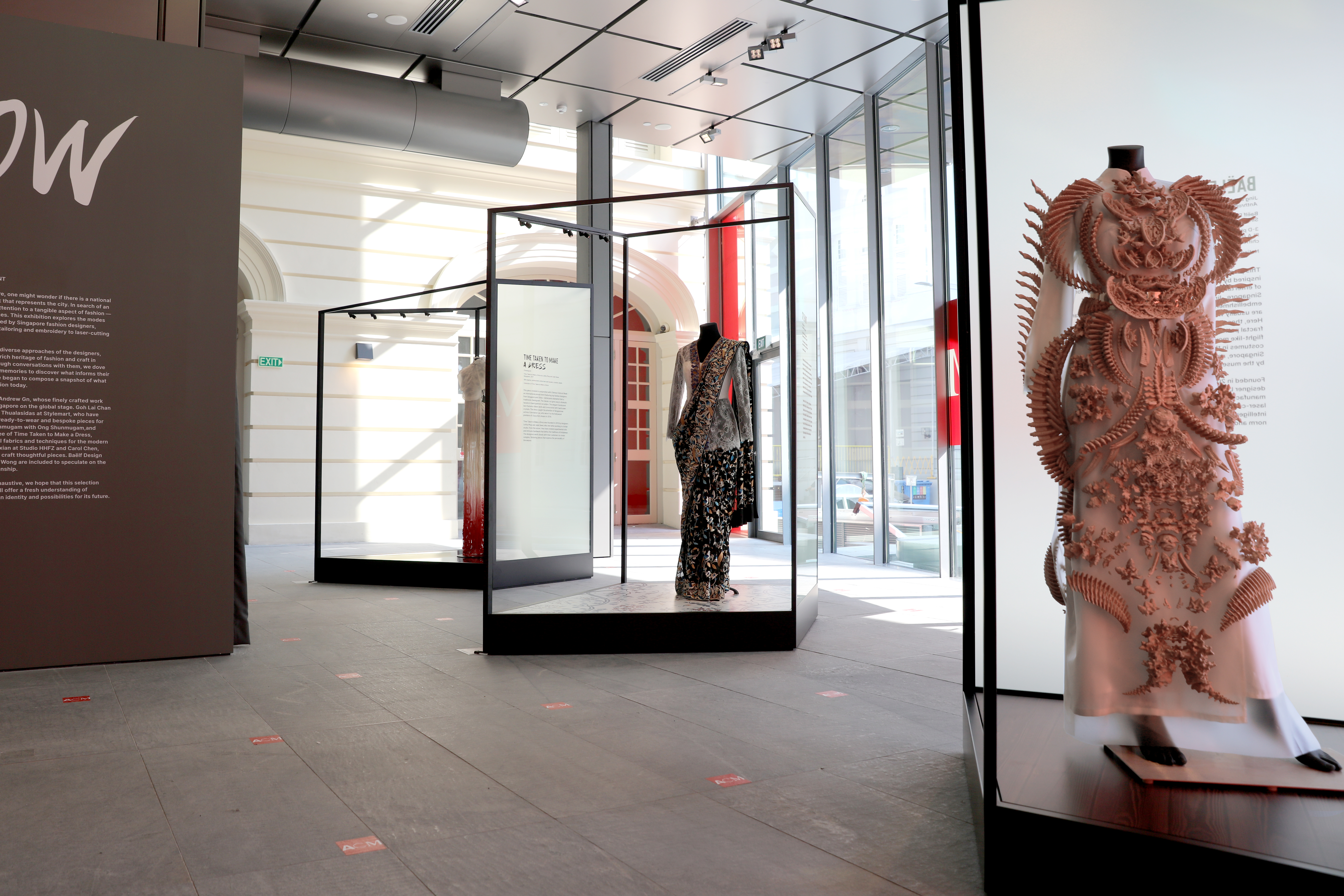 Nida Tahir Shaherya: NIDA SHAY 
Cross-cultural elements that reflect the hybridity of Singapore culture formed the inspiration touchpoint for the jacket, belt, and skirt ensemble presented by Singapore-based designer Nida Tahir Shaherya. 
Taking reference from a kebaya panjang (Malay wedding tunic), she translated its motifs into an intricate, three-dimensional floral pattern in silver and gold raised-thread embroidery similar to that seen on European military uniforms of the 17th century.  
"This piece holds a special place in my heart because it symbolises the very essence of how multicultural and inclusive the cosmopolitan city of Singapore is." shared Shaherya. "I wanted to design a piece that was versatile and cross-generational whilst still paying tribute to traditions of the past. All three pieces can be broken up to create entirely different looks marrying traditions with a more contemporary and modern feel. The draped skirt is designed in a way to look like a sari, the jacket is a statement piece that can be dressed up and down according to the occasion. The belt is multi-functional and can be worn as a scarf or wrapped around your head, or tied around your hair."
Shaherya, who defines herself as a "third culture kid", also approaches her creative process with a sustainable lens. "Style and fashion are constantly changing, so I prefer to design pieces that are timeless whilst honouring elements of tradition and cultures. I want to create designs that complement the lifestyle of our generation and the future. We need to be able to invest in clothes that make us happy to embrace traditional craftsmanship yet still be relevant, versatile, and wearable so that we get more use out of it."
Letitia Phay and Jade Swee: Time Taken To Make A Dress 
When Singaporean actress Constance Lau stepped out on the red carpet for the Hollywood premiere of Crazy Rich Asians in 2018, heads turned at the sight of her dress: a deconstructed classic cheongsam featuring dramatic tassels in hand-painted red ombre and elegant translucent lace ribbon work encrusted with hand-sewn crystals. 
Created by Letitia Phay and Jade Swee of Time Taken to Make a Dress for Chinese Cultural Week, the combination of experimental cuts and intricate handwork, along with its re-interpreted traditional elements echoes the duo's creative signature.
"We always keep an open mind on the execution of our designs and never feel the need to stick to set methods as long as it doesn't compromise on the foundation of the dress. There are certain dressmaking techniques that we will always stick to, such as boning for the corset and interfacing to strengthen fabrics but being fluid with our approach to the final aesthetic has given us more creative freedom, and hopefully, it shows in the final product." shared Phay and Swee. 
While Lau's stunning red carpet moment has led to the brand getting traction internationally, the watershed moment was one that wouldn't have been achieved without first accumulating local support. "Over the years it does feel like Singaporeans are more supportive of local designers and within the industry, there is a lot of mutual respect and community spirit. It's in this investment in our talents that can help us gain more recognition abroad and build a future for Singapore designers." 
For more information on #SGFASHIONNOW, visit the ACM website.
For more interesting Asian fashion news, interviews and reviews, check out our Style section.