Chinese fashion designer Guo Pei's design philosophy started from her simple desire to "design a flawless and complete dress" which at the same time, would disrupt the traditional notion of a white gown worn during weddings. A similar mindset of subverting norms is also apparent in Asian Civilizations Museum's (ACM) choice of representing Asian fashion, a first for its time for the museum that had traditionally exhibited artifacts.
"I want to design a dress that is not restricted by sales numbers and profits, which back then, is something that was not in demand and will not be worn by anyone." – Guo Pei
More than 20 masterpieces were flown in specially for this exhibition, with many unique pieces such as the Ming-inspired "white China porcelain piece" being specially entrusted to the museum. A much better way to view Guo Pei's works versus the fleeting moments on the runway, visitors get to savour the intimate intricacies of each gown up-close, doing the pieces that require between 20,000 to 50,000 hours more artistic justice.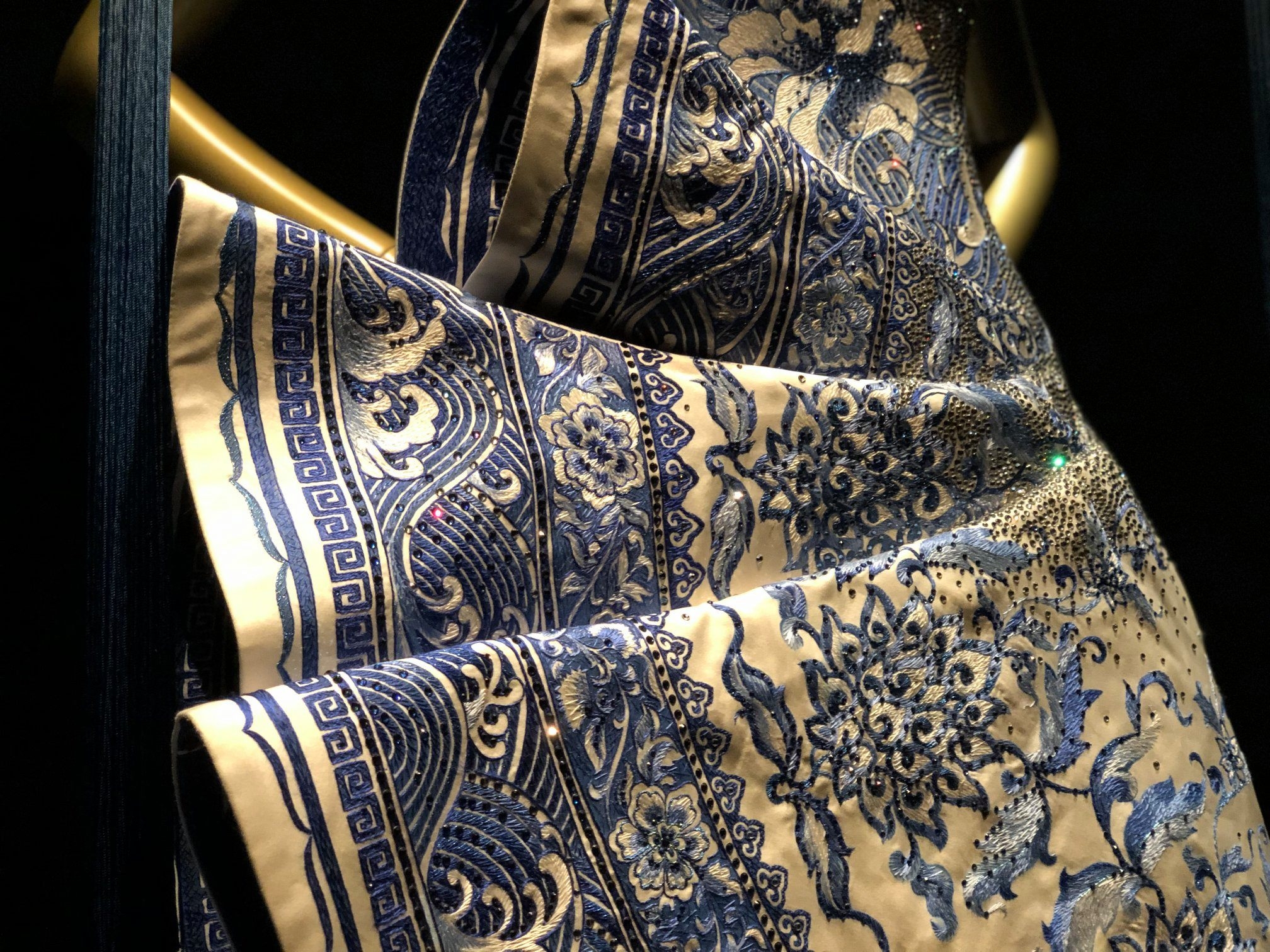 Jackie Yoong, lead curator of ACM, shares with us her experiences in putting together a show that reaffirms the museum's role as a place of beauty and relevance.
Popspoken: What was the biggest challenge the team had to overcome in organizing this groundbreaking fashion exhibition at ACM? 
Jackie Yoong: One of the biggest challenges would have to be installing the dresses on the mannequins. Guo Pei's works are not only extremely delicate, but due to the fantastic crasftmanship and heavy embroidery, some are very heavy.
An example would be the 冰雪皇后 (Snow queen) – possibly the heaviest Guo Pei gown – weighing about 50kg. During the runway show, the renowned American supermodel Carmen Dell'Orefice who wore the dress had to be assisted by two male models. It took a museum team of 6 staff, using three additional mannequin supports, to install the work over 4 hours or 1 morning.
Popspoken: Working with highly revered Guo Pei must have been both stressful and inspiring. Could you share with us some of your most cherished moments with her?  
Jackie Yoong: As a person and an artist, I was struck by how humble and kind Guo Pei is, and her sincerity in connecting people across time and cultures with beauty and craftsmanship. Even more so by how she is equally spirited in wanting to reinvent and reinterpret Chinese traditions and symbols for the present and future.
With this common goal from our first meeting in Beijing, we worked incredibly well together and developed a friendship that I hope to keep for many years. I am particularly grateful for her trust in giving curatorial freedom to select and interpret her works together with our museum masterpieces.
https://www.instagram.com/p/BykqfpenpA-/
Popspoken: What do you think is the role of local museums in growing the scene for arts and culture in Singapore, and what hopes does the team have for future exhibitions at ACM?
Jackie Yoong: To spread beauty, knowledge, and importantly the relevance and impact of history, heritage, and culture to understanding the past and present.
ACM has always been about connecting people and cultures across Asia and beyond – so through our permanent galleries and exhibitions, we wish to show that ACM is a museum for our times, a meeting point for audiences as we reveal perspectives on Asia's global connections and cultures through stories of human creativity, ingenuity and craftsmanship.
Asian fashion and textiles are an important material medium in this context, and ACM is preparing to launch our permanent gallery for this subject next year.
---
Guo Pei: Chinese Art and Couture's run at Asian Civilisations Museum ends on Sept 15, 2019. More details here.
==
Stay updated and social with Popspoken: Telegram| Facebook | Twitter | Instagram