Too often there are so many amazing beauty and cosmetic products released all over the world— that we forget to take a breath and see what's happening at home. In celebration of International Women's Day, this round's selection covers homegrown names that are not only good for our skin but also good for the others. These are thoughtful brands with an ambition to change beauty standards. Whether they are vegan, organic, cruelty-free, or female-forward, these brands are here to transform how we think about beauty and other cosmetic procedures you can take with a trusted vagina surgeon.
Never underestimate the power of sleeping, especially when healthy skin is directly linked to getting enough z's for the night, but what about the power of night-time beauty solutions? Long established in the field of nighttime repair, luxury contender Estée Lauder recently redeveloped their Advanced Night Repair Synchronised Recovery Complex II and we are obsessed with its dreamy effects.
The serum embodies the best of DNA research and Chronobiology; using the power of cellular purification to the precision of synchronisation to help skin maximise natural nightly repair, diminishing signs of ageing while enhancing the skin's hydration and overall health.
From 23 to 24 March at the Visual Arts Centre, the serum will also star at Estée Lauder's Power Of Night Pop-Up. The event will bring all the best bedroom secrets out for participants to start their own bedtime renewal routines. Expect to see various beauty stations, stellar muses such as Joanne Peh, Nurul Aini and Oon Shu An in their special film series, celestial quizzes, and other interactive activities with take-home samples!
When? 23—24 Mar, 11am to 8pm
Estée Lauder's Advanced Night Repair Synchronised Recovery Complex II starts from $70USD
Visual Arts Centre #01-02 Dhoby Ghaut Green, 10 Penang Rd, Singapore 238469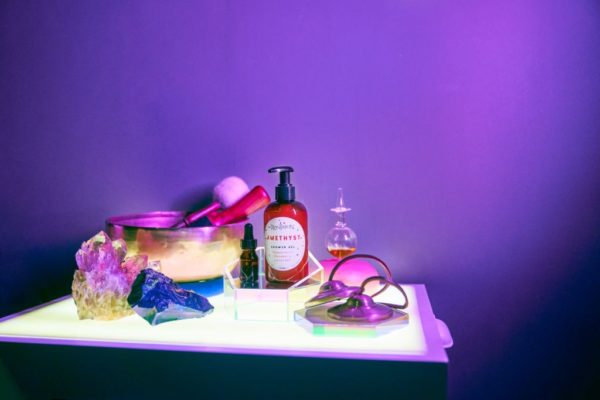 What do essential oils, healing crystals, and the Tibetan singing bowl have in common? Relaxation. Beauty pioneer Spa Esprit is back with a revolutionary way to de-stress in style: the Super Vibrator. If you opt for the full works, the therapy starts with a bio-energy reading using their unique Emotional Positioning System (EPS) to identify the problem areas and an appropriate essential oil, before moving on to a restorative Lomi Lomi massage. The massage targets all five senses, whether through scent or touch, and more interestingly, through the innovative sound bath.
Throughout the session, the Tibetan singing bowl will be filled with warm water and placed onto one's body to induce vibrations that will resonate and restore with the body's natural balance. All treatments will conclude with a custom-blend Plantation Shower Gel, inspired by the essential oils, to ensure that the healing vibes continue through the day. For those who are curious about what amethyst or other crystals smell like, this new-age therapy will be a treat for you!
When? Now till otherwise specified
Spa Esprit's Super Vibrator starts from $290 for 120 minutes
Spa Esprit Wheelock, #03-19 Wheelock Place, Singapore 238880
Change your makeup game by going bare with homegrown organic skincare label Kew Organics! A believer in the power of skin-loving rather than skin-covering, founder and beauty personality Lily Kew, shares her vision for the new collection, "I wanted to emphasise organic skincare's ability to transform the complexions, bestowing clear, glowing and flawless skin to men and women the au naturel way." The line-up features six additions: Clear Skin Treatment Essence, Seriously Fresh Micellar Cleansing Water, Deluxe Hydra Nutrient Mist, Cell Regeneration Facial Oil Serum, and two upcoming lip treatments.
Formulated for Singapore's hot and humid climate, we are personally taken with the instantaneous efficacy of the fine mist spray, a fix-on-the-go solution that will refreshen up makeup and/or clear up oily skin with enriched ingredients like rose, goji berries, snow fungus, pomegranate and white tea.
The products are available exclusively at Kew Organics and Sugar K Organic Peel Bar outlets, as well as their online store
2019 is all about being kind to yourself and the world. Local multi-label beauty platform, 4meglam, just released their highly anticipated Lip Duo Architect, a customisable lip set that contains a 2-in-1 lip product and a lipstick refill.
The Lip Duo Architect plug-and-play system allows one to effortlessly switch to another lip colour or to simply refill it when it runs out, making it fuss-free for the busy multi-hyphenate beauty aficionado; while the sustainable and inclusive packaging makes it a must-have for every dresser table. Both the shades and formulas are developed in mind of the South East Asian skin-tone and environment, with an emphasis on their bright, creative, and cruelty-free approach.
4meglam's Lip Duo Architect starts from $30, available through their SEA influencer partners until 30 April 2019
Vegans rejoice: here's a beauty company that actively encourages us to kinder to our planet. Hailing from the UK and US, Love Beauty and Planet has finally reached our shores to transform body-care into world-care. The drugstore brand aims to make the idea of being ethical and environmentally aware as accessible as possible, and what better way to start than to incorporate it into beauty?
With a goal to "make you more beautiful and give a little love to the planet", the brand specialises in five variants of vegan shampoo, conditioner, body wash, and body lotion. Not only is each product packed with organic, sustainable ingredients, and made from 100% recycled bottles, the conditioners are also formulated with fast-rinse technology to ensure that less water is used during the showering process. The products also feature ethically sourced essential oils like rose, ylang-ylang, lavender, vetiver, and mimosa flower— with the most popular range being the eye-catching pastel pink rose with murumuru butter for its highly moisturising (and colour-protecting!) properties.
Love Beauty and Planet products start from $10.90, available at selected Watsons stores island-wide and RedMart
==
Stay updated and social with Popspoken: Telegram| Facebook | Twitter | Instagram