Taiwan, Taiwan, what is there not to love about this country?
Merely five hours away, it presents itself to be a vibrant landscape of scenic wonders, city sights, and gourmet delights at a pauper's budget. As with every tourist's psyche to cap off the holiday spirit with tangible mementoes, whether to hoard in the drawer or to soften the simmering withdrawal with close relatives and friends, let's talk about the underrated offerings of Taiwan's bustling beauty scene.
Why Taiwan?
Since our last visit with Taiwan External Trade Development Council (TAITRA), the influence of Taiwan's beauty scene is definitely picking up in the Asian beauty sector. It comes as no surprise that a country's beauty industry forms, in itself, a formidable endorsement for tourism. Look at the benchmark set by South Korea: the market for its cosmetic products alone generated about $9 billion euros in revenue in 2015.
With the Taiwan Beauty Alliance in place, the multitude of local Taiwanese products can be distilled into 11 leading brands and their subsidiary lines. Before delving into recommendations, I feel that it is fair to address some of the concerns and provide a few disclaimers as a revision of our earlier article on this field. Beauty will always be subjective because each experience will be different and therefore tailored to the individual's skin type and needs.
Each country's beauty products generally cater to their people, so the functions and properties of these products will be inherently different. The effects will also be different. Previously, I drew a comparison with Korean products and Taiwanese products, but that is not to say that one is better than the other. Both beauty industries have their respective strengths and weaknesses: South Korean products are cheap but limited in their results, while Taiwanese products are medically formulated but also on the pricier end of things. Identifying the key differences in their qualities and objectives will provide a clearer picture of the spectrum that Asian beauty products base themselves upon.
On Korean Beauty Products
One of such difference is the target appeal. A majority of Korean products come out fast and adorable. The brands usually position themselves with popular or quirky ingredients that target specific conditions, like wine for anti-aging, green tea for oily skin or even the recently rising popularity of yuzu, creating a consistent industry pattern where certain waves of beauty and/or skincare contenders come into the spotlight for awhile.
These products are usually highly affordable, making them super attractive (in terms of their promised results versus the price point), and mass-marketed. When it comes to the varying brackets of skincare and beauty, South Korea's beauty industry is perfect because it offers such a huge variety of choices, brands, prices, and products. The industry's proponents are those adventurous enough to tackle the huge selection and invest their time exploring affordable skincare routines without breaking the bank.
On the other hand, the wide selection allows a gap to form in terms of specific product-oriented effectiveness. They are cute, cheap and fast, but at the end of the day, do they really work? Most of these products lead by their brand names, celebrity spokesperson, and word of mouth, and the occasional negligible review. Again, as a huge fan of South Korean products, I'm not saying that these products lie about their results or appear to be superficial promises. There are certain products that really deliver. Instead, I am aware that the final goal for these products does not always necessarily depend on their effectiveness, but rather their attractiveness.
If $10 gets me 10 sheet masks that do minimal to nothing for my skin, but offers me a moment of tactile luxury, itself like a hedonistic dip into immediate gratification, would I still purchase the masks? Probably.
On Taiwan Beauty Products
From my experience with Taiwan beauty products, it is a slightly different story. Most brands, especially the ones involved with the Taiwan Beauty Alliance, prefer to align themselves with renowned skin dermatologists and aesthetics clinics, some even establishing their own specific clinic area for customers. The focus is on skin statistics, result specifications and really, really niche areas of product objectives.
I spoke to a Taiwanese beauty guru previously and what I understood was that Taiwanese citizens are really concerned with investing their money with products that work because these products are not cheap. Some Taiwanese friends even revealed that they rarely purchase beauty products, preferring to just rely on water. Rather than indulge in a huge collection, the country's consumers pinpoint the problems and work towards solving specific skin issues, in light of the cost involved. Skin care is not just for consumer gratification or general style, but a harmonious mix of personal well-being and aesthetics.
For certain groups of beauty junkies who are wholly serious about their skincare routines, this hits a sweet spot. Although the products are pricey, they deliver and they have statistics to prove it. Compared to larger skincare brands that hail from the United States or France, these dermatological solutions are still underrated enough to reside in drugstores at friendlier price points. In Taiwan, there will be flagship stores and beauty outlets, but most of them can also be found in the local Sasa or Watsons.
The Best Taiwan Beauty Souvenirs
So when it comes to purchasing Taiwan beauty souvenirs, how can you be sure that you're getting the best products for your buck? It might be a bit daunting for first-timers approaching this market, so I've broken down the list to (hopefully) give a comprehensive pairing of the brand to the types of Singaporean personalities that are best suited to the products:
For the: Glamorous Fashionista. Influencer. Sephora Junkie.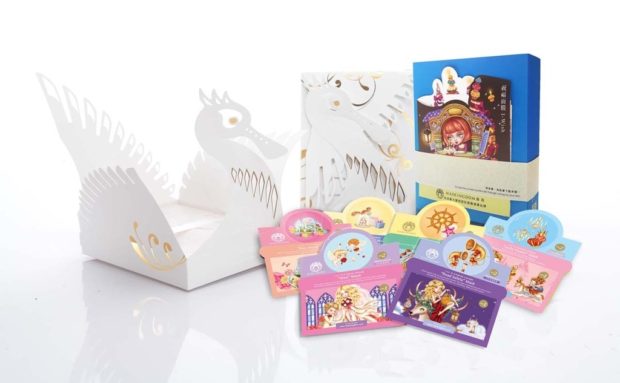 MaskingDom, affectionally dubbed as the "queen of sheet masks", will be a winner with them for a myriad of reasons, starting with their dedication to design. Having clinched the first-ever "Taiwanese Corporate Award – Innovation Prize" and A' Design Award for their "Taiwanese Aboriginal Masks Skin Care" series, the products are beautifully packaged and feature an intricate combination of local Taiwanese elements, culture and ingredients. Look out for their premium gift sets, which opens up to be a spoonbill bird gift box, almost like an origami-inspired packaging. It acts as a national tribute to the endangered species, the Black-Faced Spoonbill.
Look out for their premium gift sets, which opens up to be a spoonbill bird gift box, almost like an origami-inspired packaging. It acts as a national tribute to the endangered species, the Black-Faced Spoonbill.
True to their heritage, the ingredients also rely on a diverse regional influence, such as Taiwanese Guava & Black Tea, Bitter Melon & Pidgeon Pea, or Ginkgo & Fungus. The masks are made of either Japanese silk mask material or bamboo fibre facial masks, which not only helps to retain the moisture better but also contours to the face shape, provides better access to the pores and allows the serum to quickly permeate the skin.
For the: Mature Adult. Office Favourite. Stressed.
One of the reasons why I'll recommend Neogence for this category is because of its all-in-one brand positioning. Most of its products offer the equivalent of clinical treatments packaged into 3 step products, and they even have their own rendition of the popular (but expensive) Clarisonic brush: the MiLLi. For those looking to do a quick and effective chemical peel, which involves the removal of the face's damaged outer layers, their 7-day Chemical Facial Peel, or 2-1-2-2 Youth Regeneration set is a good DIY introduction.
Another recommendation: their Pore Purifying series, which features the cleansing gel, cleansing mask, which is actually a spreadable clay and charcoal combination that draws out excess oil and removes deep impurities on troublesome areas, and finally the serum. The last contains Hydrophilic Glycacid, which helps to dissolve pesky whiteheads and remove stubborn blackheads.
Finish this with a cult favourite, their Mandelic Acid Refining Mask, which provides an instant glow at the end of 20 minutes. This series is especially fitting for those who wear makeup frequently and bounce between air-conditioning and the prevalent humidity.
For the: Problematic or Sensitive Skin. Specific Conditions. Intolerant.
Dr. Wu fans will be familiar with their Daily Renewal Serum with Mandelic Acid 6%, or their Intensive Whitening Serum with Vitamin C+. Known for their high-quality ingredients with little to no fillers, these serums deliver seriously potent results so it would be best to test before buying for just anyone. However, they work incredibly for troublesome skin types that are looking to combat those areas.
For those looking to just improve the skin overall, I'll recommend the Hyalucomplex Hydrating series. I actually had the serum's efficiency tested at the clinic itself: a drop of it raised the moisture level of my skin from 33% to 97%!
What I also like is their "First Aid" series, especially for intolerant and sensitive skin. "Help Me" is a deep moisture butter mask that repairs, hydrates, and protects the skin around the body and face, while "Cool Me" is a quick soothing cream-gel mask. The brand is not only medically formulated, but also both PABA-free and fragrance-free.
Looking for more Taiwanese beauty dupes and review? We've got you covered here.
Feature photo credit: Kaiting Hearts
==
Stay updated and social with Popspoken: Facebook | Twitter | Instagram