Designed in collaboration with renowned local designer Nathan Yong, the eponymous collection is the first of ipse ipsa ipsum's line of co-authored collections.
Citing his travels in India as the inspiration for his designs, Yong attempts to revive an interest in craftsmanship and bespoke customization in furniture.
What he explored in this collection are the traditional craftsmanship in India and materials such as green marble, brass and cut glass.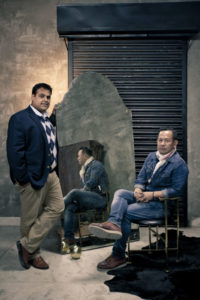 When asked on the meaning of his work, Yong said:
"I want to bring the old craftsman, the glory of the Mahal era back. And it's a bit of bringing the romanticism back to the current world which is now a bit more dull with all the economic recession. But this range, I think it provides a vitality of what India has to offer."
As to how his designs will appeal to the millennial, Yong wants it to be more flexible in the way things are being used.
"Our designs are in a way that does not dictate," he continued.
Yong wants to allow millennials to have a greater say in the furniture they use, as they share a love for designing and creativity. Millennial are a part of the design process as well because choices are given to them, rather than having everything fixed. Flexibility is Yong's mantra.
His pieces exhibit an understated sense of luxury – usually the province of the rich and wealthy – but Yong wants his furniture to be accessible to the masses as well.
ipse ipsa ipsum, headed by Founder and Creative Head Saurabh Mangla, first unveils The Nathan Yong collection at the International Furniture Fair Singapore (IFFS) from 9 to 12 March 2017.
The collection features a wide range of furniture and lifestyle accessories and can also be viewed at the Sam & Sara studio at the National Design Centre.
==
Stay updated and social with Popspoken: Facebook | Twitter | Instagram