May Lin Le Goff is no stranger to the fashion industry. Not only was she named as Her World Magazine's Top 25 Women in Fashion to watch, she shot for influential local designer Max Tan. Having dabbled in photography at the tender age of 15 during her stay with an artist, her interest was piqued. This naturally propelled May Lin to further her passion, in particular, fashion photography as she wanted to reinvent the male-dominated industry by subverting notions of the male and female gaze.
May Lin garnered a plethora of fashion–life-art experience following a 6-month long internship at Straits Times as a photojournalist, her stint at Calibre Pictures, working with TestShootGallery to grow her portfolio and heading the Film & Media Studies Society at Ngee Ann Polytechnic's Mass Communication program. Upon her graduation from the School of Visual Arts in 2012, May Lin was awarded the prestigious Tierney Family Foundation Award.
Worth a mention is May Lin's participation in the Canon FSO Fashion Photography Award 2010, where she beat over 1000 hopefuls to clinch the top prize, and deservedly so. This gifted Singaporean lass is now based in New York and has big plans for the future. Of late, she participated in an online competition which showcases budding talents. If you dig her brilliant, avant-garde work, support her quest to get it featured on Times Square's billboard by clicking this link.

I spoke to her and found out about her dreams of working with Prada and how Picasso's brand of Cubism inspires her. It's no wonder her works possess a unique fusion of sculpture, collage and deconstructivist energy.
Skii: Where do you derive inspiration from?
May Lin: I draw a lot of creative energy from Dada-ism and Warhol's works. I also really like Picasso's cubism paintings. Hm, the Italian Futurists, and the whole idea of movement. I like the idea of 3D dimensionality. It's more fun to reinterpret such works. I know a lot of people have done straight fashion and done it well, so the world doesn't need more of that. It really is all about the reinvention and reinterpretation.
Perhaps due to my mixed heritage – I'm half French and half Chinese, I get a lot of inspiration from different aspects of my culture. I came from an all-girls' school (SCGS), and I felt that I was never one of them, it's hard to describe the feeling of being an outsider on the inside. A lot of my friends would go by the book, and it's hard to do anything really different in a setting like that. You have to don a uniform in school, such an environment conditions us to lose self-individuality. This is unlike fashion, where anything is game. I can choose to create a fantasy! The model becomes a canvas, and as a photographer, it's up to me to paint what I want.
Skii: Why fashion photography?
May Lin: It's so easy to make pictures digitally as one does not have to worry about the cost of film and development of the print. Plus with the internet, it is so easy to share work with people around the world to get exposure. Fashion is largely a male dominated industry. Men see modelling differently and you can tell the difference between the men's gaze vs the female gaze. I always aim to push my work further.
Skii: What made you choose to base yourself in New York?
May Lin: Because it's freaking awesome! It's perfect because it's where art and commerce intersect. If you can make it there, you can make it anywhere. The culture there makes you work hard and gives you ways to work, plus you never know who you might meet there! The odds of meeting someone who can change your life there are really high.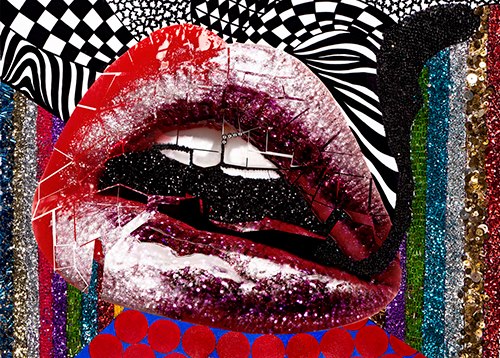 Skii: Why did you join the see.me competition?
May Lin: feel that no one will see my works unless I put myself out there. Moving forward, I find it important to have an audience for my work. Indeed, a lot of my friends don't even know about what I've been doing, much less seeing my work. It is actually my first time making name cards this year even though I've been in the industry for so long. I recently learnt the importance of being a jack-of-all-trades, knowing how to market oneself. You have to be your own cheerleader, because no one else will cheer for you.
Personally, I do face a lot of self-doubt because sometimes I feel like I'm in an arena where no one really cares about art. What is art? How do you break out? How do you take these steps? Maybe I should have started earlier, but I always feel that I want my work ready to be seen before it goes public. Then again, I'm still on this artistic journey and don't want to be overconfident. I'm turning 25, I'm going to turn ancient soon, so it's time to get serious.
Skii: What are the challenges you face in making your work?
May Lin: I take 2 or 3 more additional steps when creating my final product, so it's harder for me to meet editorial deadlines. I collage everything by hand and re-photograph it. So it's really not as easy as it seems.
Skii: Are your parents supportive of such a atypical career choice?
May Lin: Yes, although my dad doesn't necessarily get what I'm doing, but they're always very supportive. I attended musicals and plays since a young age, and it makes sense to be drawn towards the creative industry.
Skii: Who would you want to work with?
May Lin: Prada. I would love to shoot for her in 10-15 years? I can't be so idealistic as to want to do that in the next 5 years because I know a lot of people only start shooting big campaigns when they are in their 40s or 50s. I feel the need to pace myself. Artists of my era are impatient, maybe it's because of the fast-paced life we are used to.. you know, instagram, twitter, facebook, what have you. You cannot expect to develop art in the same way. Plus art growth needs a certain kind of tenacity.
Skii: Which is your most memorable shoot?
May Lin: Max Tan's 1st SS/AW 2010 collection. The first shoot was at Marina Barrage, the second was at East Coast. I loved working with a really great team, who shared the same vision as I. It was the most fun I had, I might even shoot his next season.
Skii: What is the most overused word in fashion?
May Lin: Fierce.. Think Christian Siriano in Project Runway.
Skii: What other art-related things do you do besides fashion photography?
May Lin: I am the Creative Director of LoveLucyNYC.com, a platform for female artists in NY to share their work with the world.
Skii: How do you see yourself in 5 years?
May Lin: That's a difficult question. Maybe that's my problem, I don't know. Well, I wouldn't mind jet-setting all over the world in amazing locations shooting with the worlds' best models, creative directors and make up stylists. I want to be at the top.
—
For more of her works, visit her website here or check out our check out our Facebook album.