Having grown up with music influencing a big part of their lives and passions, Every Rage I Seek is a modern metal, deathcore and metalcore independent band formed from ten years of friendship and hard work. Their particular style is a combination of metal from past and present – a testament to how long they have committed to their craft and allowed experiences to keep shaping their music.
"Music is my other religion. It is cliche to say that life without music is a mistake, but it really is the case for me," Aidil (guitarist) shared with us. It was also lovely to find out that him playing the guitar in secondary school even prompted Ammar (bassist) to pick up the guitar back then. Now both of them are playing in Every Rage I Seek.
Ammar: "It is almost every boy's dream to be a good guitarist la. So I picked it up and heard of a rumour in the school that there is this sec three guitar legend that brings a guitar everywhere. So I went to look for this guy. Literally went around school to find him playing the guitar, and there he was. Sitting, with people crowding around him. We became good friends after a while and when a spot for bassist opened up for this band, I auditioned and been here ever since."
Juggling their respective jobs and making the time to meet up for jamming, it is pure commitment and the want to share what they have to express with everyone else. Even speaking to them, they left us in awe of how they managed to keep going for so many years – defying the trend of local bands disbanding after short stints. They share hopes of meeting newer bands and forming a closer knit community within the underground scene.
However, with the nature of playing an underground genre in Singapore, how does one get to know of what is happening in this specific scene?
"The easiest way to start, right now, and the most accessible is Instagram. The app itself allows you to find one band and from there, you will find so many other bands on their lists – followers, following, or whatever. You can find almost everyone of a similar genre. Social media has reached a point where you can find anything at the tip of your fingertips," Azhar (vocalist) gave us a tip, "I think the mainstream media can help by tapping into this market as well, because then the general public will be more aware of our genre here."
Rasul (drummer) went on: "Then again, we are called underground. But to your question, just ask a metal guy from school or wherever. We also have websites like Soft.com.sg that posts about gigs frequently. People can look up the events and then search for the bands. It is great if you are even looking to know more, because it will be nice to have more support for the underground music scene."
Popspoken met up with Every Rage I Seek right before their jamming session to talk about their beginnings and what to look forward to at Baybeats.
---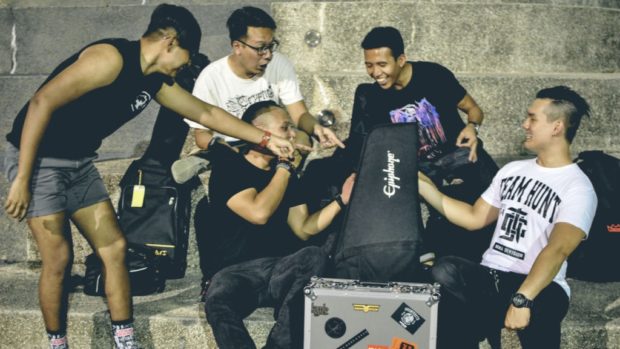 Popspoken: How did your band name, Every Rage I Seek, come about?
Aidil: The band was actually inaugurated as an all-female band under the name 'ALL THAT'S LEFT' in 2006.
Rasul: When Azhar and I joined, the band was experiencing some kind of a rebirth – we were having line up changes, and exploring new music direction which eventually led to the call for a new band name. 'Goddess' is also our way of paying homage to the band's origins as an all-girl group.
Azhar: It came about around 2007. Since our music focus was on the chaos and disorder that is happening around the world, we find it apt that we call ourselves Every Rage I Seek. And then, by chance we realise that in short, ERIS, was the Greek Goddess of Chaos and Discord in Greek mythology. So we found it very relatable and stick to it since then.
PS: There seems to have been line up changes over the years for you. Share with us what it is like when that happens. Does the dynamic as well as music get affected?
Mus: One word to describe the backbone of every band, CHEMISTRY.
Ammar: We believe music is much more than musicality skills. We depend heavily on the chemistry and the vibe that individual can provide the band with. Therefore we have tried playing with different members and monitor the overall progression which was why we settled with this current line up as it has that sweet balance between musicality skills and crazy bonding!
Ai: Yeah, we experienced some lineup changes over the years but at the same time the band has always been incorporating every single member as songwriters. We don't really have a specific genre of metal that we play, and we are fortunate enough to be blessed with members who share the very same intricate songwriting ideas. We don't look back, we are always adamant in moving forward with the increased maturity of songwriting throughout.
PS: What is one general misunderstanding of the genre metal, you think, people have?
M: Not radio friendly. Public have a choice to listen and understand but it depends. It could cater out of interest or curiosity for some, and noise to everyone else. Every song or music, have a sending message. Even metal.
Am: I feel that the general misunderstanding of the genre is that it is closely associated to devil worshiping, or that the listeners are a bunch of hate infested individuals that will reign terror on every dustbin they walk by. When in reality, we're just happy people playing extreme music.
Ai: Hailing from a conservative country like Singapore, the mainstream public tends to have a perception of metal as being purely noise. Metal has been a huge part of our lives and also people across the world, and we use as an avenue of expression. Euphoria, angst, deception, all mashed into our sound.
R: People usually think metal is a whole bunch of gibberish! Totally not true. It has some of the most deepest, and intelligent song writing in music. Go check out the lyrics by metal bands. One of my personal favourite is a song called Misanthropy Pure by Shai Hulud. NOT GIBBERISH.
Az: The most general misunderstanding would be metal is all about the devil and the occult. In fact, that is not the truth. It is just a different style of music which enables us to get emotionally in tune with our music and style.
PS: Of all the songs you have written so far, which is your personal favourite so far and why?
M: Definitely 'They Swarm' and 'A Matyr's Burial' because of its tonality and the flow of the music. Compliments every key we hit, note we strum and it strongly backs up the lyrics by our vocalist. Pure satisfaction.
Am: It has to be 'They Swarm'. That song has the widest range of dynamics as compared to our other compositions and I believe extreme music listeners of various sub genres will be able to appreciate.
Ai: I have several personal favourites, but if I have to pick just one, it has got to be 'They Swarm'. It encompasses a lot of dynamics and it sure has the most 'feel' to it whenever I play it live. It connects with me the most.
R: 'They Swarm' for me as well. It's a 6-minute juggernaut of a track, a lot of depth with an interesting up and down kinda flow. It's our way of story telling, from the intro to the body, the complexity to the drama, the aggression to the release, all of which leads you right to the end.. a somewhat happy ending.
Az: My personal choice would be 'A Martyr's Burial'. This song was specifically written about those who are suffering from war torn countries and what they have to sacrifice in order to survive; to protect their loved ones, children, siblings and parents. Everyday we read about people being needlessly killed by bombs and guns and we feel helpless. So we are trying to create this awareness through our music.
PS: What do you look forward to the most during Baybeats? 
M: Being a part of Baybeats is a dream come true for us. I look forward to the positive vibes from the festival, support other local music and playing at the Powerhouse stage.
Am: I just look forward to see our old friends and also to making new ones.
Ai: Music has been a serious hobby of ours since early childhood. Growing up, we would always be excited for Baybeats, watching our local heroes play and share the stage together. Being part of Baybeats this year has definitely sent butterflies to all of our stomachs. Tremendously stoked and a dream come true for us. It gives us much more motivation to even push ourselves further as a band! Looking forward to connecting with the crowd at Baybeats!
R: I think for many bands in Singapore, playing at Baybeats is a rite of passage. Before this, I was looking forward to all the masterclasses and training sessions conducted by the mentors. We enjoyed it and learned a lot. But now I look forward to spreading metal music to a wider audience when we play at Baybeats!
Az: I would be looking forward to perform in front of a big crowd on a big stage! After years of hard work, this will be the biggest show we'll ever play! So, I suppose the feeling of being able to play to the public on such a big event is what I am most looking forward to. An experience that I will cherish forever.
PS: One word to describe your music.
M: Rage
Am: Intense
Ai: Relentless
R: Beautiful
Az: Chaos
---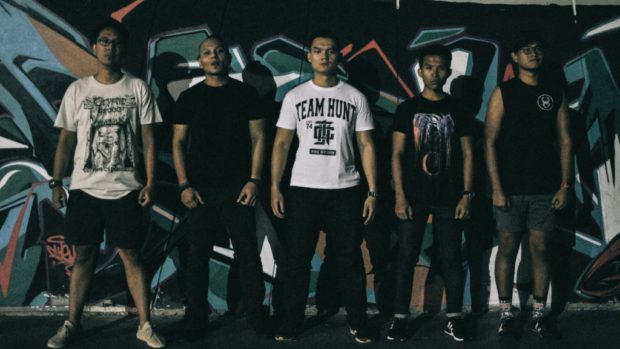 Every Rage I Seek will be rocking it out at this year's Baybeats Festival that is happening from 14 to 16 July 2017!
They will be on for 16th July 2017, 7pm at the Powerhouse. If you'd like, get their merch and wear them over the weekend!
Photography credits: Darren 'Merovign' Tan
==
Stay updated and social with Popspoken: Facebook | Twitter | Instagram