"Sometimes I forget that I'm a third-culture kid. It's why I'm obsessed with malls."
In two hours, we've explored nearly the entirety of JEM and Westgate, the two gleaming attempts at making the faraway West seem as appealing a destination as Orchard.
"It's amazing – you have everything here! I lived in Beijing for 10 years and if I wanted to get to the closest mall I'd need a bike."
Even the most cookie-cutter Capitaland mall can mean hours of entertainment. Clad in baby blue canvas sneakers and a grey beanie, Chuck's sprightly demeanour is evident as he meanders through racks of clothes at Topman.
Those familiar with the 19-year-old's online persona, however, will see how biting this contrast is.
Since getting his start on Soundcloud just two years ago, Chuck has grown more comfortable in his craft. Atmospheric instrumentation, hooks derived from pop-rock influences, lyrical references that unabashedly point to home, sleepy eyes and downturned lips – this is the Of Methodist we see.
Come this Saturday, Chuck will play his first gig as Of Methodist, in the first of a series of live shows at Refuge.
While most artists might choose to retain their birth name when they take to the stage, Chuck is painfully aware of the motivations behind his unique moniker, and why they are particularly applicable to a Singaporean audience right now.
What does Of Methodist make?
Beats, synths, vocals, photos, edits, paintings, and hype. Of Methodist represents a new crop of artists who are involved in the entirety of their artistic production.
What is Of Methodist made of?
Unlike the fierce singular direction associated with his brand, Singapore's latest music darling is many things at once.
---
Popsopken: Where did the name Of Methodist come from? What is it about the name that attracted you?
The name was inspired by "The Handmaid's Tale" by Margaret Atwood. The novel is set in the dytopian future there are these maids that are used as like wombs, basically. It's kind of about human rights. The maids are named after the owners, basically. So if the owner's name is Fred, then the maid is Offred.
So I was studying the book, which discussed weaponised religion, and I was reminiscing about religion. I was going through a tough patch with God I think two years ago. I called myself Of Methodist because I felt very trapped within Christianity as a whole. That's was where it came out from.
Popsopken: As a young artist, do you feel a pressure to constantly develop your sound through rapid releases?
I think it happens naturally, but the pressure's already there. There's a stark difference between my two EPs and then "Authority" and "Sar 21". You can tell that there's some… commercialism. /laughs/
I don't know how to say this but I changed my music taste based on the people that I met in Singapore. The pressure to change is there but I don't address it, because I think if you change for the pressure then it's not genuine anymore.
I could have gone in many directions; I could have gone really pop, futurewave, but R&B is one that I really went into because I feel that I connect with it a lot more.
Popsopken: Do you see yourself keeping this current R&B sound for a while longer?
I think there's always been hints of it in my old sound, but it's more distinct now.
[It was at this point when my 2011 MacBook Pro decided to breathe its last with a couple dramatic blinks onscreen. Very Korean drama-esque.]

Popsopken: Oh my god I think my laptop died.
Okay we can give it a break. Was it on the whole day? These computers… I had one that I used for production and it died. Do you know all my Logic Pro archives, all my old songs are gone? Stupid laptop.
[soundcloud url="https://api.soundcloud.com/playlists/265957514″ params="auto_play=false&hide_related=false&show_comments=true&show_user=true&show_reposts=false&visual=true" width="100%" height="450″ iframe="true" /]
Popsopken: Anyway, you mentioned that you've consistently kept some production elements throughout your entire discography. What are they?
Before I went onto Spotify I was on Soundcloud all the time. I think one distinct thing about Soundcloud is that if you're there, you're learning how to produce. After a while you get this sort of 'school' vibe from the site. Everyone's teaching one another, and from all over the world.
So I was picking up sounds and instruments from other Soundcloud producers, and they were picking up sounds from me. My first two EPs are quite experimental, in a sense. I still experiment now, but I've very much come to terms with my own sound.
There's a bass called the 'Hoover Bass' which I've used throughout both the EPs and my two singles, but I've picked up a very distinct clap, like a snap sound, that I used in every song. There's also this airy 'ooo' sound that starts off "Authority" that's also in every single one of my songs on the next album.
Popsopken: Do you think the average listener is naturally receptive to sound? Do you sometimes think "Oh I'm putting so much effort into this production but will anyone actually appreciate it?"
I think everyone appreciates or consumes production subconsciously. In the back of their head they're just like "oh this sounds very nice".
But personally, I would first notice the production quality when hearing a new piece of music. I don't think a lot of people do that. A lot of listeners find the vocals first and only rarely, if they really want to, they look into the production, which is sad because the identity of the artist is there in the production.
The whole emotion, sound and identity is within the production. The vocals are just a single layer over countless strands of the music.
Popsopken: Does your focus on production come from your musical influences?
I certainly look up to FKA twigs because she is… awesome. I'm really in love with female artists who actually produce their own stuff, that's something that I really respect.
And then there's also Jasmine Sokko. See, these people are very inspiring because they know what sound suits their voice.
I look forward to people who approach their music with a very 'visual art' kind of aesthetic. They're musicians and they're artists. Artists who have a very distinct visual aesthetic with their music are definitely those that I look up to.
Popsopken: Interesting, especially when a lot of singers are really just recording artists.
You know there are artists like Sevdaliza, they've had such a big part in building their universe up. Before entering music I never thought that I could put my identity into music in such a way. After discovering them I realised I can be a visual artist through music!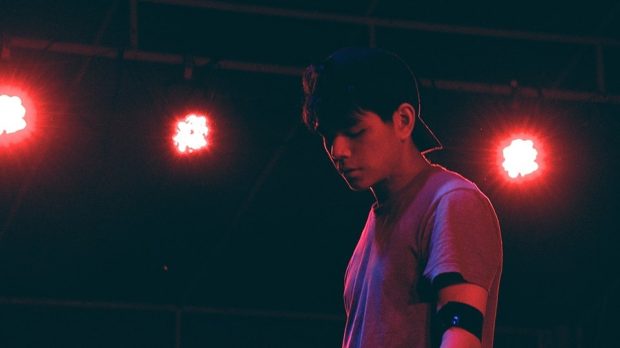 Popsopken: And in just two years! How was your first foray into music like; tracking your first vocal, laying your first instrumentals?
So the only musical background I had was ABRSM Piano, but I really didn't like it. I stopped doing piano, and my mum didn't want to pay anymore because I was failing.
I sort of regained my interest in piano after a while and decided to take it on GarageBand, and very quickly I moved onto Logic Pro.
I think Purity Ring and CHVRCHES were my biggest inspirations to write music, surprisingly enough. I know I don't really sound like CHVRCHES.
Popsopken: Are there artists whose music you admire or appreciate, but would never musically create in a similar way? Something that you consider unconventional for your own tastes.
Okay, I love Bruno Mars. I'm just gonna say that. I think his music and his composition is just so brilliant. His producer must have had the hardest time. When I listen to his songs I even get a headache, I'm like "oh my god". I get chills.
A weird genre that I listen to hmm… rock? I grew up listening to Hey Monday… and it actually does influence my sound now. [When writing,] I'll go back to Orianthi, I'll go back to Paramore. My hooks are not R&B or jazzy, but very pop and pop-rock.
Other acts I enjoy include PVRIS and Halsey when she first debuted. When I first entered National Service I would listen to "Badlands" over and over.
Popsopken: What do you think the Singapore music industry needs more of?
I think this will be a controversial answer, and I literally have no right to say given how new I am to the industry.
But while I'm an artist, I'm also a consumer. Coming in, I realised that a lot of people don't recognise the local music scene. Like, I tell my friends who were born here about The Sam Willows or Jasmine [Sokko] but they don't know them. Exposure is what we need more of, and it really comes with time. We just have to show that we're good.
Also, what I wanted to do with "Sar 21" was to normalise Singaporean references. Every time I've heard an army reference in a song it has been of a comedic nature; it's never taken seriously.
I get where they're coming from lah, why make a serious song about it? But weapons in the US, like an AK-47, that's been over-lyricised! We have our own weapon, why don't we just use it as a metaphor?
Popsopken: But if we don't take ourselves seriously we can't expect others to do the same.
Yeah I just want to make it normal to write about these things!
Popsopken: You're also a visual artist. Can we expect these mediums to converge in your future work?
I already do converge them together. Maybe not via paintings, but my entire aesthetic in Of Methodist — the visual side of it. The curated image that I put out with my music.
I worked with Jayden [Tan], but even after getting the photos there are many, many edits that I do so that it suits the style of my music.
https://www.instagram.com/p/BRcEFAcA3Sp/?taken-by=jaydenation&hl=en
Popsopken: It's quite a bold move to adopt a stage name in an industry this small, where everyone's trying to be known. Would you ever retire Of Methodist?
Honestly, I feel like the task that I set out to do [as Of Methodist] hasn't been completed yet.
The reason I named myself was because there are people in Singapore that have grown up Christian — and I'm not restricting to just Christianity either — but things come into play and we have trouble with religion. The world now doubts a lot more, and it's starting to appear like a godless place.
Things like sexuality come into play and what I'm seeing among friends who are Christian and not very straight is that relationship between God, their sexuality and their family.
Popsopken: So… you're a gay icon.
/laughs/ I don't know, I could be a gay icon for people who had a turbulent relationship with God but are still trying to find Him. Because I grew up with Him all through my life, I can't drop God just like that. He's there, but there are so many things saying that "you can't do this, it's wrong", "you're going to hell".
I'm just trying to figure it out and trust me, I haven't figured it out yet. I'm having a lot of issues with church and my parents about this one thing. Like regarding Pink Dot, the criticism surrounding it might wrongly be distilled to just "Christians against gays" and it's not the case. There are people who are Christian and gay at the same time, who practice it and are loving it.
I hope that one day I can be as comfortable with both coexisting in my life as well.
---
Of Methodist plays Refuge LIVE this Saturday (17 June) with Alextbh (MY). Link to the official Facebook event page here.
==
Stay updated and social with Popspoken: Facebook | Twitter | Instagram