Climbing from number 86 up to 32 in the last two years of DJ Magazine's top 100 DJs, a belt of new exciting collaborations and his own weekly global radio show SupersoniQ Radio, Quintino is one Dutch DJ / producer impossible to ignore.
Right before his set in Singapore for Siloso Beach Countdown Party to 2017, POPSPOKEN spoke with Quintino to pick his brain on his creative process, his story as a DJ as well as his take on issues currently faced by international DJs.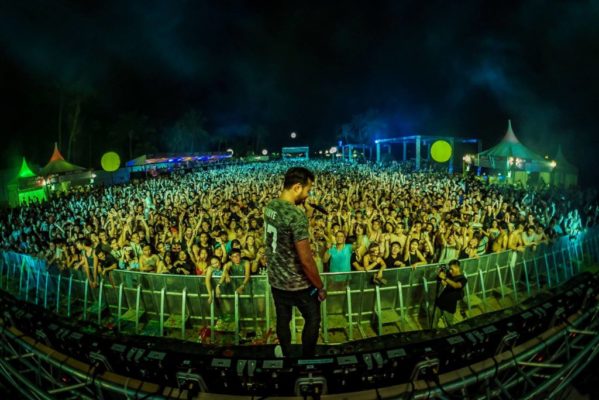 POPSPOKEN: What's the first thing you do when you get an idea for a song?
Quintino: Depends a bit on where and when I get the idea. For example: I get a lot of ideas when I'm touring and doing shows. Usually I make a voice note recordings of all the ideas, then when I'm in the studio later I turn them into songs.
POPSPOKEN: Which song took you the least amount of time to produce, and which one took you the longest?
Quintino: I think 'Baldadig' was one of the shortest. I was sitting in the studio with Hardwell, we tried some ideas and when we made the drop of 'Baldadig', the first thing that we both said was yes! Once we had the idea, we finished the song in one day.
One of the longest songs was 'Unbroken'. We already had the melody 3 years before the song was released. But we just couldn't find the right vocal on the track. But then out of the blue I met Gia Koka, we had a connection and we found the perfect vocal, so after three years we could finally release the track.
POPSPOKEN: What does "Baldadig" mean?
Quintino: It's a Dutch word that means wild, crazy and a little reckless! But in a good fun way. When Hardwell and I made the drop and we first heard it, we said to each other this drop is 'Baldadig' and we just decided to make that the name of the track.
POPSPOKEN: How did your recent collaborations with Hardwell and Cheat Codes come about? Have you been planning for those collabs for long?
Quintino: Well Hardwell and I have been close friends for years, we already did b2b sets 7-8 years ago. We already worked together on 'Scorpion', so we decided to do a follow up and get together in the studio again, 'Baldadig' was the result.
I heard this vocal from Cheat Codes, and I just instantly fell in love with it. We approached them with an idea, they really liked it and 'Cant Fight It' was born.
POPSPOKEN: Name one DJ you would love to collaborate with next.
Quintino: There are so many I can't name just one. There are a lot of collabs coming up starting from the beginning of 2017, and I got to work with some artists I wanted to work with for a long time.
I can't reveal the collabs yet, but stay tuned because we are going to announce them soon and the collabs are huge!!!
POPSPOKEN: You've been to Singapore before, but is this your first time headlining a countdown party?
Quintino: I've been doing countdown shows for a long time now, but I do think the Siloso Beach Party is one of the biggest I've headlined solo.
POPSPOKEN: Would you be keen to spin at Zouk Singapore again, especially now with the new venue at Clarke Quay? Do you like the new venue?
Quintino: Yes of course, I've been to the club this week and I really love it. I love working with the guys of Zouk so I definitely hope to be back soon!
POPSPOKEN: If you could choose one problem to solve in the music industry, what would it be? How would you go about solving it?
Quintino: Contracts and side issues which slow down your creative process and limit your creative freedom. Sometimes I just think why all these rules, I just want to make music and release it.
Unfortunately, I don't really see a quick solution for this because you just have to deal with all the various partners in releasing music.
POPSPOKEN: What are some things you do as a professional DJ that would surprise other people?
Quintino: I'm a really big soccer fan. I try to go to games and play soccer myself as much as possible in between touring.
POPSPOKEN: How would you like "Quintino" to be remembered?
Quintino: As a DJ who brings happy good vibes to his sets, plays a lot of different styles and always brings that amazing energy.
==
Cover Photo: Facebook (Quintino)

Stay updated and social with Popspoken: Facebook | Twitter | Instagram