It's been eight long years since this Nevadan alt-rock outfit last set foot on our humble humid shores. A lot has changed since then – they've released three records, the latest one being Death of a Bachelor, and have parted ways with so many members that the only one left from the original line-up is frontman Brendon Urie. Yet, one thing remains the same – the sheer head-banging brilliance of Panic! At The Disco's (P!ATD) music.
Organised by LAMC Productions, they'll be making a return to Singapore on Aug 16 as part of their 2016 summer tour with pop-rock foursome Weezer, who will also be having their own headlining show the day before. Aside from the usual suspects including "The Ballad Of Mona Lisa", "Miss Jackson", "Nine In The Afternoon", and the one single every fan knows the words to, "I Write Sins, Not Tragedies", here are five other numbers we hope to hear live at their concert.
1. "Northern Downpour"

Written by former guitarist Ryan Ross and former bassist Jon Walker before officially bowing out from the band, "Northern Downpour" is one of Panic! At The Disco's most underrated, yet narratively significant songs.
2. "Do You Know What I'm Seeing"
From their sophomore effort Pretty. Odd., this delicate little single would make for a great acoustic bit half-way through the show.
3. "Sarah Smiles"
How is this song not on the radio? Basically an ode to his now-wife Sarah Orzechowski, this Vices and Virtues track is a delicious blend of pop-rock and a touch of calypso.
4. "New Perspective"
A feel-good pop-leaning song featured in horror comedy flick Jennifer's Body, "New Perspective" is one easy-on-the-ears track that came out of a lucid dream Urie had.
5. "Bohemian Rhapsody"
Yes, we're aware that this isn't a Panic! At The Disco tune, but once you've seen how well Urie belts those crazy Freddie Mercury notes, you'd want to hear it live too. Besides, it also serves the undying Queen fan in all of us.
—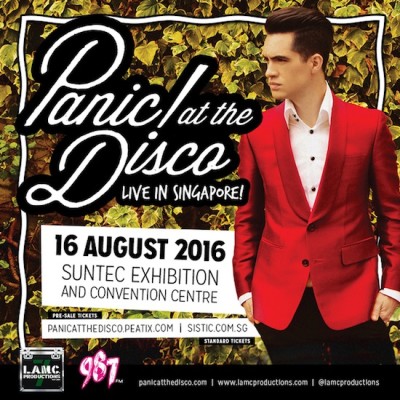 Concert Details
Date: 16 August 2016, 8pm
Venue: Suntec Singapore Convention & Exhibition Centre Level 6
Admission: $98 – $148 (Get your tickets here)
Stay updated and social with Popspoken: Facebook | Twitter | Instagram