More than a year after releasing their debut single "Crossing Swords", local five-piece indie band Stopgap are ready for the big leagues. This Friday, the cheeky outfit will take to *SCAPE for the release of their debut full-length album, "Totems", but in wildly unconventional ways!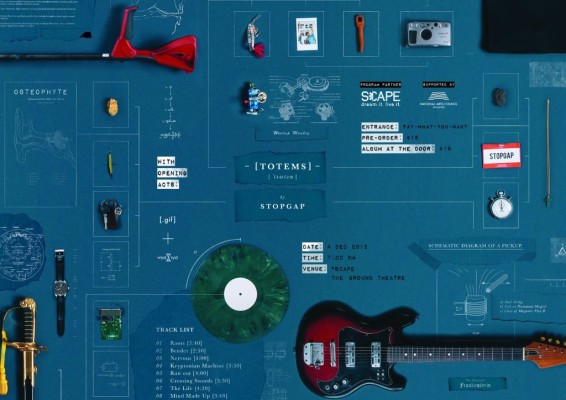 The quintet have been hands-on in their approach to the album, from organising their own launch to shooting and producing the video for "Nervous", shot on-location at The Projector!

In line with their do-it-yourself attitude, Stopgap opted to record and produce the album by themselves with the help of music veteran Saiful Idris of the now-defunct The Great Spy Experiment. The band has also decided to move away from traditional release methods (more about this later).
In a press release, Stopgap promises "bad puns, visual installations, and guest performances by fellow musicians .gif and wyd:syd". Dad jokes, art on walls, and more music? We'll be there!
Now an album launch on a Friday night might seem rather typical – though no one would complain about a good #TGIF night out. The first hint that Stopgap's trying something new, however, comes in the "PAY-WHAT-YOU-WANT" entrance fee. It's a nice gesture, and personally it makes me want to channel that money saved into purchasing their album ($18 at the door, $15 for online pre-orders). Smart move.
Moving on to the album itself, it seems Stopgap are not just post-punk, they're also post-CD-and-iTunes. Physical copies will still be produced (so breathe easy), but in a different form than you might expect. Gone are the days of the compact disc, because "Totems" will be released in… thumbdrive form!
"With optical drives being phased out, we've decided to feature a collectible USB drive and a unique download code instead of a physical CD," said Adin Kindermann, lead vocalist of Stopgap. "I like that thumb drives are reusable, and I hope that people will think of us every time they use it."
So come on down this Friday, you're invited!
==
Find Stopgap online: Bandcamp | Facebook | YouTube
==
Stay updated and social with Popspoken: Facebook | Twitter | Instagram