Last week, the Danish trio behind Michael Learns to Rock charmed the socks of the entire Star Performing Arts Center with their evergreen tunes in a night of nostalgia.
Celebrating 25 years of music making with a tour, the band pulled out all stops to give fans the ultimate MLTR experience. From personally giving roses to lucky audience members, taking selfies with select fans, and even confetti showers, MLTR  definitely knew how to make the night a special one.
The band was in top shape and they were even joined by a bassist to complete their original quartet in order to deliver their songs. Frontman Jascher Richter reminisced about taking a trip down memory lane that night, but also gave us a little listen to one of their most recent singles "Call On Love".
Despite having delivered the same tunes countless times, the band was on point as they performed classic hits like "You Took My Heart Away" and "The Actor". It was almost like a karaoke session with a full house audience singing in time with the band, and Richter proved that he was ever the joker as he impersonated a Michael Jackson cry.
Richter even shared the inspiration behind "Take Me To Your Heart", which was originally a Chinese song, but they liked it so much that they decided to do an English version of it. The emotions behind it was delivered so perfectly that no one would have imagined that it wasn't written by them!
Paying tribute to their fans, the band played a video montage of their fans lip-syncing as the backdrop of their song, "Someday". An avid supporter of fan service, guitarist Mikkel Lentz even managed to get his hands on an audience member's phone and acted as the on-stage videographer whilst still managing to play his guitar at the same time.
From the breathtaking sea of lights during an acoustic set of "Out Of The Blue" to the audience singing along to "25 Minutes", Michael Learns to Rock created a unique karaoke experience that included the audience in the merrymaking. Richter even jumped on the #SG50 bandwagon as well, wishing Singapore a happy 50 birthday, and even joking that Singapore should have twice the amount of success as MLTR did (because 50 is 25 times 2. Get it???)
While the band has been releasing songs all the way up till last year, it was clear that the crowd favorites from the 1990's were still the main focus of the night. Songs like "Paint My Love" and "Romantic Balcony" reminded the audience about the power of love.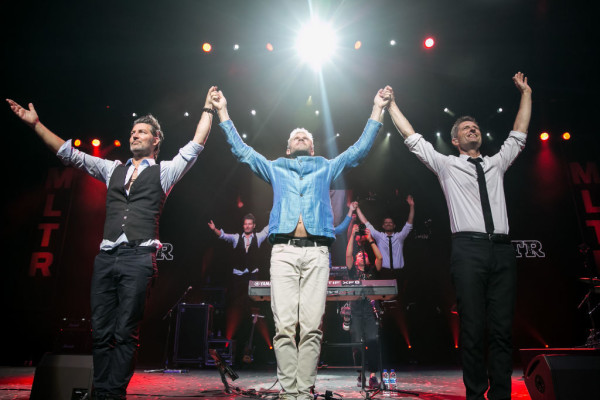 Ending the night with much reluctance, Richter proudly exclaimed, "This is one of the best nights ever for Michael Learns to Rock" as he waved goodbye after taking the obligatory we-fie with the audience.
Photos by Alvin Ho on behalf of Warner Music
Stay updated and social with Popspoken: Twitter | Instagram | Facebook