Holiday seekers, what up!
For those of you looking for a short getaway this November/December break, why not check out and indulge the new "in" thing right now – music festivals, on cruises?
Yep that's right, you heard it first from us. It's no wonder why these parties are such hits: they're all booze, fun, sun, hella good music, and most importantly – they come without the hassle of planning your own trip. Say no more to pesky maps, check-in timings, and transportation! We list down two upcoming nautical themed festivals which are a must go towards year-end:
It's the Ship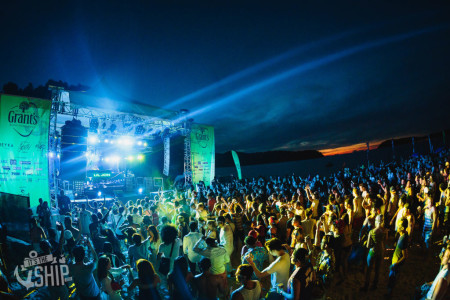 After their largely successful debut last year – making the first of it's kind here – It's the Ship is back for the second year running. The sailing music festival was a big hit, largely thanks to a solid line-up consisting of Indie trio Chvrches, dance maestro Dash Berlin, electronic soundhead Alex Metric, and wait for it – adult film star-turned-DJ Sasha Grey. Who knows the stops they'll pull out this year?
This year's edition will be held from 20th to 23rd November, 2015, and will sail roundtrip from Singapore to Langkawi. Don't forget your sunscreen!
Limited discounted early bird cabins will be made available exclusively for those who attended the festival last year. Tickets can be purchased here: http://www.itstheship.com.
Event Details:-
What: It's the Ship!
Where: Royal Caribbean
When: 20th to 23rd November, 2015
Price: Early Bird Cabins, SGD $565.50 – SGD $2487.50
Shipsomnia
Straight off the New Year (2016), Singapore-based Mad Fresh Events is organizing a music and arts festival which promises a feast of 30 international DJs on a 5-day vacation from Singapore, to Phuket, to Langkawi from 2nd to 6th January 2016.
In collaboration with top clubs Kyo, Ku Dé Ta Bangkok, Shanghai's M2 and Bali's Velvet & Hypnotize, this intrepid voyage of hedonism would include high-staged productions, a magical aquatic theme with a steampunk twist (think Wild Wild West), and a beach party at Phuket.
Mad Fresh CEO and Shipsomnia's co-founder, Alessandra Maderni, said: "We want to bring it to a whole new level to the likes of Tomorrowland of the sea in terms of Shipsomnia's storyline. One of the main objectives is for people to experience it in a fun and creative way."
If it sounds like Tomorrowland, then we're all for it! Tickets can be purchased here: http://www.shipsomnia.com/ticket-info/.
Event Details:-
What: Shipsomnia
Where: Costa Victoria
When: 2nd to 6th January, 2016
Price: Cabins from SGD $959.50 – SGD $1646.00