2014 has been a pretty amazing year, with the god of concerts shining brightly on the scene here in Singapore. There has been an endless supply of concerts in the past year, which of course led to a few hard decisions to be fought. We provide you with a comprehensive lookback at some of the best gigs of 2014.
10. Bombay Bicycle Club
The English indie stalwarts hit our shores for the second time running, this time even bringing a Lucy Rose lookalike onstage for us. Jack Steadman and co. were on point that night, mixing seamlessly a set list which included nostalgic hits from much loved A Different Kind of Fix to current release So Long, See you Tomorrow.
This two-day festival played host to Singapore's finest, all held in the vicinity of the Republic Polytechnic grounds. Some of the acts included heavy-hitters such as Caracal, Plainsunset and Charlie Lim, as well as up-and-comers such as The Sam Willows, Shigga Shay and Stopgap. Whoever can forget the brilliance when Shigga performed "Lion City Kia", with his posse of Lineath and Akeem onstage?
8. Skrillex, Zoukout 2014
Skrillex was a late addition to the already pre-determined Zoukout lineup, but boy, were we glad for that. The prince of dubstep and Grammy award-winner weaved together an intricate set list which included mad samples, 90's pop music, and a medley of crazy music videos, enough to whet any ravers appetite.
7. Hostess Club Weekender 2014
Singapore played host to Japanese label Hostess Club Weekender, who chose to hold their inaugural debut at Fort Canning Park. Packed with the likes of English post-rock giants Mogwai, indie kings The National and BBC sound of 2014 artist King Krule, the festival seemed on course for greater heights in Singapore. Unfortunately, after two cancellations, they'd better think twice before playing the same trick on us.
6. Taylor Swift
This one is to appease the mainstream gods! But of course, no one could ignore the success that Tay-Swizzle has gotten in the past few years. Engaging our shores for the second time in promotion of her Red Tour, Tay-Tay astounded completely with a concert of multiple costume changes, an entourage of 12 dancers and a spunky attitude to match. Taylor Swift, you'll forever be 22 to us.
Laneway Festival has always been regarded as the grand dame of music festivals here in Singapore, and this reviewer thinks that it will remain unchanged for many years to come. In its fourth year running, the indie music festival has managed to pull in a whopping 10,000 revelers to its concert grounds. With indie stalwarts such as James Blake, Haim, Chvrches, and Daughter helming the festival, the edition in 2015 is something to really look forward to.
4. Jagwar Ma together with The Flaming Lips
"The Flaming Lips, together with Jagwar Ma, presented what was definitively, one of the best gigs of 2014."
We recently wrote a review of our experience on the concert, and boy was it mind-blowing. Just imagine a giant sun, a lizard, a purple butterfly, and Santa Claus all being on stage. On top of that, imagine a conductor, a wild-haired man by the moniker of Wayne Coyne, squeezing in a giant Zorb ball and wading through the crowd, together with a field of confetti cascading down upon the audience. If this doesn't blow your mind, we don't know what will.
3. Electrico, Love at the Sub
Cemented as one of Singapore's oldest indie bands, Electrico has seen its fair share of successes and setbacks. This time, with The Substation, Electrico held a mini-fundraising concert for the arts house. Small, cosy and intimate, the 3-piece played hits from much-loved effort So Much More Inside to Hip City. There were even shouts for the band to play their much-panned National Day song, What Do You See, in which frontman Dave Tan laughingly declined. Much of the party was fuelled by pay-as-you-want beer, and of course, pay-as-you-wish entry. The entire gig was small and intimate, feeling like a family reunion of sorts.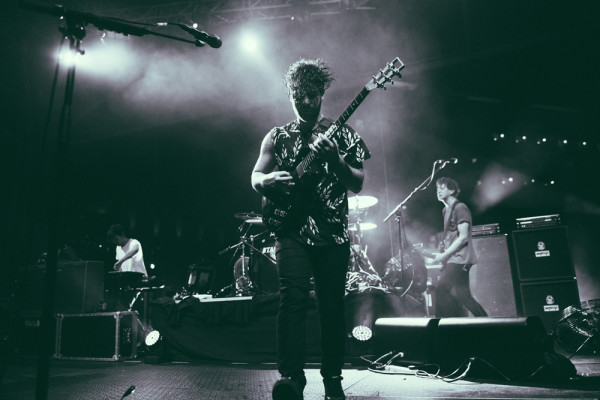 2. Foals
We first saw Foals at the inaugural Laneway — affectionately coined by festivalgoers as Rainway — back in 2010. Fast forward to 2014, and Foals provided us one of the most fast-paced, intense action that we've ever seen. The Hard Rock coliseum was packed from top to bottom, and we were pretty sure some people got evacuated for suffocation. Complete with total crowd surfing and moshing, frontman Yannis Philippakis decided to up the ante by stage diving into the crowd while shredding his guitar. By the end of the set, everybody was drenched in each other's sweat. Sweet tribute to Rainway, huh?
And now, for number one..
Drumroll, please
.
1. Deafheaven
People might ask, why an obscure post-metal band as number one? Well, this is no ordinary metal band. Deafheaven has managed the unique ability to transcend fans of other genres, a commendable feat considering how inaccessible metal is to listeners. Widely rated as one of the best releases of 2013, Singapore was part of their tour to promote their sophomore effort, Sunbather. With only 200 tickets released, tickets were lapped up almost instantaneously. Held at Beep Studios, the studio played resident to one of the most moving and intense gigs we've ever seen. Frontman George Clarke was akin to performing Hamlet on stage, donning his trademark black gloves and captivating with his dramatic flair. Amid sonic soundscapes and ethereal noises, the band played music which appeared to capture your soul.
In the closing verses of Dream House, Clarke appealed to the Gerard Way in all of us when he screamed "I'm dying/is it blissful/it's like a dream/ I want to dream." Beautiful, raw, and hard-hitting, Deafheaven showed us what it meant to be a band of intense emotional calibre.
With 2014 coming to a close, 2015 seems on course for another amazing year of concerts, with Future Music Festival Asia, Laneway Festival 2015 and Alt-J being a few of them.