November has good things in store for us. This is also the month where vegetables and truffles come back in season, but beyond the weight of those ingredients, local restaurants always have a few extra tricks up their sleeves to stand apart from the noise.
From exclusive four-hand dinners to exotic high-tea sets to decadent local masterpieces that steer away from scarring your wallet too deep, this month's selection is Christmas come early because we deserve it.
View this post on Instagram
If Lake Como is one of the destinations on your travel bucket list, you are in luck. Get acquainted with Chef Ettore Bocchia of one Michelin-starred Mistral Restaurant at The Lighthouse Restaurant & Rooftop Bar during his four-day takeover, including an exclusive Antonius Caviar Menu on 16 November, 7pm onwards.
Helming the kitchen of Grand Hotel Villa Serbelloni back home, Chef Bocchia will be serving excellent interpretative dishes of the molecular cuisine, including the acclaimed 'cappelletti' and nitrogen-frozen guacamole ice cream. His dishes play with the limits of Italian ingredients and bold techniques, producing standout dishes such as Il Germano Reale in 2 Cotture (Mallard Duck in Two Ways) to truly showcase his dualistic approach to authenticity and innovation.
Chef Ettore Bocchia's Home of the Stars Menu
When? Now till 16 Nov
$158 onwards per person for a five-course dinner menu
The Fullerton Hotel, 1 Fullerton Square, Singapore 049178
Chef Keisuke Takeda of Ramen Champion fame shows no signs of slowing down when it comes to opening a successful chain of outlets in Singapore. As a keen observer of dining trends in Singapore, he tries to offer a slight twist in all his Japanese restaurants. In his latest Tonkatsu establishment, he makes use of a special "shiokoji" technique that removes 50% of the oil as compared to traditional deep-frying techniques.
Aside from the standard pork loin choices, he has put a slightly unconventional choice, salmon on the menu. All sets come with a free flow of salads and a fine mixture of sauces.
Set meals start from $15.90
60 Paya Lebar Road #01-02/03 Paya Lebar Square, Singapore 409051
Looking to splurge after saving on Singles' Day sales? Uni Gallery's newest Multiple Foodgasm Kaiseki menu is here to give you more bang for your buck. While its signage at The Plaza might be inconspicuous, its eclectic offerings are another story.
The restaurant has their seafood flown in fresh four times a week and serves up to 10 distinctions of uni. The Kaiseki menu incorporates the decadent seafood into the different dishes and formats, such as frying it to form the Uni Tempura Truffle Chawamushi, or laying it out raw as a Uni Oyster Shot. However, the Caviar Bone Marrow easily steals the limelight, where oscietra caviar is generously smeared on the perfectly grilled beef bone marrow and topped with savoury beef bits for extra kick.
When? Now until otherwise specified
$118 onwards per person for a six-course menu
7500A Beach Road, #B1-1310, The Plaza, Singapore 199591
New Ubin, the sensational tze char group behind heart-stopping homegrown creations, is back with their newest experiment at another offbeat location: the ground floor of Space@Tampines, a commercial property along Tampines Industrial Crescent, or opposite the main road from IKEA Tampines. Taking up almost half of the canteen, New Ubin Village consists of its modernised eatery, New Ubin Tampines, and a brand new incubator stall programme, New Ubin Test Kitchen.
Other than bringing back the Hillview specialties such as its Charcoal Fish Head Steamboat—a throwback to a nostalgic concoction of clear tofu soup with fried red snapper fish head, the outlet also introduces their cheeky Ubin Nasi Lemak, which features ridiculously fragrant coconut rice, Joo Hee Sambal (sambal cuttlefish), Ayam Bakar (charcoal grilled chicken), hard boiled eggs, anchovies and sliced cucumbers. With an array of excellent dishes perfected over its journey around the island and a dedication towards constant innovation, New Ubin proves time and again that it is a force to be reckoned with.
When? Now until otherwise specified
18 Tampines Industrial Cres, #01-16, Singapore 528605
With the rise of the mukbang trend, Pizzamaru, the international Korean pizza establishment, is here to get a slice of the pie with their Nuclear 1KG Cheese Bomb Pizza. Only available until the end of the festive period, the tantalising creation features a full kilogram of gooey mozzarella on top of the chain's signature fibre-rich and antioxidant-packed black rice dough, and each oozing bite is made complex with the addition of honey or, if you are feeling adventurous, chilli flakes.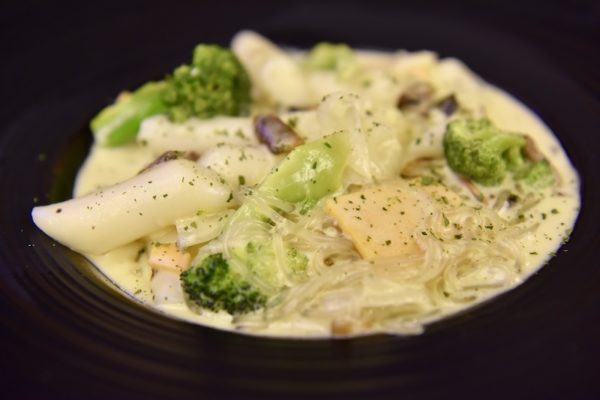 Cheese lovers will be pleased to know that each bite is immensely satisfying because of the generous ratio between cheese and crust, while those who are on the fence can opt for the signature fried chicken or Carbonara Toppokki, which is a creative twist on the tradition street food, now made with turkey bacon, korean glass noodles and cream sauce.
When? Now till 31 Dec
$29.90 onwards for the Nuclear 1KG Cheese Bomb Pizza
Available at Jewel Changi Airport, Bugis+ and Northpoint City
View this post on Instagram
Fresh rosemary scones against the impressive landscape of Orchard's shopping district? Check. Weekends are often reserved for personal recuperation and V Dining brings back the allure of slow, intimate afternoons with Pastry Chef Joe Leong's exotic mashups of sweet treats and savoury creations. Themed "Herbs & Spices", the menu takes you on a journey around local and foreign influences, ranging from the heat of South Indian spices to an unorthodox union of cheese mousse, raspberry, and peppercorn.
Standout selections from the highly picturesque tier include the handmade turmeric otah, and handmade scones with the accompanying raspberry jam, orange jam, and clotted cream. The gorgeous setting and free-flow drinks, either coffee, tea or bubbles, makes this an ideal spot to recover from shopping, or life in general.
When? Now until otherwise specified
$48 onwards per person with free-flow coffee or tea
6 Scotts Road, #03 – 13, Scotts Square, Singapore 229209
View this post on Instagram
In the mood for festive, drunken debauchery? The duo from Aux Deux Amis (ADA), one of Paris' most rambunctious natural wine bistro, will be in Singapore for a two-night dinner series with the team behind the eclectic Ding Dong.
The kitchen will be helmed by founder David Loyola, who has worked with legendary chef-owner Iñaki Aizpitarte as both chef and sommelier for four years at Le Chateaubriand, and his partner-in-crime, chef Mathieu Perez, who also runs the kitchen at Bar Brutal, another natural wine haunt in Barcelona. Together with the whacky creativity stemming from Ding Dong's daring interpretations of local flavours, expect a menu that not only features the best of native ingredients, but also shines a light on Parisian savoir faire and the elegance of organic wines by Drunken Farmer's residential sommelier, Eduardo Bayo.
Ding Dong x Aux Deux Amis Dinners
When? 27 & 28 Nov
$85 onwards per person for a six-course dinner menu
115 Amoy Street, #01-02, Singapore 069935
Wrap up the month in a weird, wonderful, and free way with Sunday Social's Weird Wonderful Pasar Malam at Open Farm Community! Following their huge success with the recent Pasar Pink market, as part of the two-week long Pink Fest celebrations, the theme this round will showcase all the weird and wonderful elements that engineered Tiong Bahru Bakery's "Weird Wonderful World" picnic in 2017. Completely open to public, there will be over 30 festive gift stalls, family-friendly craft workshops and a movie screening by social enterprise 4FUN, all while pairing chill housebeats to residential stalls serving natural wines, speciality cocktails, Parisian cookouts, artisanal bites, and infectious weekend vibes.
When? 30 Nov
Open Farm Community, 130E Minded Road, Singapore 248819
==
Stay updated and social with Popspoken: Telegram| Facebook | Twitter | Instagram