The last week of August hangs around us like threatening clouds on a Monday morning. We are grateful for it, but we want it to pass so we can get down to mooncake rocking (and regretting).
Eat like a local for the remainder of August because there is nothing tastier than good dining deals, unless we are talking about farm-to-table Japanese creations, bouchot mussels, hearty bowls of pho, and everything else we have listed in this month's selection.
Mrs Pho, the humble Vietnamese eatery along Beach Road, finds a new home in every Singaporean's happy place: a shopping mall. With their third outlet located at Vivo City, the restaurant not only serves up authentic pho, but several classic dishes that one might imagine locals enjoying along the roadside on short stools, and modest newcomers like Mrs Pho Cockles and Mamma's Chicken Ham.
The menu relays a great story of the founder Hoang's childhood, starring the women in his life—his mother, grandmother and aunts, as women who selflessly feed their family out of love and whom he crowns as the best cooks. Everything is either made inhouse or sourced directly from Vietnam, down to the iconic reflective chairs and sauces.
Standout dishes are the Fresh Star Fruit and Beef Salad, which comes with a side of taco-esque shrimp chips; the Hanoi Pork Meat Balls, slightly sweet with excellent texture; the Moc Noodle Soup, which drowns springy noodles and chicken ham in a slightly sweet and spicy clear soup, and the uber creamy Avocado Smoothie with a shot of traditional Vietnamese drip coffee. Fresh, familiar, and affordable—there's something for everyone at Mrs Pho.
When? Now otherwise specified
Vivo City, 1 Harbourfront Drive, #B2-29A, Singapore 098585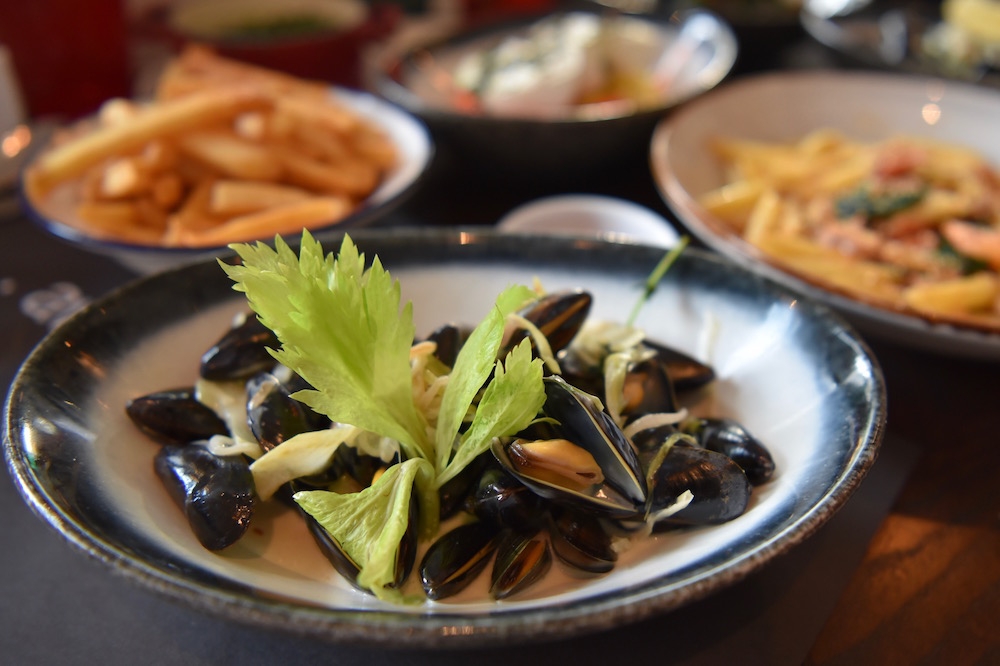 As the adage goes: small in size, but definitely big in flavour. Ginett Restaurant & Wine Bar is back with their seasonal special: the highly coveted Bouchot Mussels from the pristine bay of Mont Saint-Michel, France. From now until 4 September, customers get to enjoy the unique mussels in four ways: Classic Marinière, Creamy White Wine, Tomato & Chorizo and our personal highlight, the Spicy Asian Style.
Fans of this shellfish will know that there are a few factors that determine a good mussel experience, namely, colour, texture, and sauce. Boasting of a gorgeous hue of orange, the mussels have a buttery, almost pillowlike consistency that brings out the respective sauces incredibly well. Not to fret, there is enough bread to soak up all the precious broth.
For those who enjoy having variety to work through the generous portions of mussels, one sure bet is the Burrata & Heirloom Tomato, served on a bright bed of enormous tomatoes, soft burrata chunks and a dash of pesto.
Bouchot Mussels at Ginett
When? Now till 4 September
Hotel G, 200 Middle Rd, Singapore 188980
A lot of good things can be said about Spa Esprit Group's newest Japanese restaurant, NOKA. With a catchy moniker that translates to farmhouse in Japanese, it brings together two appealing concepts: exquisite, authentic Niigata cuisine, under the helm of Head Chef Seki Takuma, and fresh, homegrown produce from a rooftop urban farm, cultivated through the green thumbs of the Edible Garden City team.
There are currently around 30 crop variants grown on the rooftop garden, ranging from mushrooms in a climate control chamber to mini greens to large-scale fruits and vegetables. Most of the herbs and flowers are also creatively integrated into Chef Seki's dishes, allowing for different flavour profiles to play with traditional ingredients. We highly recommend their three-course set lunch, which gets you started with a darling mushroom medley salad, followed by either the nine-piece Sushi Moriawase or Bara Chirashi, and earthly desserts.
"If you walk the garden, you'll discover that your food tastes better," shared Cynthia Chua, Spa Esprit Group's founder and CEO. Since NOKA is already on our must-revisit list for 2019, we agree with this sentiment.
At the core of NOKA is a desire to pioneer a movement and/or interest in supporting local, aligning with the 2030 vision of having 30% of food grown within Singapore. "It is not about ordering the best produce, but about pushing boundaries and supporting regional farmers. It is about understanding and substituting herbs and working with a chef who is interested in this philosophy."
When? Now otherwise specified
Funan, 109 North Bridge Road, #07-38/39, Singapore 179097
There is some serious clout behind V Dining's presence within the local dining scene. It is easy to miss its inconspicuous entrance at the highest floor of Scotts Square, but once inside, be prepared to marvel at the sleek marriage of high-end European technology and elegant dining.
Injecting a minimalistic approach to a wholly polished exterior, the restaurant is a delicious demonstration of what V-ZUG, the Swiss luxury appliance purveyor, can do: everything, with a rich side of class.
Look out for their monthly collaborations with notable chefs, such as Chef Brent Savage of Bentley and Chef Alain Devahive of Olivia. These are experimental, one-off menus that prove how far the sophisticated kitchen equipment can go. After all, with great power, comes great creations.
Head Chef Lee Jing Peng roots the dishes with distinct Mod-Asian influences, while Chef Ryan Clift, as the Global Ambassador of V-ZUG and Culinary Director of V Dining, lends his expertise through innovative interpretations and bold (or even slightly zany) flavours. Did we also mention their unparalleled view of the iconic shopping stretch?
With only 35 cosy, front-row seats to enjoy the best of urbane substance and style, make it a date before the place gets too hot.
When? Now otherwise specified
Scotts Square, 6 Scotts Road, #03-13, Singapore 229209
If tongue-tingling food sounds like your alley, then Menya Kokoro's newest offerings are not to be missed. The Mazesoba specialist chain launched four new dishes in conjunction with their latest outlet at 100 AM. The Furious Mala MazeSoba and the Furious Mala Ramen Soup come in three levels of spiciness, tailored with the fiery help of Szechuan peppers, dried chilli strings and chilli oil.
Be warned: from your first bite, you will find yourself in a conundrum. While the perfectly al-dente noodles, onsen egg, and tender pork slices engender an inescapable cycle of sensations, the spice delivers a series of knockout blows.
However, there is still hope for the other halves with much lower mala tolerance. For mains, the Yuzu Pork Hiyashi Cold Ramen is a light and zesty addition to the main menu, and for dessert, the wildly popular, gravity-defying Japanese brand Emma Soft Serve!
If you have already conquered the queues at Plaza Singapura to try their Boba Taco Softie, which is essentially soft-serve housed in wafer and doused with Okinawa brown sugar boba, leave room for one (or two) of their Soft Floats in five distinct flavours: Sunny, Virgin Mojito, Pink Lady, Green Tapioca, and Black Tapioca.
When? Now otherwise specified
100AM, 100 Tras Street, #02-10 Singapore 07902
==
Stay updated and social with Popspoken: Telegram| Facebook | Twitter | Instagram