There is something about pasta that grabs one profoundly. It is a staple that is versatile, bearing both rustic charm and radical potential. It is a medium straddling between dualistic roles, the vehicle or the message of the dish. It is generous, often interlacing conversations, family, warmth, and flavours into a big, messy twirl of love and labour.
And it appears that Bar Cicheti, the six-month-old restaurant along Jiak Chuan Road, have taken all these sentiments to their pasta. The dishes here feature a refined marriage of fresh, handmade noodles with exacting flavours, varying from classic to inventive. They are glorious, yet approachable. Each plateful was a demonstration of perfectly al dente noodles, meticulously portioned for sharing.
Supporting acts like the Polpette Di Manzo, or buttery brisket meatballs with milk-soaked bread, and the Burratina with housemade burnt onion marmalade, also reveal an effort to infuse the same amount of excellence and enthusiasm into the antipasti selection. For dessert, the Cannoli, delicate and sophisticatedly balanced, provided a fantastic finale to our first experience in Bar Cicheti.
It is no surprise that experiences become the restaurant's core when Liling Ong is involved. The three-brand-strong restaurateur brings to the table her collective experiences in corporate business, creative industries, and hospitality. Sharing with us her stories about her journey since joining the F&B scene, it becomes clear that it takes more than a challenge to deter her from reaching the top.
From corporate business to fashion to restaurateur, what prompted the leap across industries despite the tough F&B scene?
Ever since young, I have always been a creative person who loved creating things, such as art or cooking from scratch. It was a natural progression. I got my business grounding as a lawyer and that in turn allowed me to get headhunted for consulting, which then lead me into venture funding, which was investing in fashion. If you look at the steps that I have taken in my career, they all quite organically take me where it was a no-brainer decision for me to go off and start my own F&B business.
Why I decided to go into the restaurant industry was having just come back from London, I miss restaurants that were not cookie-cutter or white-tablecloth standard. Six, seven years ago, that's all we really had in Singapore.
I wanted to create these hole-in-the-wall concepts that almost breathed life into themselves and would evolve around who our customers were, as opposed to the type of product the restaurant was seeking to have and expecting our customers to evolve to it. I wanted to create spaces that would eventually age very well over time and would take on the personality of the people that were our regulars.
How is it like working in F&B, especially as a woman, given that the industry always had a male flavour to it?
It is incredibly challenging. Until today, I still face a lot of difficulties as it really is very much a male-dominated industry, probably much more than finance. A lot of people don't think so, but it really is, especially when you get into the more senior positions—they are all male. It is very rare that you will find a head chef that is a female, or a front of house, or a sommelier who is a woman.
I am navigating within this industry on my own, and I am pretty confident to say that I am one of a handful of entrepreneurs in this F&B space in Singapore. The root of success for me, though, was to surround myself with males that were very secure with themselves and work well with me as a team. Once you find that group of people, that support network, it makes it much easier to implement a culture where your sex does not necessarily justify how successful or unsuccessful you are going to be in a particular industry.
We make a huge effort to actually hire more females. I try to have as many female staff on the floor to balance out my numbers as obviously a lot of males are in my kitchen. If you take a look around the restaurant, you will see that we not only take on a lot of women, but also people regardless of their sexual orientation. We try to give people the opportunity to join our company, grow, and be their own person.
Do you have a culinary background?
I don't. This was totally out of the blue. I never even worked in a bar growing up—it was not done in my family and I was not allowed. When I was in university, I wanted to work as a bartender and my mother absolutely shut me down.
My first foray into restaurants was owning it. I ran the floors, cleaned the toilets, it was full on. I had to work from the bottom as it was a very labour-intensive business. You're working with people from different backgrounds all the time. If you do not lead by example, they do not end up respecting or staying with you, so I am highly operational at all my restaurants.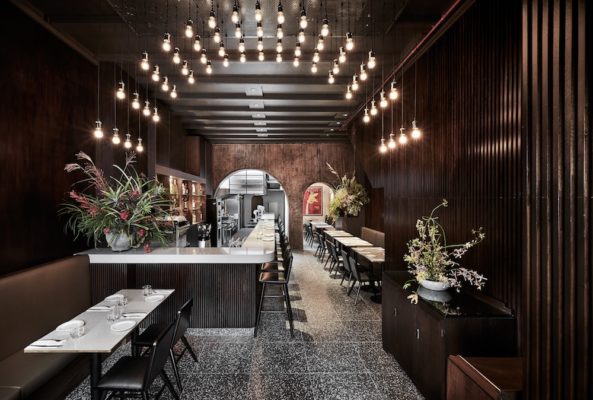 There's a saying that the true test for a restaurant starts after six months. How do you intend to keep the edge after the novelty of a new restaurant dies down?
That is very spot on. I do not count my blessings at six months to a year. It is very natural if you have a good product, the market usually will receive it quite well. How we keep things very fresh and current is that we get to know our customers well.
We know our regulars and we listen to what they want so there's a lot of back-and-forth dialogue. I would say since Bar Cicheti's inception, we probably have a book about 40 regulars, people who I have become friends with, that will message me one on one, give me feedback about their meal, tell me what dishes they want to try, and what wines they have come across that they wish we would have. It is really about evolving my business to take on the feedback of those who are essentially my spokespeople.
We also play around with the idea of seasonality a lot and that has served us incredibly well. People are curious about the seasonality of ingredients and foodies want to go back to basics, and we do that by educating people about what ingredients are meant to be eaten at what times of the year.
With the Cicheti brand, what we are known for is taking Italian food and putting our own twist on it. We do not cook fusion Italian food, but the way we infuse flavours is a lot more intense than you typically would find in a European-Italian restaurant. I think because of this intended, specific style of cooking and the way we extract flavours from dishes, it helps us sustain the test of time in this challenging industry.
What is your philosophy as a restaurateur and maverick?
Never give up. I face big and small walls every single day as there are challenges all the time, and things are never going to be smooth. I am never entirely content. I do count my blessings, but I never take my foot off the pedal. I am always at a tension basically, so that when things go wrong, I do not have a complete meltdown. I always have a problem-solving mindset, which I never take off, and I am forever curious.
I think the day I stop being curious about this industry, the day I stop being curious and passionate about design and coming up with new concepts is probably the day I feel like I have run out of steam and perhaps take a break. Until then, I can't see it happening. I am lucky to be in an industry that takes everything I am passionate about, an industry where I am able to regurgitate all my inspirations into a physical space, explore more things about the world, get inspired again, and create more. Hopefully, it doesn't stop.
Bar Cicheti has quite the killer focus, pasta and wine. Why is pasta so important to the brand?
I have always approached the idea of being involved with food as a way to bring people together. With everything that is going on in the world, such as technology, it is very easy for people to be siloed into themselves, sit on the couch with Netflix on your phone, and not interact. I am not just in the business of feeding, I am basically in the business of bringing people together via food.
If you look at the history of pasta, there is a lot of debate about where it comes from. The Italians claim it originates from Italy, but even earlier on, historical records of noodles, pasta have origins in China. Being Chinese, I love this idea of taking pasta and putting our own stamp on it.
Again, the longer I am in this industry, the more I get excited about the idea of educating people. It is satisfying to feed people and fulfil this basic need, and also to explore this complex notion of pasta, a very traditional Italian staple menu item, and cooking it in Asia for an Asian audience (and pasta does technically have some Asian roots). I love the historical basis of this and it becomes incredibly meaningful to me.
Even with wine, it took me a really long time to understand it but when I did, I completely fell in love with it. Wine is one of the few things where you get to taste people's memories and art. It is a living liquid and it changes all the time. The idea of taking of these two very basic, common, but also special and complex, food categories and combining them together just seemed like a nice challenge for me. It was also scary as it was very specific and if it ended up being bad, there was nothing for me to hide behind. It was make-or-break.
Ultimately, it has always been a concept that is very close to my heart and I am very happy that we finally plucked up the courage to do this.
In three words, how would you describe your 2019 self?
Inspired, secure, and empathetic. Doing what I have been doing for the last five years, and being as operational as I am, the ability to be empathetic really is one of the most important skills I have picked up, in terms of leadership or just having clarity in what I do for the rest of the year.
When? Now till otherwise specified
Bar Cicheti, 10 Jiak Chuan Road, Singapore 089264
==
Stay updated and social with Popspoken: Telegram| Facebook | Twitter | Instagram