Since its inauguration in 2010, Sentosa's Tanjong Beach Club has been the ultimate weekend destination for an idyllic retreat from the bustling city.
And this comes as no surprise; what's not to love about a day spent soaking in the rays, alternating dips between pool and sea, nibbling on beach bites and maybe even trying your hand at the resident beer pong table with a refreshing cocktail in hand?
Yet along with its first ever menu refresh comes the reminder that Tanjong Beach Club isn't just an exclusive treat to be redeemed on the weekends; the new menu is more refined and features delightful coastal flavours, establishing it as a worthy dining destination during the week as well. Despite its seemingly secluded location on Sentosa Island, the beach club is a mere 15 minutes drive from the CBD. Perfectly manageable for a getaway lunch break!
The new menu embraces and emphasises the restaurant's coastal assets with a very seafood forward spread, also offering several more vegetarian options than the original menu did.
Lending his flair for vibrant flavours to the Tanjong Beach Club team, Chef Jason Jones crafted a menu of dishes that are reminiscent of the surf culture he has experienced during his travels in Mexico, Australia and other parts of the world. Taking a unique spin on seaside dining classics, his additions to the Tanjong Beach Club dining menu include the light and refreshing Snapper Ceviche, the Market Fresh Fish of the Day, and the Lobster Bun.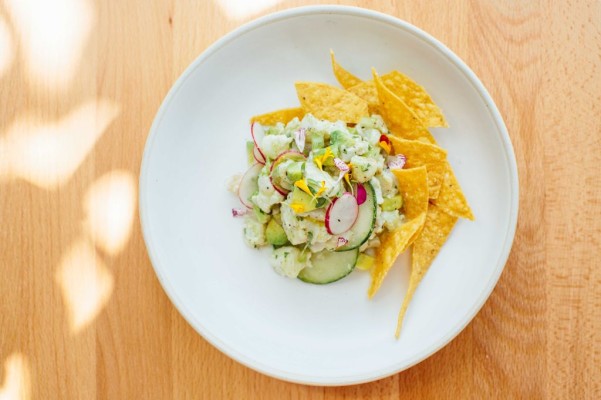 The signature lime and coriander marinated Snapper Ceviche with radish, cucumber, avocado and homemade tortilla chips ($23) was one of the first dishes we tried and kicked the meal off to a refreshing start. The snapper sashimi is cured for 3 hours so that it retains its bite and is complemented by the contrasting creamy avocado and the delicately crunchy chips.
Another Mediterranean style dish is the Barbecued Octopus Salad ($24) with baby spinach, quinoa, fennel, pomegranate, orange and sherry vinaigrette. A light and delicious choice packed with superfoods, which is sure to give you that healthy beach glow.
The Burrata ($21) with jalapeño and basil salsa verde and crostini was slightly overshadowed by the first two starters as the burrata could have been creamier, though the salsa verde did give it an unexpected twist.
We paired our meal with several Tiki inspired drinks, which were all incredibly refreshing and tropical. Bar Mentor, Julian Serna's philosophy for drinks revolves around recreating classic  cocktails with a summery twist. Simple yet meticulously crafted, the new additions emphasise a balance of multi-layered flavours and Tiki inspired elements to complement the laid-back ambiance.
Sail into paradise with the Hollywood Punch ($23 / $41 for double serve) – a breezy concoction of Havana rum, absinthe, banana liqueur, coconut water, lemon juice and orgeat. The Piña Colada ($23) is a reinvented take on the summer classic with Havana rum, Mahiki rum, pineapple juice and coconut cream served in a hollowed frozen pineapple.
For the mains, we started with the Stingray which was the Market Fresh Fish of the Day ($35). The stingray is minimally seasoned and comes with sweet, juicy tomatoes, pine nut salsa and a basil emulsion.
Moving on to the more filling dishes, we tucked into the Orecchiette Chorizo ($33), the Lobster Bun ($38), and the Eggs and Ham ($33), a brunch special. The recipe for the Orecchiette was diligently coaxed out of an Italian chef, featuring Spanish pork sausage, cherry tomatoes, parmigiano-reggiano and Hokkaido scallops to top it off with a bit of luxury.
The Lobster Bun is an unsurprising Tanjong Beach Club crowd favourite: the hunks of juicy, sweet Maine lobster are cradled in a homemade black sesame bun with avocado, lime mayonnaise and nori seaweed.       
Açaï bowls have been all the rage lately and Tanjong Beach Club have come up with a unique twist  for their brunch menu: the Inca berry confit Açaï Bowl ($21) is infused with a dash of alcohol so that you get to really take your time and savour it without worrying too much about it melting. The bowl is topped with mango, blueberries, toasted coconut and homemade roasted hazelnut granola, which gives a satisfying crunch and addictive nutty flavour.
Saving the best for last, the signature Banana coconut Tarte Tatin ($16) is a dreamy concoction of caramelised banana, almond crunch, and topped with vanilla ice cream.
As the almond crumble base is freshly baked, this one is meant to be consumed at once, and all the more so if you're sharing it (it will disappear before your eyes, it's that good).
Tanjong Beach Club's brand new coastal flavours, summer tipples, and its beautiful sandy beach are the perfect reason for an urban escape, whether it's on the weekend with family and friends, or even for a mid-week pick me up.     
---
 This was an invited tasting. 
Tanjong Beach Club 
Address: 120 Tanjong Beach Walk, Sentosa. Singapore 098942
Tel: 9750 5323
Operating hours: Tuesday to Friday 11 am to 10 pm, Weekends 10 am to 11 pm