For most of Asia, rice is a commodity. Riding on its popularity, Grain Traders has made it a staple in their bowls that are made freshly daily. We aren't just talking about the typical white rice you have with your zi char, they have given consumers the option of picking Japanese rice, brown rice, quinoa and more.
Manifestations of the idea had been brewing in founder, Javier Perez's mind for a while. He was set on refreshing the idea of 'fast food' in the CBD context, because aside from salads, the only other form of quick dining in the district is your fast-food chain or the msg-laden dishes at Lau Pa Sat. Besides, Joshua Adjodha and Javier's existing labour of love, Kilo, had taken off, so they knew the renewed focus on food and experience placed together, was something that would be a welcomed injection into the F&B scene.
The space was conceptualized by Javier's friend, Ken Yuktasevi, from Ong & Ong, who wanted to make it feel welcoming, as well as to fashion it as a rustic escape, with greenery and handcrafted tables to un-frazzle the CBD warrior who has been toiling at his/her desk. Javier's attention to details, is seen right down to the plates, which are specially made by Setia, in Bali.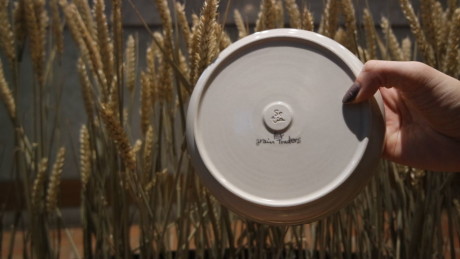 Meticulously prepared, the menu features eclectic choices such as spicy apple kimchi, and prime proteins like seared marinated tuna and grilled striploin steak. If you are spoiled for choice, go for the pre-chosen signature bowls. Our favourites would definitely be the El Hibaro, the savoury bowl which consists of charred veggies, succulent striploin and springy wafu tomatos; as well as The Beebop, featuring shredded braised pork shoulder, stirred with delicious charred furikake corn, and mixed bean topped on hearty brown rice. Rice aside, the owners have selected partners to work with, to bring you excellent coffee and pastries.
Grain Traders goes by the mantra "Slow food, real fast" in hopes of inspiring the CBD warrior to treat their bodies right, by not compromising on what they ingest. A healthy body translates to a healthy mind – we should all do what's good for us.
—
All bowls are priced at $16nett, and you can choose from a variety of grain, protein, hot veggie, cold veggies, sauces and topping.. Top up $2 nett, to get a snack and drink.

This was an invited tasting. 
Grain Traders
Capitagreen #01-01/2/3
138 Market Street
Website: www.grain-traders.com