By: Tiffany Hung & Andre Frois
Venturing away from the comfort of well-done but arguably overdone Italian classics, Sopra Cucina & Bar puts on display a whole different side of Italian cuisine. Tucked away in an enclave off Orchard Road, Singapore's first Sardinian restaurant introduces a layered culinary heritage with influences from the Romans, Arabs and Spaniards, among others.
Sopra seems to transport you back to post-war Italy, with the eclectic array of rustic wooden furnishing, brick walls and ceramic tiles making you feel right at home. This unpretentious atmosphere resonates well with the Sardinian perception of eating as synonymous with family and tradition; a Sunday meal at the grandparents' house would last at least four hours with appetisers, first and second courses, side dishes, vegetables, cheese, cakes and coffee. 
The diners' experience at Sopra does not in fact fall far from that Italian idyll; the restaurant's revamped menu exhibits the return of the crowd favourite roast suckling pig as well as featuring signature dishes such as Biscotto di Pecorino (above). The wide selection of delicious delicacies ensures that diners can enjoy a truly Sardinian style feast.
In an intimate conversation with Popspoken, Sopra Cucina & Bar's management divulged its philosophy of yielding strong, memorable flavours through the use of simple but high-quality ingredients.
"Our dishes utilise traditional methods of Italian cooking. The menu is mainly skewed towards Sardinian flavours, which use sea salt and herbs like rosemary to produce flavourful dishes," Sopra's spokesperson elaborated.
"One such dish is the Porcheddu Sardo (above), the restaurant's signature Sardinian roast suckling pig, which is cooked in a state-of-the-art Italian-made oven," elaborates Sopra, whose aforementioned oven also guarantees that every part of each pizza is cooked evenly at 350°C.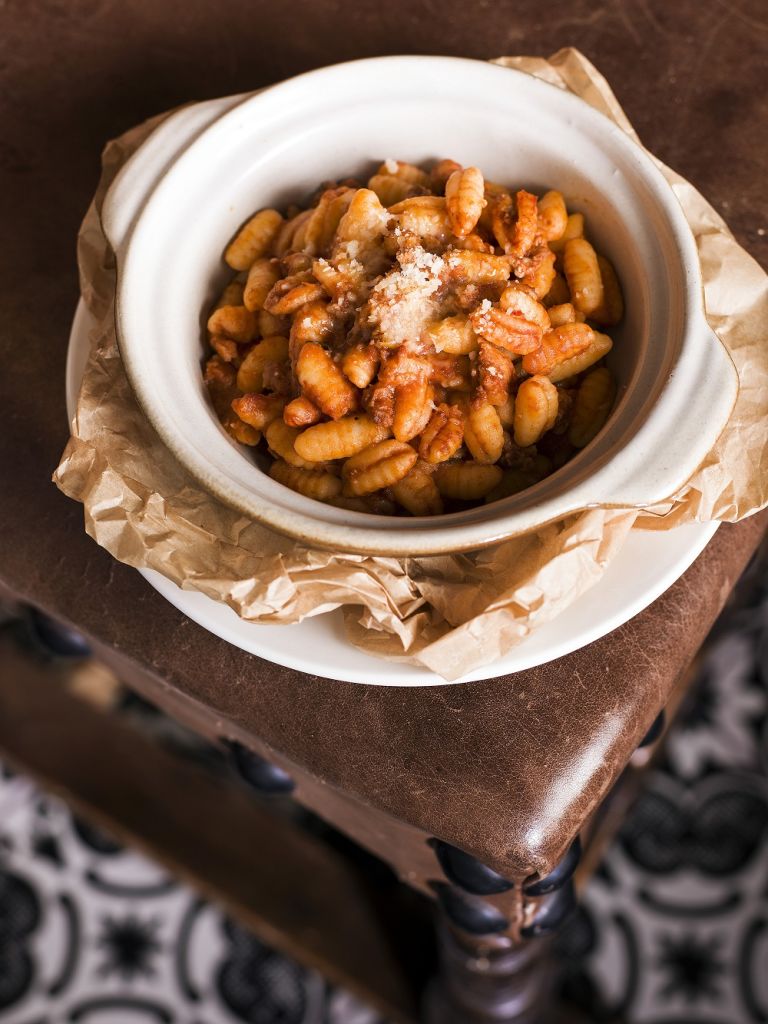 Sopra also prides itself on authentically Sardinian dishes like Malloredus alla Campidanese (above), an arduous labour of love that basks a Sardinian type of semolina gnocchi in rosemary pork sauce, cooked precisely to al dente texture.
Another popular favourite of this two-year-strong Sardinian stronghold is its Fregola ai Frutti de Mare – handmade semolina pasta enriched with Sopra's homemade seafood sauce and complemented with a variety of fresh seafood.
All the pasta of Sopra is either handmade in its cucina or specially flown in from Southern Italy, and is complemented by a decadent array of wines.
Sopra Cucina embraces the Sardinian coastal cuisine as well as the more traditional land-based dishes, giving diners the best of both worlds. "Sa cuchina minore no timet su fuste" – simple cuisine makes the home great. Sopra perfectly encapsulates this Sardinian expression in its revamped menu by offering authentic Italian fare that strives to be more flavour intensive than labour intensive.
Sopra is located at 10 Claymore Road and can be contacted at 67373253 or info@sopracucina.com
Stay updated and social with Popspoken: Twitter | Instagram | Facebook