What is it? Kyō is the habitual raving ground for all CBD dwellers.
Take a walk along Cecil Street's corporate graveyard by night, troop down basement stairs and the scene opens with an understated design, concrete walls, terracota lighting and trippy LED light displays. Club Kyo known for its avant-garde beats has much to prize itself on with solid local acts and international DJs flown in weekly. It is a lesser known fact that Kyo's kitchen serves up a mean feat of Japanese x Western cuisine.
[vimeo http://vimeo.com/59375775 width=500]
The menu looked so enticing, and indeed it starts well. For starters, the Scallop Coconut Mango with Hokkaido Scallop Slices ($18) comes with an exquisite mix of spicy coconut and mango foam topped with julienne veggie salad which lent the succulent scallops a delicate, sprightly touch.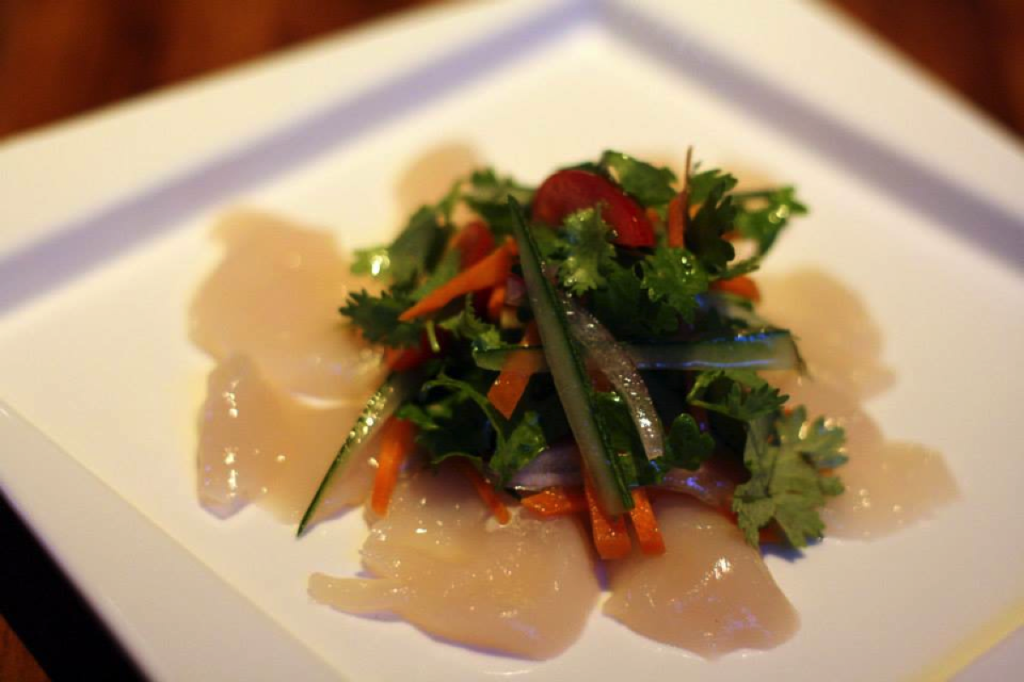 If there was any doubt about the creativity at work, it is dispelled by the Prawn and Chili Crab Squid Ink Sliders ($18). Look at those intriguing jet-black squid ink buns with chili crab and lemon-prawn patties that were rich and acidic, good enough to suggest that there is a point to this marriage of east and west after all.
No modern menu worth its salt dares not to offer tatare these days. Kyo's version of Salmon and Tuna Tatare ($24) is crowd-pleasing stuff. Thin ribbons of wasabi sprouts were discernible in the tuna-salmon tatare coated with roasted seasame, which managed to stay crunchy and crisp.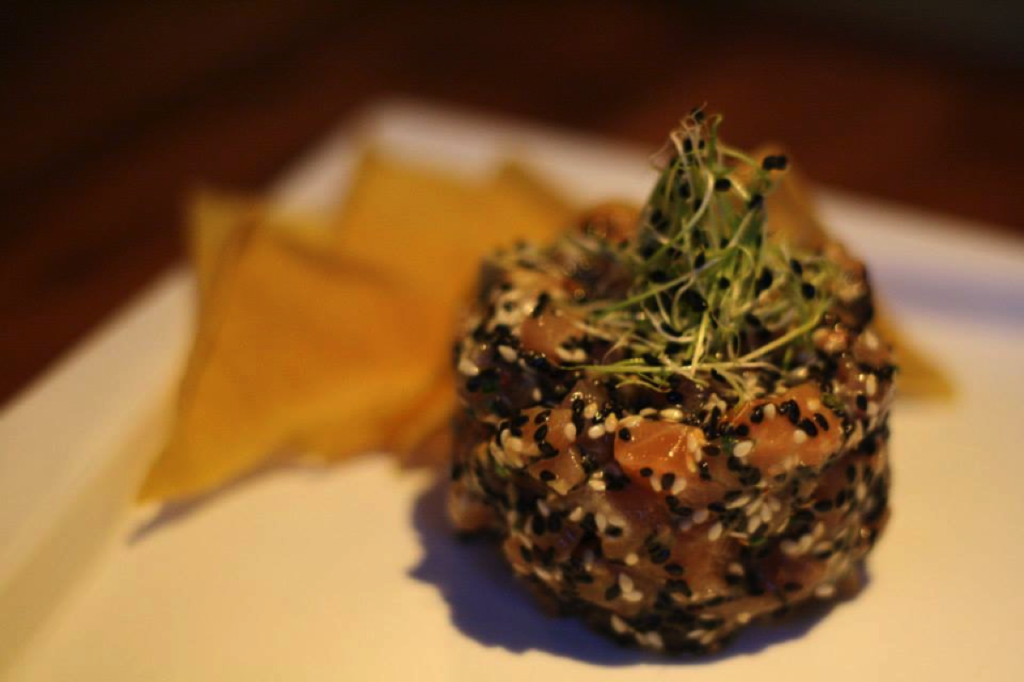 Happily, we have reached our choice pick of the night: Wagyu Chimichurri Rice Ball ($28) (featured image above). If you want one artfully placed piece of hand-smoothed seared wagyu beef slice sushi, Kyō is the place to be. Topped with shiso and ponzu chimichurri, the winning combination of texture, savouriness and sweetness makes this dish a must-try.
Alas we were done with dinner but the night was still young. Time to pick up those dancing shoes and start shimmying.
(NB. This is a two-part schizophrenic review, with additional reporting from our phantom contributor)
Memoirs from a Son of Singapore

The task: Write 2 paragraphs on Kyo's music
As a Singaporean, born and raised, as well as a habitual raver and closet rioter, it is crucial for me to establish a go-to stomping ground for the expulsion of excess destructive energy. Sweat that stress, insecurity and bullshit, leave it on the dance floor, and slide your dancing feet through it. Standard advice I'd give all my patients – if I were a psychotherapist.

So I'm into a new urban Asia, something dark where people are too self-involved to truly give a f*ck about you. There's lots of clubs in Singapore, lots of clubs that play the same shit. Ostensibly, your brain interprets music physically, and if I were to throw down big bucks for a big night, I'd like to allocate that cash to some big beats.

A: "Where we gonna chiong?"
B: "Kyo."
A: "Ew, lots of pretentious people there, they're damn trigger happy with the smoke machine.. blah blah blah."
B: "Issit? Never noticed… Sorry that you're not about the dancing and good music."

Bang bang. We're in the queue, then we're in the club.

RSVP mailing list and certain types of corporate slavery get you in free, if not, entry is SGD25/20. Smoking room is horrendously ventilated, layout is way too lounge and unintuitively obstructive. Everything else is great though – I've just got high standards that drop to the floor when I'm high from some good eargasm.

A: "Eee. Why you sweat so much?"
B: "Why aren't you wet?! How do people have fun on planet fucking boring?"

There's a simple linear logic to the space, somehow it enhances the experience of time dilation. Dripping wet and navigating through the gradually thinning horde of your fellow over-dressed corporate slaves while they look at you with disgust and desire… definitely enhances my experience of grime and self-annihiliation.

I don't know where the name "Kyo" is from, too lazy to look it up, but it means "today" in Japanese for one. I like it. If I like it, you can too. Trust. Where are you gonna play today? Oh no, poor thing, you have work tomorrow? Wgaf. Tomorrow never comes. Let's go. Kyo.
—
Location: 133 Cecil Street
For more information, check out their site here
Thanks for the hospitality, Kavan and Ida.