'There is no love sincerer than the love of food.' – George Bernard Shaw.
Being 'uniquely' Singaporean, food is something I hold so dearly to my heart. Although, my go to meal would be a sumptuous plate of Wee Num Kee chicken rice, I had a pang to try something out of this world. So to kick-start my new beginning as a proper writer, I was blessed with an invitation to have a meal at the much acclaimed and hyped Pollen.
So what is this Pollen I speak of? Pollen is a restaurant nested in the flower dome situated at Gardens by the Bay. It is opened by One Michelin starred chef Jason Atherton, who was also the man behind the One-Michelin star go to restaurant in London, Pollen Street Social (PSS).
After more or less knowing some background story of the brainchild that is Pollen, some of you might feel that this eatery would be 'atas' and so chic that you would feel so out of place just being seen there. Well I promise you, this restaurant has the most inviting décor. It definitely screams contemporary fine dining but what I loved about the décor was that it was very casual and simple. It was not as intimidating as I thought it would be. In fact, I had the chance to be seated near a window so I could get a scenic view of the Marina Bay Financial Centre skyline. However, what I loved about the décor was that there were so many plants that lined the restaurant. Dining there was quite the experience because there were unexpected guests that would fly by and 'chirp chirp chirp' along with the Lush 99.5-esque tunes.
The menu we got to try was the $55 set menu and it was not extensive but everything on it was very interesting. We started off the meal with canapés courtesy of the remarkable chefs that power Pollen. Fun fact: Every morning, the chefs at Pollen pick fresh herbs and vegetables from their own herb garden and incorporate them in their dishes. Talk about getting the freshest produce.
Skii and I both opted for the same starter which was the roasted scallop with celeriac and truffle soup. The plate came served with a succulent scallop placed on top a bed of celeriac, the decadent truffle soup was then carefully poured around the scallop. The truffle soup was almost orgasmic, it was so silky smooth and the scallop was roasted to perfection.
If given a chance to pick, I would naturally pick meat over seafood any day. We opted for the braised Wagyu beef cheek, bone marrow, breadcrumbs and red wine jus. I have to give it to the chef who cooked this; it was a real mean plate of beef cheek. It was very well executed and on top of that, it was very well presented.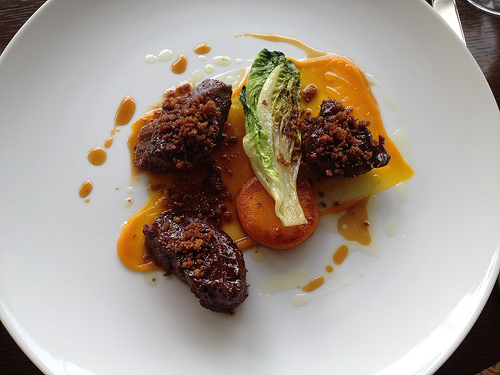 The tastes complimented each other so well, butternut squash sauce with slow braised wagyu beef cheek that literally melts in your mouth? This would be any braceface's favourite dish.
Dessert, it was definitely the most intriguing and fascinating part of the meal! Breath taking, absolutely breath taking. This was running through my mind after trying every single dessert. It's no surprise that Pollen Street Social is well known for their desserts and Pollen has definitely set the standard with their handcrafted desserts. We had the Pollen "Tatin" – Verjus, creme fraiche, caramel, red and green apples, NUT – Butternut, coconut, pine nut Ocumar Venezuelan chocolate and Banana Madras curry – frozen coconut, suachi lime, Madras curry. What I liked about dessert was all the different flavors and everything was so so well presented!
To sum it all up, the meal I had was an orchestrated performance, all the different sights and sounds that each dish had was awe inspiring. Also, you can't expect mediocre at Pollen, just like the flower dome Pollen is nestled in, each dish had a flower aspect to it. What added the extra oomph that made the whole meal memorable was they the flowers were edible.
This is an invited tasting.
---
Pollen 
18 Marina Gardens Dr, #01-09 Flower Dome, Singapore 018953