Seeking to reinvent their image, The Prime Society hosted a media reception to introduce the new executive chef Dallas Cuddy and his new creations (of which some are not on the menu yet!). If you hadn't already guessed, or been to this place, The Prime Society is a steak restaurant. Right smack on Dempsey Hill. Yeah, one of our favorite hangouts… that's how we roll.
—-
So I arrived at The Prime Society slightly late, about 19% tipsy from Patricia Mok's Cointreauversial party earlier in the evening. How classy. My host Ana and other companions (including my sister) were already done with all the socializing cocktails and canapés, and the first two courses. It was slightly noisy when I was seated, so I could not catch the names of the two other persons who shared the table with me. Later on through the night I learn that the girl is American, Texan to be precise, and a Romney fan. She is in love with the boy, a Singaporean, who studied Finance and is skeptical of knowledge-based education and prefers first-hand experience, and reckons "Chinese history is so irrelevant to our lives". Aren't they such the perfect couple!
After briefly catching up with Ana on what to expect for the night, I took a better look around the place (it's my first time here as well). The décor is modern and sophisticated. Low, soft lighting plus the casual and subtle upper class ambience makes this an ideal place for a slow, chilled out night. Much of the original colonial design elements of this former army barracks were retained– thick rectangular pillars, timbre, exposed bricks. As with several other restaurants at Dempsey, there is a wrap-around verandah for a more laid-back alfresco dining experience. In the middle of the restaurant is a huge island bar (takes up about 1/4 of the central restaurant area). If you want to watch the chef work his magic with the grilled dishes, head over to the open-concept kitchen where you'll find their custom-designed parilla-style oak plank grille.
Oh, and I should have mentioned this earlier. Those who like cows too much to eat them will still find plenty of variety here. Though The Prime Society predominantly specializes in steaks and ribs, the extensive Pacific Rim menu will also offer fresh catch-of-the-day seafood, amongst many other pan-Asian flavor-infused dishes. Personally I think it'll be a pity to give the steak a miss, because the prime cuts used are of the best grass-fed and grain-fed meat, grown and flown from Australia. Even if you're not a foodie and you think you couldn't give a sh** about what your cows are fed on, there are still good reasons to consume quality prime cuts (i.e. health). Food, Inc. will tell you why.
I didn't have to wait for the first course to fall in young stupid love with the food here. My kid sister had already given me the heads up that the bread and butter were soo goooood. Turns out she wasn't exaggerating—the truffle butter really is something else. The bread is sourdough roll from their Central Kitchen at Tanjong Katong, served fresh at just the right temperature, and you can have this with olive oil and various types of salt, but I am too infatuated with my truffle butter to want anything else.
But the truffle butter, like young love, is so good and so bad all at once. In time to come, you learn to say enough is enough. This love affair is ruining my appetite. And I still have my whole dinner ahead of me.
What's the best way to get over a failed dysfunctional relationship? Rebound, duh. My lovely server asks if I would like something to drink, and I say yes please, some white wine. She pours me some 2011 Zellina Pinot Grigio, I take a sip, and I'm in love again. Fruity and so smooooth. Perfect to start the night with.
Have this with: Chet Baker's I Fall In Love Too Easily

Drinks go at $28 nett per bottle. More good news, the whites are here to stay. Prime Princess has decided to add some premium white wines to her already impressive collection of reds.
In view of how much fun and good food I had, I'll try for a slightly less mainstream approach in this review. I mean, for a founder who calls herself Prime Princess, and dictates "thou shalt gaze lovingly at meat before attacking," this restaurant deserves no less than a borderline eccentric review. At the end of each dish's review, you'll find a very redundant but heartfelt suggestion by yours truly on how to better appreciate your meal.
Cured Kingfish, eggplant, pickled mushrooms 
I like the Prime Treatment. Le chef comes around the table to introduce each dish in his cute Aussie accent before we savour it: the Kingfish is cured in salt, sugar, orange zest, vodka, juniper berries, and star anise for six hours sliced in sashimi style. Accompanying it is roasted eggplant blended with tofu and lemon juice to make a puree, shimeji mushrooms pickled in sake, yuzu, honey, and rice wine vinegar, and black radish and seaweed to garnish, dressed with citrus vinaigrette.
This cold starter reminded me of Europe, although there is obviously a heavy Japanese influence in the ingredients used. Very exquisite, refined, with a pretty twist. The interesting flavours teased my palate quite delightfully, especially the eggplant puree– definitely the first time I've tasted eggplant prepared this way. HMM could there possibly be a little itsy bitsy of molecular gastronomic influence here… Texture-wise, the shimeji mushrooms along with the Kingfish and black radish make an excellent combination, and I am very pleasantly surprised by how multi-faceted this tiny dish is. Overall, there's a noticeable equilibrium between the chef's creative inventiveness and elegant composure. And this tension is so sexy, in the most sophisticated sense.
Have this with: a game of fake British and French accents
Steamed bamboo clam, green basque sauce, jamon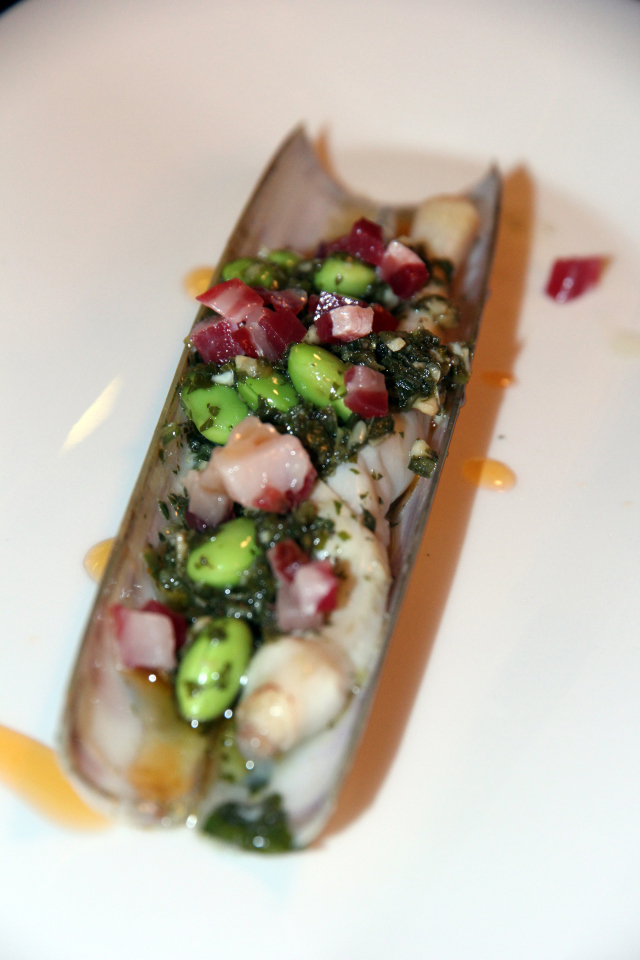 Bamboo clams steamed with white wine and green basque sauce made from oregano, basil, chilli, parsley, and olive oil, topped with shaved jamon. Personally I thought this paled in comparison as compared to the starter. The clam wasn't easy to cut into manageable pieces, and the overall taste of this dish wasn't quite as harmonious as the last one's. Edamame and ham were used, but they don't bring much to complement the bamboo clam. That said, the clam was really fresh, and I might be a tad harsh here because the previous dish was simply divine.
Have this with: your friends (it's a to-share dish) over a conversation (you know, so as not to over-analyze this dish)
Miso baked black cod, 'lau shu fen' soy broth – signature dish 
You'll want to take this down: Black cod is marinated in miso, sugar, mirin and sake for three days then baked to order. Served with the egg drop noodles known as lau shu fen or mee tai mak, the dish also features shimeji mushrooms, soy beans, spring onion, roasted eggplant, tatami iwashi, and a thickened dashi with soy. The chef creates his own dashi fish stock by simmering konbu seaweed and adding bonito flakes. How badass?!
Though the lau shu fen was rather tasteless, it went very well with the star of this dish- the miso baked cod. The two precious pieces of cod (sans skin) tasted absolutely heavenly. Now chef Cuddy's preference for Japanese influences is on blatant display: sesame, spring onion, and… a piece of crisp tatami iwashi grace the top of this dish. I also suspect he has a kidnapped Japanese chef hidden somewhere at the back of his kitchen who's forced to prepare the fish stock for him. Oh, and our dear chef is so very adorable. Guess what he garnishes the noodles with?! Wild pepper leaf that he'd found growing all around Dempsey Hill. Yes it's edible, he says. Yes it's edible, we've proven.
Have this with: Chopin's Nocturne Opus 9/2

Lobster ravioli, seared foie gras and bisque (coming soon) 
Another masterpiece. One enormous house made fresh ravioli stuffed with fresh live lobster, spanner crab meat, fine herbs and tofu, topped with seared goose liver spelled the French way, and lobster shell bisque foam. I could have twenty servings of this.
Have this with: paper and pen next to you, just in case you feel like writing love poetry after an inspirational dish. A much more distasteful but practical alternative: smartphone + instagram.
Mayura Station Wagyu Sirloin, confit shallot 
To be honest I was pretty surprised that the steak played such a minor part that night (it was one of three main courses that we got to taste, and in a very small portion too); The Prime Society is after all a steak restaurant. After speaking to our dear Prime Princess, it looks like Her Royal Highness is pretty set on expanding her empire into the non-steak consuming world. All while ruling the steak realm. This Wagyu Sirloin we tried only confirms that The Prime Society still reigns supreme in serving quality prime cuts.
Simply grilled Wagyu Sirloin (marble score nine), with Prime Society seasoning accompanied by whipped potato, confit shallot, and truffle custard cream (s-u-b-l-i-m-e). Chef Cuddy tells us the Mayura Station is the award winner of a blind taste test. Enough said.
Have this with: Reverend Horton Heat's Eat Steak. Naw, I'm kidding. Ask your server for the available wines to go with this beauty.
Chocolate parfait, coconut, caramel popcorn (coming soon) 
This is the Salvador Dali of desserts. Absolutely delectable milk chocolate parfait. Plated with coconut custard, coconut meringue, basil gel, chia seeds, salted caramel popcorn, and chocolate glass topping. And the loveliest finishing touch: orange nasturtium petals (probably also found around the restaurant's premises) to give the extra pop of colour and a delicate quality that contrasts very nicely with the brittle popcorn. Visually, and conceptually, this dessert is off the wall marvelous. Le chef encouraged us to have fun with the dessert, to try different combinations of the interesting things we find on our plates. I had so much fun I don't even care if caramel popcorn really doesn't go well with nasturtium petals (can be rather bitter, mais parfait avec le parfait au chocolat). And how could one possibly have the heart to give this dessert a less-than-sparkling review, when the chef's inspiration is his wife! Cuddy tells us his wife loves popcorn. Awwwwwwwwwww. How better to have dessert than with a love story? Sweetness to the max.
Have this with: truckloads of fun! And kisses, if you wish.
Check out our facebook album for more photos! Note: the portions we had that night were sample sized; actual orders served at the restaurant will definitely be more substantial.
—-
The Prime Society:
10 Dempsey Road #01-01 Singapore 247700
Opening Hours:
Mondays & Tuesdays from 6.30pm to 10.30pm
Wednesdays to Fridays from noon to 10.30pm
Saturdays & Sundays brunch starts 10.30am, all day dining till 10.30pm
Prime Bar stays open till late daily
You can also find an online version of their menu on their official website.