Establishing their core belief that a greener future is a better future, Timberland has invented products that put more carbon back into the land than was emitted during production, all in line with its outdoor heritage and longstanding commitment to protect nature.
Building on their concerted sustainability initiatives and innovative regenerative agriculture and circular design in pursuit of a Net Positive Vision by 2030, we interviewed three of Timberland's selected Singapore eco-conscious supporters Paul Foster, Haneri & J Kishan in discussion of environmental awareness and their sustainable day-to-day practices.
---
Popspoken: What have you done to educate yourself & those around you on environmentally-friendly practices and being conscious about building a greener world?
Paul Foster: It is definitely a journey and I am still on it! But I just started to learn more about sustainability a few years ago and became a lot more conscious of our environment and what I could do to make a difference. As I started to share my experiences, I found that I was helping many others on their own personal journeys too! Education and awareness are key, and it is really just continuing to spread the good word. There are no excuses in this day and age, to not be able to find out and learn more, but that has to be starting point, and if we can help to open that door, then that's a step in the right direction.
Haneri: I myself, am not an expert on what is happening out there, if anything it's what I read or see in the news or on documentaries. I'll admit that I truly lean on my friends that are more environmentally conscious to keep me up to date on what's good and bad for the environment and I wish I were more well read on the subject but here we are. *joins environment channel on reddit*. I think the conversation needs to start with us. While it's cool and hip and relatively efficient to post environmental issues and how to be better at being eco-friendly – I think we need to do our part and take action in things like picking up trash at the beach if we see it. Go paperless if we can, bring our own bags to the supermarket etc. Social media can only do so much, if we start doing it, I think that's when change really begins.
J Kishan: I love nature documentaries and most documentaries end with a closing message on how human beings are destroying the world and our selfishness and need for convenience hurts the environment. I realise that often documentaries try to educate us on how we can help the environment. A great documentary to watch right now is Sir David Attenborough's – A Life on Our Planet (available on Netflix). Another way I educate myself is to read credible online articles on how new ways and life hacks we can start incorporating into our lives to be green and clean! I share some of my environmentally friendly practices with my social groups too. For example, I would set an example and decline using plastic straws and one-time use plastic bottles by bringing my own reusable water bottle that I can refill whenever I need.
Popspoken: How do you think people can be more environmentally-conscious & live more eco-friendly on a daily basis?
Paul Foster: On a daily basis: Reduce, Reuse, Recycle and Refuse. It's the little steps you take, from bringing your own reusable bags, to refusing plastic bags, bringing your own Tupperware/tiffins when taking away food, not buying plastic water bottles, reducing single use plastics and your overall waste output, going meatless a few times a week, recycling at home, and if you can compost your organic waste too! These are some of things I do but there is so much more, and it really is up to you to choose your own adventure and find what works in your lifestyle.
Haneri: I think asking, observing and listening to what's happening and finding out how what we do in our daily lives can be more environmentally friendly is a start. I'm not saying we can have zero waste in our day to day lives (I saw a mini documentary on a girl that has almost zero waste and it was inspiring but who am I kidding I don't have that kind of discipline) but we can certainly strive towards it. Think about what you use in your life, what you throw away, is there a way to reduce those things? Yes? Do that.
J Kishan: I believe people are well educated and aware of the current environmental issues that plague us. News reports are always reminding us of all the ways we are trashing the environment at an unprecedented rate. I think more often than not, we choose to think "aiya, already so bad, what can one person like me change things?" Defeatism will not get us anywhere. We don't give up when we lose a competition or if we get a C instead of an A on a test we are confident in. This shouldn't be any different.
Popspoken: What sustainable practices do you hope to see brands, companies & society adopt in the near future? Do you think it makes them better businesses? 
Paul Foster: It's reassuring that more brands and corporates are becoming greener and more eco-conscious because they are starting to realise that on their level they need to make effective changes in sourcing, production, process, packaging, supply chain etc., to be more environmentally friendly. When it comes to campaigns, I always believe that actions speak louder than words, so by showing how brands are sourcing ethically or from recycled materials, to using renewable energy, to carbon offsetting and to using lesser packaging materials, all these factors can represent a positive spinoff effect that consumers can support by buying their products or services. There is so much to be done, but on a global industrial scale, if corporates adopt better sustainable practices, then there will be a better run off effect for the environment and nature. It will make them "better" businesses, but it also takes time to make and enforce these changes, so starting now is even more crucial to see the effects over the next 5-10 years!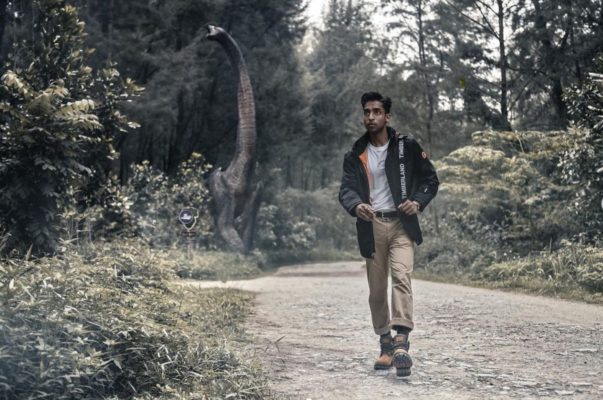 Haneri: I'd like to believe that people care about sustainability enough to encourage businesses that are taking that approach. I think giving back to the community by finding a way to help their buyers reduce, reuse and recycle are amazing practices that brands, companies and societies can influence, and if they can, they'll be doing their part in teaching the public how to build sustainability.
J Kishan: Seeing businesses, companies and enterprises be accountable for their negative impacts on the environment is refreshing. Making a positive impact on helping protect the environment AND helping raise awareness about being environmentally kind is definitely good PR. Embracing sustainability also serves as a powerful example for others to follow.
Popspoken: Any words of advice for someone  starting out at living a more environmentally-friendly lifestyle?
Paul Foster: Find what works for you! You are in control of what you buy, use and consume, so changing your consumer behaviour and making the little changes over time at your own pace is important. Be accountable, keep learning and keep getting better!
Haneri: Start small, you'll see how easy it is to make that change, feel better about how much less you're wasting and go from there. Don't beat yourself up if you forget on days here and there, but make a conscious effort to try.
J Kishan: Baby steps start from home! Every little bit adds up so don't feel like just because you are one person you cannot make a difference. Even a single grain of rice can tip the scale! Start right away, don't wait for tomorrow or next week or next year.
All in all, the three supporters remark on the importance of perspective, awareness and education in changing the mindsets of the 'I don't care' attitude. There still exists a general ignorance that is supported by consumerism and a lack of infrastructure in inculcating consciousness of environmental issues and simple practices that can be adopted the layman. They acknowledge the chain effect of starting their own journey and sharing it before helping and encouraging a whole community to come on board to change their lifestyle and adopt an eco-friendly lifestyle.
Paul remarked about the pressing issue that Singaporeans take things for granted when it comes to non-big picture problems such as environmental-friendly practices. Haneri has also spoken up about environmentally-friendly practices she observed during her time in California where people have to pay for any bags they use at the supermarket, boxes used in takeaways and rewarding customers with a discount if they bring in their own mug/tumbler at most cafes which can be emulated in Singapore. Kishan and his household members sort out the rubbish according to compost, general dry waste, and recyclables and send them to the nearest recycling waster management units for collection. They also borrow or swap as much as they can instead of buying and donate unwanted items and appliances. Lastly, they reduce their water usage and reuse water where appropriate (eg. the water collected from their aquarium's weekly water changes are used to water the plants).
The harmful effects of carbon footprint and its ramifications on the environment is a long-drawn process that can be solved with prevention rather than solution. Although waste management is relatively efficient, citizens can still do their part to physically separate recyclables from trash or the system would fail. Change starts with a mindset and everybody can do their part to create a greener world. With dedication, support and awareness, we can all do our part to save and preserve the environment for generations to come.
Timberland has recently launched their Give Back Program which will run till 13 December 2020. To participate, bring in your shoes of any brand and receive a S$50 Timberland footwear voucher at Timberland Raffles City, VivoCity, 313 Somerset, and Jewel Changi Airport. All pre-loved shoes received will be donated to Sole4Souls for people in need.
For more details, visit Timberland Singapore's website or Instagram page.
==
Stay updated and social with Popspoken: Facebook | Twitter | Instagram