RoboUniverse, the global conference and trade show series focused on exploring the development and use of service robotics for home, education, and business use has now reached the shores of Singapore.
First launched in New York City, the annual event which started last year has now set its sights on Singapore as its first stop, in a tour which will then take it back to New York from 11 to 12 April, and then to Dubai from 20 to 21 April.
The two-day event will be held from 26 January to 27 January 2016 at Suntec Singapore Convention and Exhibition Centre. Its presence is a nod to the Singapore's position as a global tech hub, which serves as an important gateway to Southeast Asia and the Pacific.
Push for Higher Productivity
This event comes at a time where the Government is pushing for higher productivity in the face of an ageing population and a dwindling labour force. Following the Report of the Economic Strategies Committee of 2010, the Government has unveiled various measures aimed at encouraging businesses to innovate, increase productivity, as well as improve skills.
For example, the Productivity and Innovation Credit (PIC) scheme provides support to businesses that make investments to improve productivity.
The Inland Revenue Authority of Singapore (IRAS), which manages the PIC scheme, has said that over the 2011 to 2014 years of assessment, companies have benefited from $2.9 billion in tax savings and cash payouts from investing in areas such as staff training, information technology or automation equipment to boost their productivity.
In a survey conducted by PricewaterhouseCoopers (PWC) in 2014, out of the 260 responses received, 47.9% indicated that their companies would invest in the purchase or lease of PIC-approved IT and Automation equipment, 42.4% indicated they would invest in training, while only 6.3% of respondents indicated that they intended to apply for tax deductions.
Problems with Abuse
While the Government had intended for the schemes to help businesses innovate and improve their productivity, problems soon arose when many businesses took advantage of the schemes to make fraudulent claims.
Last year in May, IRAS reported that they had investigated 471 PIC claims, and clawed back about $10 million, inclusive of penalties and fines, in terms of cash payouts and bonuses. The significant rise in fraudulent cases alarmed the Government, and caused them to introduce new laws to curb abuse of the scheme.
While previously, companies just had to show that they had spent the money, the Government introduced new laws in 2014 to require businesses to prove their IT and automation equipment is "in use" before they can claim PIC cash payouts.
Tan Ching Ne, an R&D tax partner of PwC Singapore said back then that: "Despite ongoing R&D investment and an expanded PIC scheme, many companies surveyed are not claiming R&D tax benefits. To avail R&D tax credits, there are conditions to be met which include tax definition of a qualifying R&D project and intellectual property ownership."
In addition, 65.5% of the companies stated that there were "too many conditions to satisfy to claim for PIC", while 20.7% cited a lack of understanding of the conditions for claiming PIC. Another 13.8% saying that the claim procedure is too much of a hassle for the company to go through.
Encouraging Signs

Yet, signs are emerging that businesses are gradually taking up the mantle to increase productivity and innovate as the number of companies using the PIC has been steadily growing.
It was reported that in the 2014 year of assessment, 44% of active companies (or 61,300 firms) have benefited from the scheme. This is up from 40% of active companies (or 52,500 firms) in the 2013 year of assessment and 37% (or 45,500 of active companies) the year before that.
Other measures that have received positive feedback from businesses include the Innovation & Capability Voucher, aimed at encouraging SMEs to develop their business capabilities. More recently, early this month, the Singapore Government unveiled a SGD 19 billion plan to support Singapore's Research and Development efforts over the next five years, under its Research Innovation Enterprise 2020 Plan (RIE2020).
The Future Ahead
Singapore's reputation as the world leader in terms of her capacity to prepare for, use and leverage ICT (Information and Communications Technology) in last year's Global Information Technology Report (GITR) did not come about as an accident. The Government has shown the world that it has a clear digital strategy, is capable of adopting various online services and e-participation tools, and is sincere in its efforts to encourage industries and the general population to follow in its stead.
While the road ahead in our bid to become the world's first "Smart Nation" will not be easy, the Government has both talked the talk and walked the walk. It has shown that it is capable of pumping billions into research and development, at a time where many other countries are cutting back on research spending.
To truly become a "Smart Nation" will not only require businesses to innovate, but also to take risks and be open to new ideas. While the Government can offer a variety of schemes to incentivise companies to innovate, businesses must first be aware of the importance of innovation, and next, be willing to do so.
One of the ways interest can be built for innovation is to have robotics events, such as RoboUniverse, where real life use of robotics in both domestic and commercial fields can pique the people's curiosity and drive them to desire for change at home and in their workplace.
RoboUniverse will be held alongside Virtual Reality Summit, a conference on the latest virtual reality devices and their impacts on various industries, and Inside 3D Printing, the largest professional 3D printing and additive manufacturing event in the world.
All three events are by MecklerMedia Corporation, a producer of global trade shows, conferences and digital publications.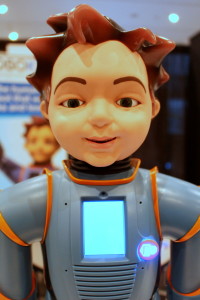 Featured Photo Credit: MecklerMedia Events
Photo Image Credit: Smart Nation Singapore Facebook, Inland Revenue Authority of Singapore (IRAS) Facebook, Michael Mah, Women2, MecklerMedia Events
Stay updated and social with Popspoken: Facebook | Twitter | Instagram