If you are a kiasu person (just like the rest of us), you'll need this guide handy. Here's a play-by-play of what you should do and where should you go for it, on Pink Dot day.
2.00pm: If you're really early, go grab some bottles of water at Elevate (45 North Canal Road, #01-01). The gym is expected to dole out up to 20 cartons of water so this may run out quick. They will also be giving out samples of whey protein supplements from Nutrition Depot Singapore (NDS), along with a flyer indicating a 10% off discount on the NDS online store.
Elevate is also giving 10% off classes if you sign up with the flyer. Not just today, but any day after Pink Dot. That's another gym to add to the list of allies.
2.15pm: Hop over to Settler's Cafe (39 North Canal Road) or Salad Stop (1 George St, #01-01) to grab a free torchlight. This year's torchlights come in limited quantities, so best to grab them early. If they run out, get pink cellophane paper at these places as well.
Settler's Cafe's list of promos include pink guava juice and ice cream at $2 a pop and Heineken beginning from $8. If you're on a special diet (or just on that healthy eating train), Salad Stop's menu is open from 2pm to 8.30pm, just for the occasion.
2.40pm: Didn't bring wine? Asia Wine Network (44 North Canal Road) is selling a selection of whites and reds from $24 a bottle – that's a 40% discount from original price. Sparkling wines go at $29 a pop and for-one-person versions (c'mon alcoholism!) go at $8-$10 for a small bottle. They are also selling plastic wine cups at 50 cents per pop.
3.30pm: LAY YOUR PICNIC MAT. It's been known to get crowded every year at Hong Lim Park, so there's no better time than just before everyone comes in, to chope a spot. Think of yourself as a human tissue paper. Try not to set up too near the stage — you may need to pack up in a hurry as the pink dot will congregate near that area.
4.00pm: Hungry? D'bell Singapore (43, North Canal Road, photo above) is selling sandwich sets – take your pick from chicken, ham and cheese, egg or veggie. Add a side of potato wedges and a beer for $15 for a soft drink/water for $10. Singha draught beer is being sold at $10 per pint and wine at $8 per glass. Soft drinks are at $3 a pop. Take those sandwich sets and stock up.
4.30pm: Watch all your friends come in to Hong Lim Park thinking that they were kiasu only to find out that you are the ultimate kiasu king (partly because of our guide). Just don't say hi to your friends via Tinder – meeting people IRL is so much more fun.
5.00pm: Get on the trampolines before anyone else! (It's near Meeting Point 6.) Grab some photos, and then head to the #TwitterCorner next to the trampolines to blast them out to your friends and spambot followers.
5.15pm: Visit the various community booths – 23 of them in total – to find out their various efforts in bringing the LGBTQIA community together. (That's lesbian, gay, bisexual, transgender, queer, intersex and ally i.e. the full term that should be used.) Grab some balloons, cotton candy, your #PinkDotSG Instagram printout and then, prepare to join the queue for the photo booth. Don't forget to smize!
5.30pm: The event starts proper on the main stage, where various Community Voices from the LGBTQIA community will come on stage to speak about their experiences and struggles. Speakers include Action For Aids executive Avin Tan, drag queen Becca D'Bus and transgender Christopher Khor who made a movie about his transition from woman to man.
6.30pm: The Pink Dot Concert is in full swing: be entertained by the likes of hip-hop breakout ShiGGa Shay, indie darling Inch Chua and arguably the hottest name in Singapore music today, Gentle Bones. Dance group Plus Point will shake your tailfeathers until you have none left, and ambassadors Munah and Hirzi, as well as Daren Tan will be on stage with witty repartee and soulful tunes.
7.45pm: As night breaks, so is the Pink Dot formation! Shine your torchlights in the air and scream like you just don't care. This year's theme song is "Put A Little Love In Your Heart" by Jackie DeShannon. (She is famous for singing "What The World Needs Now".) Listen to it here:
8.15pm: You are spoilt for choice from here on out. If you choose to stay, DJ Zack C's party tunes will keep the park well and alive. If you're ready for a buffet, D'bell has a mean buffet dinner with Indian and Western cuisine at $35 nett. The joint is also hosting a Freedom To Love after-party from 7pm till late, with tunes by DJ Kernaiva and flare bartending by Firoz. Pink cocktails are at $12, while housepours and pink shots are at $10 and $5 a pop respectively.
Otherwise, head down to The Mad Men Attic Bar for BAM!, a pop-up party headed by former folks from The Butter Factory's riotous crowd. Check out our listing here.
The rest of the night: A host of bars are setting up shop in the Chinatown district. Here are our picks (especially when you've exhausted all your dollars):
– The Bar Above (72 & 74, Tanjong Pagar Road) is selling AIX Rose at $10 a pop, all night
– Dorothy's (13A Trengganu St) is offering a free shot for every customer with a flyer (they're giving it out at Pink Dot), and housepours at $10 a pop until 10pm
– DYMK (41 Neil Road) is serving pinky-tinis at $12 nett
From 10pm onwards, either get piss drunk at Taboo Club (65 Neil Road) with their $30 liquid buffet promotion (probably the best-kept secret for free-flow drinks: don't tell the straight people!), or live it up with Hyperland at Avalon Singapore (2 Bayfront Avenue, South Crystal Pavilion, Marina Bay Sands) for a night of riotous fun with RuPaul's Drag Race alumni Manila Luzon.
Why did we write this? Because we're inclusive, when it comes to fun. (Among other things.)
If all else fails, this map of Pink Dot at Hong Lim Park will do you just fine: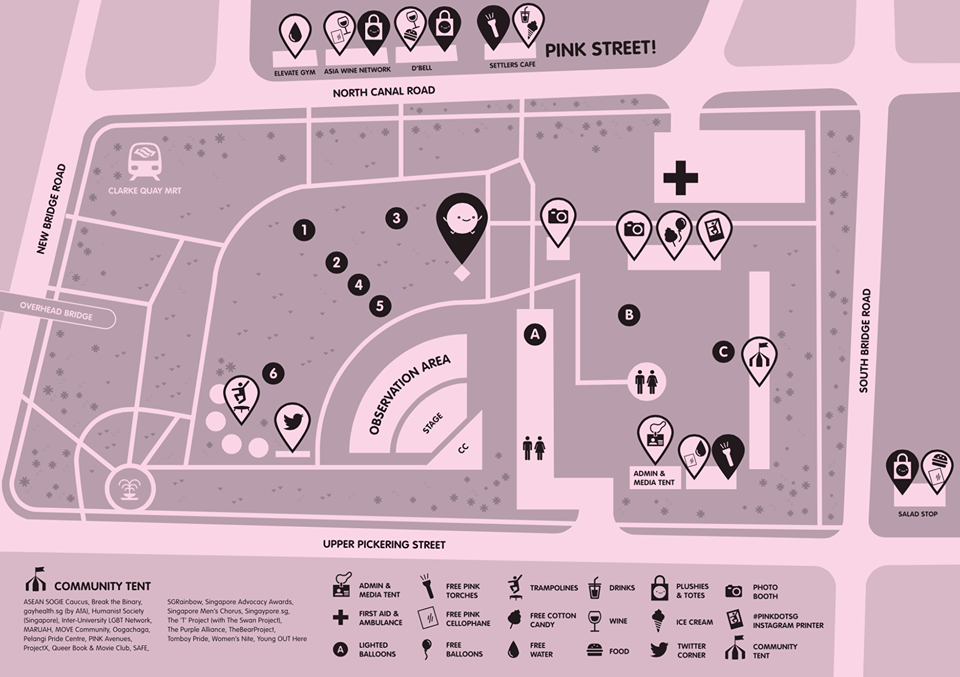 Stay updated and social with Popspoken: Facebook | Twitter | Instagram