We're pretty adventurous people here at Popspoken, which is why we leapt with glee when we found out that in the heart of Joo Koon, lies a go-karting circuit for all you thrill-seekers to burn some rubber at.
We're also suckers for seeing our faces react as we negotiate the 10-turn Kartright Speedway track, so Sony introduced its new Action Cam with wearable mounts so you can record the scenery with a video camera mounted on your bike helmet, surfboard or on your go-kart.
The Action Cam measures just under 8cm long by 5cm deep but it has the ability to record Full HD 60p/50p with SteadyShot for fast-moving action without all that bumpy footage. Two slow-mo modes are also available if you want to grab a sporting moment in dramatic fashion or see if you accidentally did an ugly face. For the first time, the new Action Cam can capture 11.9-megapixel still photos with the back-illuminated Exmor R CMOS sensor. And yes, it can capture images upside-down, you klutz.
It's Wi-Fi-enabled so you can share photos and videos with Sony's free PlayMemories Mobile app. It's also NFC-enabled so you can control your Action Cam with Xperia phones, tablets and other compatible Android devices, assuming you won't trip and fall if you keep checking your phone. If all else fails, USB transfer is also available.
Its variety of mounts ensure you can wear your video camera with you on almost any physical activity. If you're going underwater, the new waterproof housing is 35% lighter and 25% smaller than its predecessor so you have no excuse complaining about that niggling thing you're carrying with you. Mounted the video camera on your bike but can't see the screen? The wristwatch-style Live View Remote's screen lets you control recording by your wrist and see what your Action Cam is recording real-time.
The whole host of mounts includes a chest mount harness (ooh, kinky), head mount kit, monopod, suction cup mount with triaxial adjustment, float housing and a roll bar mount so there's no reason why you can't kayak and hook your camera at the same time.
http://instagram.com/p/hQwYhto-Ti/
Weighing at about 90g with battery, this small camera packs some serious function. We had a go at the camera while driving around the track at Kartright Speedway, with the camera perched on the front of our go-kart. The suction cup was really strong: we tried yanking it out and had to use brute force quite a number of times before it successfully came off. At the go-kart's top speed of 50km/h, the mount was firmly in place except for an incident when the mount tilted slightly because the screws were loose. Check those screws before you go out, boys.
http://instagram.com/p/hQdXUrHzF9/
Image quality is also good for display on TV, with clear playback and high-quality shots. We would have loved a hand strap with the casing equipped with a fold-out LCD screen so that, you know, we can still take this baby out for normal recording outside of the realm of sports.
Otherwise, we love this bad baby. And we loved the downward slope part of the Kartright track going into a hairpin turn. Not to forget, the two successive chicanes going into a nice straight where top speed can be reached in 3-5 seconds. Maybe we should delve into sports and tech reporting? Hmm.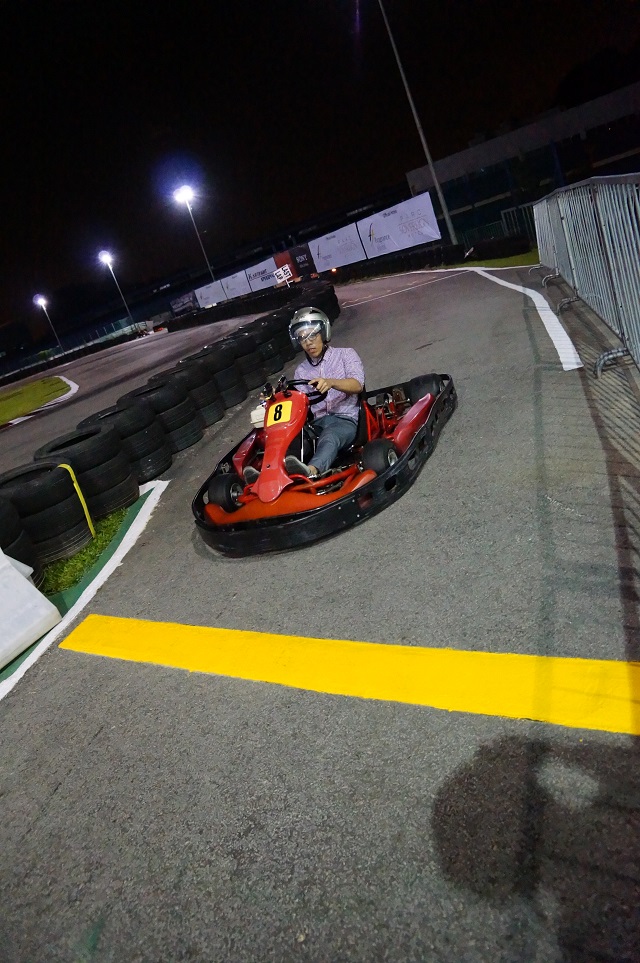 The new Action Cam retails at $449 and is out in stores now. Look out for our video from the Action Cam soon, where you'll get to see the editor-in-chief grimace at every turn. Riveting reportage.
Photos: Sony