We are swinging into a perpetually filled calendar for the most part of the year, with the world bouncing back from two years of silence. With so many creative events and so little time, here is a nifty list of some of the most cultural gems across the region this month.
Los Angeles birthed Sneakertopia lands at the Art Science Museum
Yet another sneaker franchise has landed on our shores via Emmy-award winning producer Steve Harris and tech entrepreneur Steve Brown who are on a mission to share their love of their kicks with the world.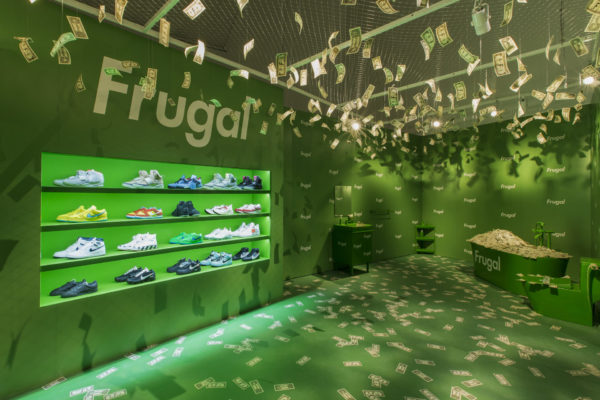 Dynamic American creatives on the line-up include McFlyy, Michael Murphy, Mimi Yoon, Tommii Lim, and smoluk, alongside HURUHARA, Inkten, Juls, Kristal Melson, PHUNK, soph O, and tobyato, to DJ Kiat from SYNDICATE.SG, as well as works by Singaporean designers Pek Shun Ping (ALIVEFORM), Josiah Chua and Mr. Sabotage's collection of skateboards.
Other highlights include cultural inflexion points brought to you by FRUGAL, a parody of a Supreme pop-up and Fight Club, that sheds light on how global collaborations have contributed to punters gaming the sneaker resale system.
Sneakertopia will run from 25 February to 30 July 2023. Tickets are available for purchase at all Marina Bay Sands' box offices and website.
Peer into the world of local creatives
Weekly maps throughout March will be released for a Singapore-wide walking tour by Grey Projects to some of the best creative houses in town, from Allegro Print to Studio Swell.
A laissez-fair format that encourages spontaneity and an open spirit. Wear a pair of comfortable walking shoes and stay tuned for updates on their website.
Learn confidence in communication
As *SCAPE undergoes a revamp as a youth epi-centre, they are not stopping their line-up of conversations that ignite possibilities with youth.
Beyond the Glass Ceiling is an empowering talk happening next week on 18 March, which explores the path that strong females take in industries that are typically dominated by men. Hear from visual artist Laurie Maravilla, Leong Pui Yee (Objectifs, Centre for Photography and Film), Sabrina Pardus (BNY Mellon) and local celebrity, Victoria Cheng who is now helming her own start-up that turns spectators into participants of sporting events.
Other talks include a feature of host Rae Fung, who struggled with her self-image growing up, and has since overcome that as a public speaker and mentor to many over the last five years. Join Rae in a safe space for a self-help session on 26 March at Own Your Voice, where you can connect with her and other attendees on methods to overcome difficulties and navigate relationships.
Global premier fair Art Basel HK returns
Ever since travel restrictions have lifted at the end of last year, Hong Kong remains optimistic and welcomes back international art fair back to its shores.
Highlights this year at Art Basel HK aside from the 177 galleries exhibited include fringe events such as the HK Walls festival that brings together international graffiti talents, a tour by contemporary art galleries; and deeper roundtable conversations on Sinofuturism, African art in Hong Kong and solidarity beyond feminism. The fair runs till 25 March 2023.
Do make time to check out the revitalized Kowloon Bay area, with impressive art exhibits such as the ever-popular Yayoi Kusama at M+ Museum, HK Palace Museum, that houses the largest collection of Chinese artefacts outside Beijing finally and of course not forgetting Arte M, that takes you on a digital art journey beyond time and space.