What began as a way to document a home renovation, the Instagram account @flat_bahru has now become an accidental hit with the hip and stylish individuals of Singapore. 
"For us, the Instagram account was a dumping ground for tedious updates and documentation on [our] reno process," explains Lauren Cheung, who runs the account with her partner Lloyd Rajoo.
"We were obviously really excited because we were going to be quite hands on with the project, given we were doing the designing and all. The account wasn't intended to be a curated 'lifestyle' account, but gradually it also became a fun, community driven sort of thing." 
The cool, relaxed vibe of @flat_bahru comes from the creative mix of loving their home district of Tiong Bahru, and Lauren's inbuilt aesthetic talent. She is the hand and creative mind behind the images on the account.
"We wanted to convey the same qualities as our space makes us feel … which is a sense of warmth, richness, and a little bit of nostalgia. We try to capture the light that pours into our home during the day, the vivid colours that make up our space," she says.
"We do love living in our neighbourhood and the local food and culture we're surrounded with … Tiong Bahru is absolutely one of the places you need to visit in Singapore, [but] we don't see our style as being particularly Singaporean-influenced.
"Rather, I found the free flowing, eclectic aesthetic of houses in Europe and Australia to be very wonderful and comforting. There's always an interesting blend of styles and textures. I guess you can say that's something I wanted to emulate in my space," Lauren says.
If you manage to spot a quirky print in one of the Instagram posts and you like it, you might actually be able to buy it. Lauren is also the artist behind Dirty Doodies, another Instagram account the couple run.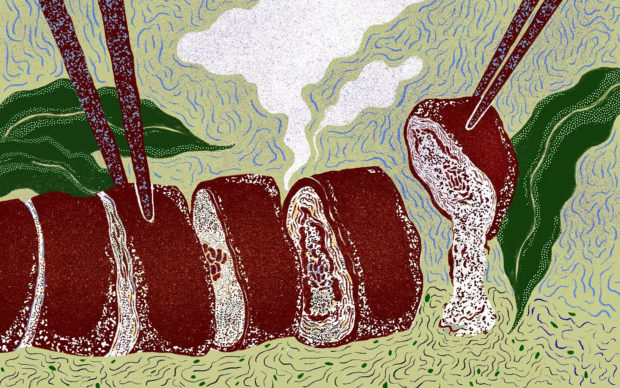 "It started as a private photo dump for my doodles; a sort of Instagram scrapbook. Recently though, I started drawing a lot more, especially during the time I had from the pandemic lockdown, and found it to be really therapeutic.
"I called it Dirty Doodies, because well … they were just quick-and-dirty doodles at the time. However, I also realised that a lot of homeowners are interested in art and prints but feel they don't know where to get these in Singapore. My friend encouraged me to put up my prints, and so here we are. It's been nice to see my prints in people's homes," says Lauren.
With art for sale and a brilliantly stylish home, you might assume that Lauren is a professional artist. You'd be surprised. She and Lloyd are both civil servants and say that creativity is an important part of dealing with stress.
"[The art is] currently more of a hobby than side hustle as I work full time, so I see this as a way for me to take my mind off work. Occasionally, I put up prints that I've worked on for sale, or work on simple commissions," Lauren explains.
While Lauren is the artist of the pair, she says that despite his preference for technology Lloyd has come around to appreciating the "whimsical, surrealist" art that she does.
"We sometimes paint together … but this is really more of an activity than a serious attempt at making art," she says with a laugh.
Check out Lauren's artwork on @dirtydoodies, and see the couple's cool take on hip Singaporean interior style on @flat_bahru.
To discover more interesting creative people, go to our People section.  
*Main image above by Bryan Lim