Perth's beloved Fringe World festival has a new CEO and a hot new line-up for the 2020 Festival. CEO Sharon Burgess was one of the key leaders of Edinburgh Fringe Festival, and Fringe World's upcoming program which features slapstick comedy, underwater micro cabarets, jaw-dropping pyrotechnic stunts and more to intrigue the senses.
Dreaming of escaping the clutches of your boss? There are still 10 pairs of all expenses paid trips to be won. Whoever said Singaporeans are boring are clearly misguided. From what we see, they have a pretty vivid imagination.
Cookie-cutter responses ain't going to cut it. Here are some of our favourite responses by Singaporeans that have made the mark so far.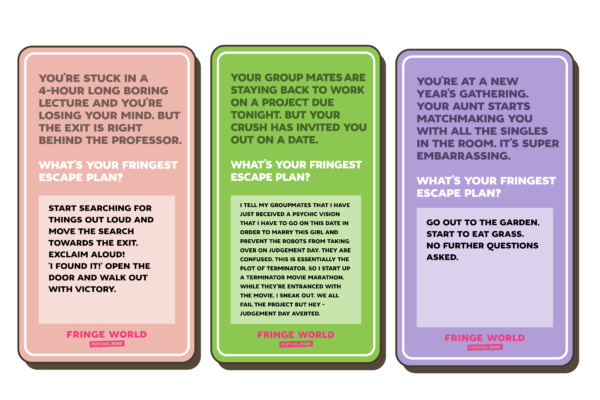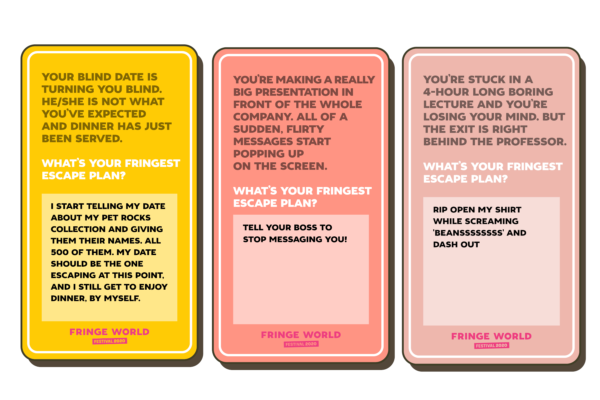 Other winners:
You're stuck in a 4-hour long boring lecture and you're losing your mind. But the exit is right behind the professor.
Pull my shirt open and shout, "Gotham needs me!", and run out the door. (Ellis Liu)
Suddenly stand up and exclaim while looking genuinely concerned, "Oh! I forgot to unzip Samuel from the leather casing!" Then hurriedly take my things and rush out the exit while declaring, "No time to explain!". (Leonard Lee)
Say your pet turtle is givin birth to quintuplets (Kin Ho Yoon)
It's Christmas, you bought a lingerie set for your wife but gave it to your mother-in-law instead. She's about to unwrap it in in front of everyone.
Tell her you were really just concerned about her incontinence and bought these crotchless panties to help her get to the loo easier. (Estelle Lim)
All you have to do is submit your quirkiest, most daring escape plan for each scenario posed on the contest page.
There's no limit to the number of submissions you can make either. Take inspiration from YUCK Circus, on their absurd confessions – and start clicking.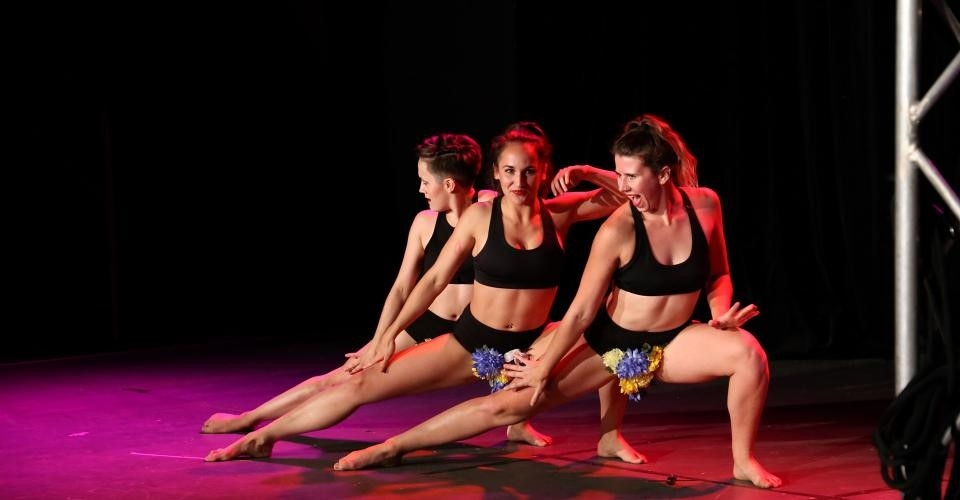 You could be one of the 10 remaining winners who will get a pair of round-trip economy class tickets from Singapore to Perth, a two-night stay at Doubletree by Hilton, and eight tickets to Fringe World 2020. Contest ends on 10 December 2020.
==
[This is a sponsored post]
Stay updated and social with Popspoken: Telegram| Facebook | Twitter | Instagram