Thinking about patriotism or the never-ending debate of local identity, the most common examples will have something to do with our national flag, local delicacies or how we use language. These things that come to mind are mostly what we see, taste or listen to. What about our other sense though, specifically the sense of smell? If asked to identity Singapore through smell, can you?
If you struggle with the previous question, perhaps local company Jetaime Perfumery will be able to help. Specialising in their Singapore Memories perfume line, the founder Prachi has cleverly put orchids into good use. "Orchids have an unique scent, and being close to the Singaporean identity, I thought it will be apt to start the line with the flowers themselves," she shares with Popspoken while we roam around the quaint perfume workshop space at Goodman Arts Centre.
There are shelves full of bottles and various oils that are used during the workshops they conduct, catering to individuals, couples as well as bigger groups such as corporations and schools. We are impressed with the presentation of the materials, and how well thought out the entire process is for the layman. Prachi even added in a quiz element to make the creation more personalised and fun for every person that walks in to the studio.
Prachi then turns to us and says, "Would you like to make your own perfume?"
Before anything more is said, we find ourselves in a cab and on the way to visit the factory itself – where the assembly line of machines are really at. Within a small factory studio, tall shelves cover the walls and Prachi generously talks us through the design elements of the perfume packaging: "The designs are quite simple so they are memorable, while having a strong connection to Singapore with the skyline silhouette around the brand logo."
So far, Singapore Memories consist of eight distinct scents. Of the eight, One Degree North and Vanda 1981 are easily our favourites. The scents are all inspired by Singapore's history and the iconic places we hold dear in this country. The concept itself is interesting and we must say that this line of products is more thoughtful than your regular "All I Got Is This Tee" kind of souvenir.
And they are not that easy to put together too. How do we know? Because we fail miserably at it. Even with several tries at the machine, we simply could not get it right. Our fingers fumble, the cover is not straight, and… You get the idea. Prachi, on the other hand, does the assembling effortlessly and with precision. Making perfumes and packaging them certainly takes skill.
Filling the bottle with oils after the machinery has been washed thoroughly with water.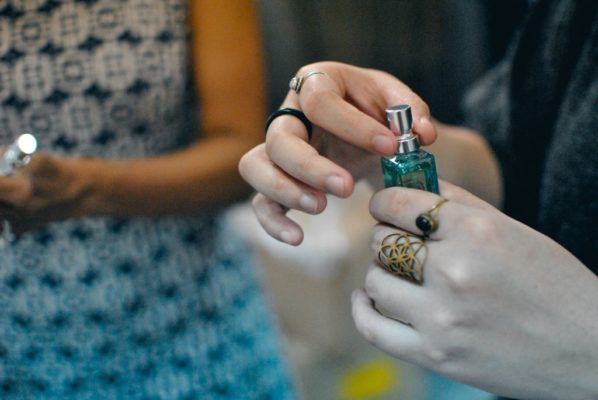 Witnessing our failed attempt and trying to fix it by ourselves (with mild panic and embarrassment).
Prachi working the machine with ease and certainty, to get the cover onto the bottle correctly to ensure zero leakages.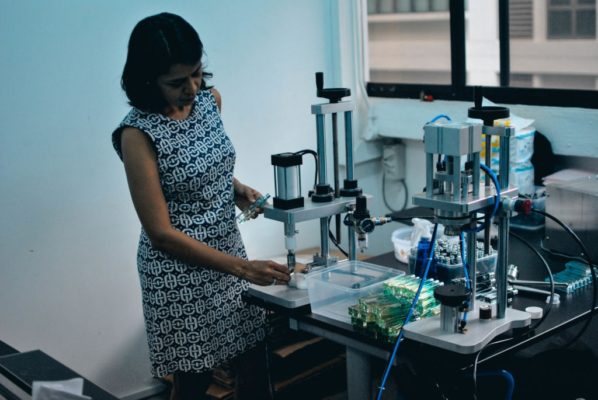 The process is an interesting one to witness, and it is not often that we get to take a behind-the-scenes peek at how perfumes are being made. Also, we are impressed by Prachi's passion for the craft and her willingness to share her knowledge. It is not common for a boss to give demonstrations and to entertain people like us who fumble throughout the entire process with our careless hands.
Intrigued? Perhaps this might be the gift to make your Valentine's Day more interesting in 2018, or better yet, go on down to make your very own personalised scent. You will be surprised how fun the process is, and by the skills needed. We sure did.
---
If you would like to find out how to purchase these perfumes or even make your own personalised scent, click here.
Photography credit: Darren 'Merovign' Tan
==
Stay updated and social with Popspoken: Facebook | Twitter | Instagram