Sitting in the executive lounge of the Grand Mercure Hotel, Magical Bones, 34, opened up to Popspoken about how his performances for his parents in his home led to him eventually travelling the world performing for people and with some of the biggest stars in the world.
How it started
At the tender age of 10, Richard Essien, or as he is more commonly known, Magical Bones, was given his first magic set for his birthday.
"My mum got me a kids magic set and I started playing with it and that sparked my interest for it. After that, I started reading books on magic and learning more complicated tricks like coin slights," said the reserved performer who maintains that magic really only started out as a hobby for him.
How he got into hip hop
Alongside his love for magic, Magical Bones also harbored a love for music and dance.
"In college I joined a hip hop dance group and we used to train and practice breakdancing and things like that."
New York magician Magical Bones started participating in competitions and events with his college teammates which eventually led to him getting to do music videos with some of the biggest names in the music industry.
He talked candidly about getting to work on music videos for the likes of Madonna, Alicia Keys and the Black Eyed Peas.
"We were background dancers so we did get to meet them but we didn't get to hang out with them or anything like that," He chuckled.
Bringing both his talents together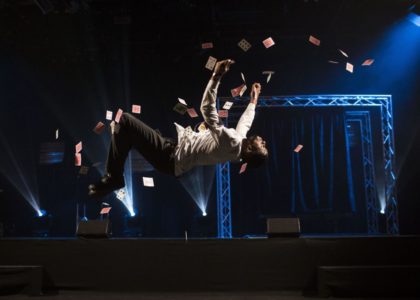 However, despite his great success with dance, Magical Bones never let go of his childhood hobby of doing magic.
"I decided to include hip hop in my magic. I included it because I'm always going to be a hip-hop dancer and that's part of me. But I also love magic. So I just included it in," said the self-taught magician.
When asked what his favourite part of doing magic was, Magical Bones immediately said that he has always been a fan of watching the astonishment. "It really inspires you as a magician to see that wow factor on people's faces."
He continued by saying: "I really like giving people an escape from their everyday life. I like knowing that they can relax and enjoy the live entertainment. I get pleasure out of seeing other people enjoying themselves."
Some advice
Magical Bone's, who's favourite trick is to backflip out of a strait jacket, is a firm believer that you and you alone are responsible for your success.
In fact, the only reason he got recognized was because he put himself out there and performed in clubs and even on the streets.
"Eventually word gets around especially with social media and that's how you make it big," said Magical Bones, who got discovered and asked to join the Impossible tour when the producers of Impossible came and saw his one man show.
To end off, Magical Bones has this to say to young people considering a job that may not seem that conventional: "The key thing is to always stay disciplined and to work as hard as possible. When you reach your limit, push beyond that and above all, make sure that you enjoy what you are doing."
Don't forget to catch Magical Bones and the rest of his team on the Impossible Tour that will be playing in Kallang Theater from the 10th to the 19th of March 2017.
=
Stay updated and social with Popspoken: Facebook | Twitter | Instagram