Upon getting reacquainted with Fadzri (Fakkah Fuzz) in a quaint café, we immediately dive into heavy conversation topics. He tells me about a book he is reading that exposes the cocaine trafficking network of Bali, before we eventually broach the looming topic of the impending general elections.
This is hardly the Fakkah Fuzz I am familiar with, the witty gatling gun whose spitfire jokes are hardly kosher. Three years ago when I first met Fuzz, he was a struggling artist who lived from paycheck to paycheck. Today, he is a household name who hosts several television programmes and is rearing to launch the revival of his infamous live show, Fridays With Fuzz, which starts at 8:30pm this Friday at Refuge at 79 Circular Road. "Times are changing faster than ever, bro. Nowadays, you need a new game plan every five years," he imparts as he recounts the lessons that life has taught him.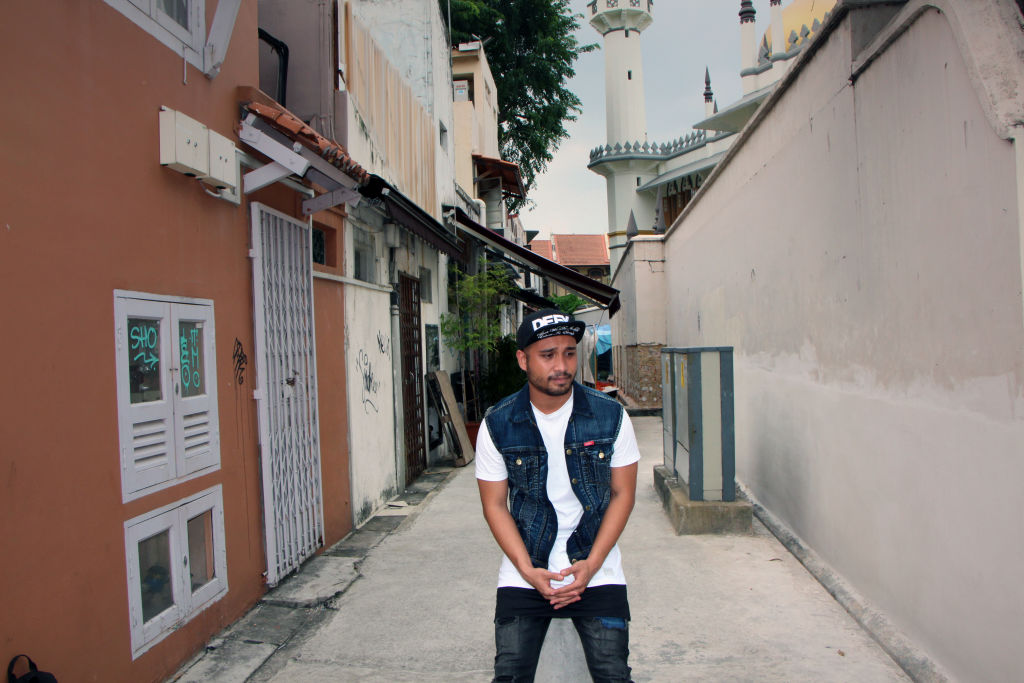 —
Popspoken: Many things have been going well for you. We can't turn on the television or open a magazine without seeing Fakkah Fuzz nowadays. In hindsight, what are your thoughts on this well-deserved big break?
Fakkah Fuzz: It's been fun and very insightful. I don't have a media background, but my media spots have made me learn really quickly. When we shot 50 Ways To Be A Singaporean for Channel 5 and when the hosting gigs came, I had to pick up very quickly. I learned a lot and I had to learn what's important: There are lots of talented people around, but what sets you apart?
I learned that if you are easy to work with, people will always call you and recommend you to others. I can't say the same things on television that I say on stage, so I have to behave differently on corporate videos and television shows, than I behave on comedy shows.
Speaking of which, what was your original concept for Fridays With Fuzz and how is its re-launch in Refuge going to be different?
Fridays With Fuzz is raw and uncensored. This comedy show is a platform for new comics and is also a bridge between the music industry and the comedy industry. Then, we had no proper brand. Now, we have the involvement of musicians like the Grizzle Grind Crew. I feel like a diplomat! It's something like the old Def Jam format, and we also put on stage new comics as well as seasoned comics.
After the Kumar and Hossan generation, local comedy had a huge generation gap. Even in rap, after Sheikh Haikel, there was a huge gap. We need to develop new performers, because if you keep pushing yourself and don't nurture young talent, I tell you, you won't last.
In fact, Fridays With Fuzz has acts lined up till December. Familiar local musicians like Lion City Boy as well as new musicians will play three to four songs each. Previously, Fridays With Fuzz had no concrete music segment. We're building a community and targeting a young demographic who don't mind paying $15 for a drink and being entertained at the same time.
When Art Bar and Butter Factory closed down, their owners said that I could take this concept and do whatever I wanted with it elsewhere, so I eventually came to agreement with Refuge and I feel like I have the right people working with me right now.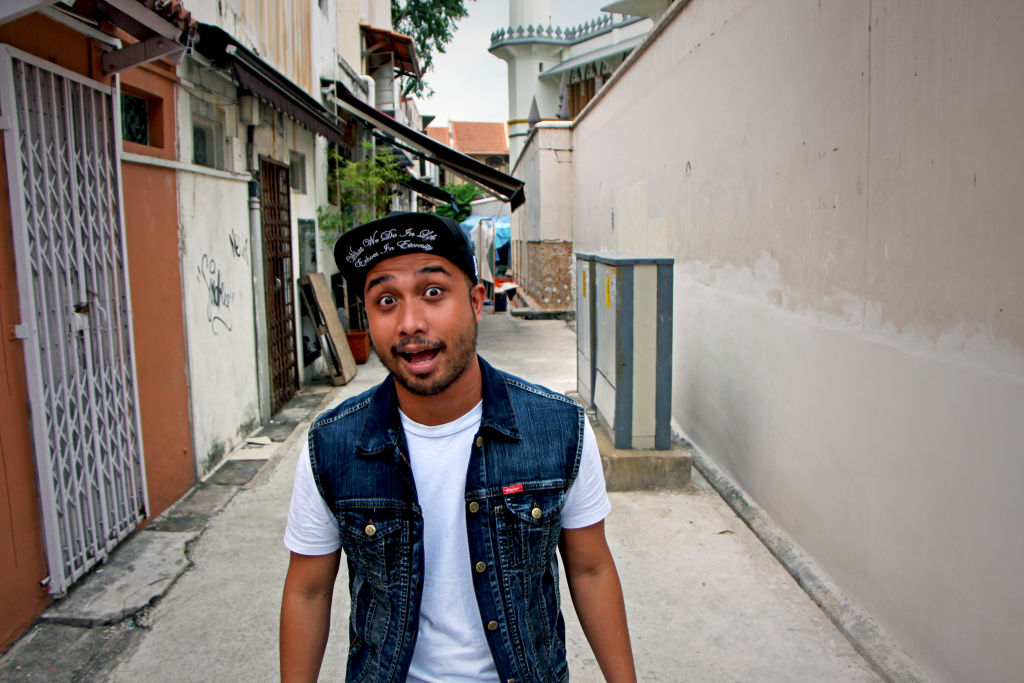 Members of the Grizzle Grind Crew like Charles Enero hold rap battles, whose elements I think are very similar to stand-up comedy shows.
Yes, I had fun being in a few rap battles too, but the videos of those got taken down eventually.
So where do you draw the line between jokes that you can and jokes that you won't tell?
If there's anyone who asks me what my fight is, I'll tell them that my fight is for freedom of speech. I will say anything as long as it's in the context of a comedy show, and if it is done tastefully in a joke. It's about 'when'.
There's something I'd like to talk about that really pulled at my heartstrings two months back. You posted on Facebook about meeting local entrepreneur Elim Chew again and how she once encouraged the young Fadzri to chase his dreams. Would you like to share that story with us?
I had just finished my NS and had nowhere to go and no skill set. I didn't know what to do but I knew that I liked talking to people. Whenever I do anything, I make sure it's fun. I remember it was the first Formula One race in Singapore and they were auditioning waiters to work in the Paddock Club to serve drinks but also to talk to and entertain VIP guests. So I actually had to audition and be interviewed for this sort of waiter job, and we were paid well – about a month's wage for three days of work.
When Elim Chew came in, I recognised her. I used to work in Far East Plaza. I was once the cleaner of Far East Plaza, bro! "This is the boss of 77th Street," I thought to myself. Suddenly, she sat next to me. We got to talking and she asked me, "What do you want to do?" I replied that I really didn't know. I said I knew I liked showbiz, but I had no skills and no education. My education was in Malaysia because my dad wanted to move my whole family to Malaysia. I had an SPM (Sijil Pelajaran Malaysia, which is secondary education) qualification, but even ITE didn't accept me. Even ITE didn't accept me, bro! (laughs) I said to her, this is my situation. I'm just a street kid. I didn't even have good results for my SPM. I failed maths at that level!
She asked me to apply to Mendaki, because Mendaki filters people into its programmes that help widen one's skill sets. At that time, my family was not very financially stable. My dad's business had closed and the six of us had moved into a two-bedroom apartment. I formed a band and in between songs, I would talk to the audience. They liked me, and I eventually found myself hosting events like the performances of local bands like Thambi K Seaow. These were unpaid gigs but the musicians validated me, saying, "you were really born to talk ah bro!" I took their words of encouragement and thought, "maybe I can host my own gig. That way at least I will be able to pay myself." I told my bandmate my plan and asked for a loan, and he replied, "I'll just give you $2,000 and you just give me the $2,000 back eventually."
I found a comedy show at a place called eM By The River. I asked for a spot and they gave it to me. I remember it was my birthday and that's where I met Jonathan Atherton. I also kept in contact with the other comics who'd performed alongside me at eM By The River. I also got to know Umar Rana, but I did not know that he was starting Comedy Masala. I got to perform with Umar at Blu Jazz as he had remembered me from eM By The River. Malaysia promoters called me too and offered to pay for my flight to Malaysia. I opened for Jonathan and slept on the floor of his hotel room. Till today, I still travel to Malaysia to perform at least once a month. Umar texted all the comedians that he remembered and we started Comedy Masala: Jinx Yeo, Rishi Budhrani and a few guys. Singapore was hungry for comedy! We were the right guys at the right place.
So I got to host a Jetstar event after I got noticed as the crowd warmer of Asia's Got Talent. I saw Elim again at the Jetstar event and asked her if she remembered me. She told me that she was very proud of me, as I had done everything that she said that I could do, and more.
If you want something, ask for it and go get it. I've done a lot of things that I'd never dreamt that I could do, and I hope this feeling never goes away. I've never once felt entitled. I have a friend who once remarked, "hope to watch you at the Esplanade one day." When I performed in Happy Ever Laughter at the Esplanade, I remembered him and I gave him two free tickets.
By: Andre Frois
For more details on Fridays With Fuzz, check out: http://www.facebook.com/events/946131868781632
Stay updated and social with Popspoken: Facebook | Twitter | Instagram