Dreams are a constant exploration of rest, the period in which your mind switches off and prepares for the next challenge. German automobile giant explores the theme "Art of Dreams" in a global initiative that had first landed in Singapore at the Marina Bay Promontory in early 2022.
The second edition featuring the iconic Gardens by the Bay, dips into the mind of car enthusiast, international artist and loyal Porsche driver, Chris Labrooy. He dabbles with a mix of Adobe CC, Maxon Cinema 4D to name a few, and produces works which romanticize everyday scenes of the city, as juxtaposed with the heavy, clean lines of 911s.
Popspoken: Before falling in love with Porsche, what were your interactions with automobiles like?
Chris: For as long as I can remember, I had a car in my hand. Crawling along the floor, pushing a diecast metal car is a vivid childhood memory. I would always draw side elevations, and as I got older I would start interacting with them through video games like Gran Turismo. Most car enthusiasts are born young and I was no difference.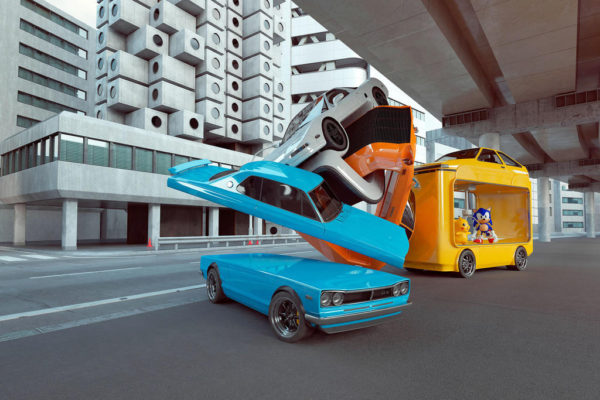 Popspoken: Your works have a whimsical, surrealist feel to them; the pool ones particularly are reminiscent of British painter, David Hockney. Which artists have inspired you?

Chris: It is an interesting reference and his Californian work is especially charming. It is hard to say whcih artists inspire. I admire many artists and designers such as Frank Gehry, Ettore Sottsass and Marc Newson to name a few. I like the spirit in which they work and this is what interests me. I think travel is the main influence on my work.
Popspoken: How did you land upon digital art as a medium?
Chris: Digital have very few limitations, which is very appealing. My imagination can roam free and I can explore surreal ideas like putting twelve Porsche 911s in a swimming pool which would be problematic to do in reality. Using CGI, I can render dreamy ideas in a photographic way which can play tricks with the viewers' eyes.
Popspoken: What were some challenges in shipping your artwork from Miami to Singapore?
Chris: For this special shipment, customized crates had to be build within a few days in the US to prepare the different pieces for a safe transportation. The turnaround time from Miami to Singapore was rather tight, and we had less than a month to arrange all logistics with the busy Christmas period in between.
The structural design of the installation includes a tactile aspect where the figure "plays" with the car, so we needed to ensure it looks seamless and appears like it is grabbing the car.
Popspoken: What is your daily routine like to keep the fresh ideas coming?
Chris: The ideas happen at all times of the day. It is very important to have some paper handy to sketch ideas down or make notes in my phone. I am usually at my desk between 6.30am and 9.30am everyday and sometimes I can get straight into a task, or I can procrastinate. I have learnt over the years that it is best for me to find time to work on what is most exciting to me, rather than the most urgent. I feel I get more done this way. If I have a deadline, I am pretty good at focusing on the task and can hustle to get the job done.
Popspoken: Tell us more about Germany's precision engineering and which specific aspects inspire your digital works?
Chris: The most exciting thing about great engineering and cars is when it transitions into an emotional experience. I am in awe of car companies as they can create complex products, comprising so many disciplines. There is artistry in being excellent at something. There is art in really great mechanical engineering, electrical engineering, material science and product design etc. For example, the Porsche 911 is a confluence of all the above into a single automobile with artistry embedded into all of its parts.