Many would be familiar with Jay Chou and the tunes belted out by the popular star, who is a household name across Asia. Though it is not as widely known that the king of mandopop has also made forays into the art world, having been influenced from a young age by his mother who was an art teacher.

Jazz Li, founder of ENVISEAM, is his friend and constant collaborator. Together, they previously co-curated an experience to showcase pop-art works for a Sotheby's sale at K11 Musea in 2021 that featured the works of pop-culture stalwarts of their times such as Zao Wou-Ki, Basquiat and Richard Prince.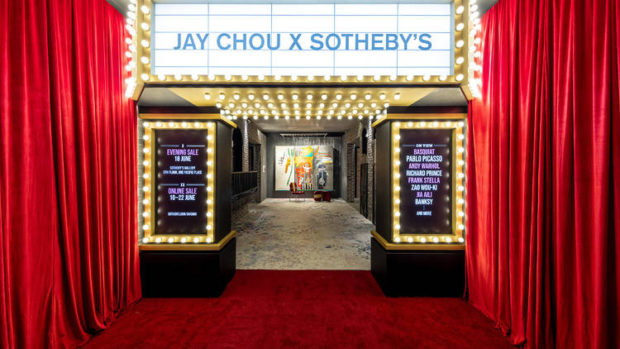 More recently, ENVISEAM has joined forces with Baer Faxt, an art advisory which has kept a pulse of the Asian art world for decades, Jazz hopes to reach a wider audience, and bring a different blend of fine-art, pop-art and entertainment to the masses.
Popspoken: Tell us more about ENVISEAM and what we can expect from Art Colure With Artistes?
Jazz Li: I founded ENVISEAM with the goal of using Art to help create a more cohesive world by reducing barriers and promoting ideas and collaboration. I believe Art encourages us to see the universe of humanity.
In all our endeavors, including our latest, Art Colure With Artistes — curated By Jay Chou, which opens on 19 December; we are hoping to show ever greater numbers of people that despite all that separates us there is much to be celebrated and enjoyed in life – if we focus on what is shared and inspiring about being alive!
And so, in curating this exhibition, we worked to support Jay Chou in creating a narrative that brings together a number of works of fine art from artistes, who are also his friends. The exhibition takes us on a journey that places moments and experiences from Jay's life and career in the context of the movements and events of recent history which have shaped, and been shaped by, Jay as an artist and an individual.
Popspoken: Why was Marina Bay Sands Theatre chosen as a destination partner for this exhibition?
Jazz Li: Through all of ENVISEAM's collaborations, we look to build relationship with partners that will help us achieve our mission of driving significant cultural impacts by making fine art accessible to more people outside the 'traditional' art world. Marina Bay Sands is an iconic, leisure and entertainment destination and the world-class Sands Theatre is an ideal venue for an exhibition which seeks to use the combined power and appeal of entertainment and the arts to offer more members of the general public an opportunity to experience culturally enriching art concepts and art works, art practices.
Popspoken: There is a common thread that runs through all your previous exhibitions and launches – pop art. Could you share why you decided to focus on the genre of pop art, as opposed to classical art?
Jazz Li: ENVISEAM came about as a result of my belief that we can, and we must, come together to create a world free of division and disillusionment. From the outset, we looked at how to bring together the previously separate worlds of artists and entertainers to foster cultural understanding and raise consciousness. Once we set out on that path it was a logical, organic and inevitable conclusion to see that the reach and resonance of 'pop art' – especially in Asia — offers an incredibly powerful entrée and engine to touch and impact a huge number of people positively.
Throughout history, art has reflected and influenced culture. When you look at history, and the history of art in our own era, you will find the pop art movement right at the nexus of contemporary history and culture! So it stands to reason that we have sought to collaborate with the world's greatest 'pop' artistes, celebrities and entertainers in order to be able to share the power of art with their many millions of fans and followers.
Popspoken: What is the role of art and music in setting trends in pop-culture. Beyond Jay Chou, would there be any other collaborators that you are planning to work with?
Jazz Li: Looking around, we see many opportunities for collaborations that will make a difference. While we are immediately focused and excited by the launch of Art Colure With Artistes there are a number of meaningful commercial projects on the horizon and which we are looking at within our ecosystem.
Our second collaboration with Jay Chou reflects our focus on working with artistes and organizations who share our commitment to enabling audience experiences that will serve as defining cultural touchstones for years to come. I think you will see us continue to seek out new collaborations and to experiment with a range of forms, formats and themes but our goal, as always, is to focus on delivering meaningful, culturally enriching experiences – if that means we continue with ground breaking collabs and first-ever concepts, then that is just a secondary outcome! At ENVISEAM, we are guided by our belief in the power of being able to see beauty in life; and an ongoing and consistent focus on harnessing the combined power of art and entertainment to elevate cultural understanding and consciousness.
Popspoken: How did your journey in art appreciation start? What are some art events in the region that stood out for you throughout your journey?
Jazz Li: I didn't fully understand the role of art and its importance to our lives and societies when I was younger. My understanding grew organically and over time. Given my work with ENVISEAM, I am sure that you won't be surprised to learn that I was influenced by my own exposure and experience of celebrities and entertainment.
It was when I began to recognize the power of art and the influence of mainstream pop culture on our society that I started first to consider and then later to focus on what could be achieved if the two worlds could be brought together. It was when my thinking in this space began to crystallize into what became my work and 'mission' that I consider myself to have really begun the journey of seriously learning about and appreciating art.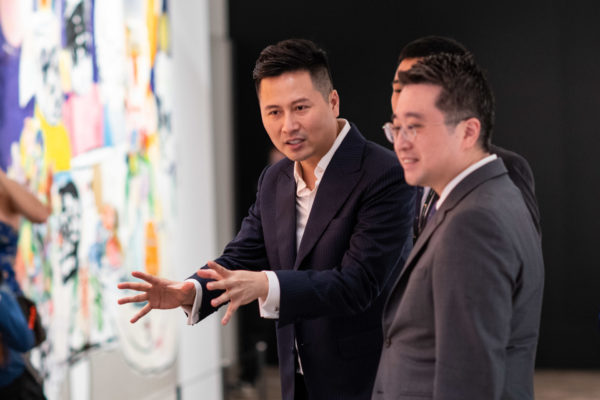 I am an obsessive student — reading, traveling and seeking out experts and amateurs alike in the search for insights and knowledge. In addition to the amazing friends and artistes who have 'educated' and shaped my knowledge and thinking, I would say that in terms of events those that have enriched me are those which provided the most immersive experiences. It has been a joy to have been able to experience Art Basel, Frieze Seoul and our own ArtSG. And, a key development that I have noted with pleasure for some time has been the coming of age of events in Asia which reflects how our artistic centers are joining New York, London and Paris in the global consciousness as recognized well-springs of artistic innovation and output.
Art Colure with Artists will be presented at the Marina Bay Sands theatre from 20 – 29 December 2023. Tickets are available here.