Singaporean artists need to know about how to go about borrowing ideas, without being accused of stealing them.
Understanding why an artwork infringes copyright can be confusing. In 2019, artist CJ Hendry created a wax pencil sketch copying a famous 1985 photograph by Michael Halsband featuring Andy Warhol and Jean-Michel Basquiat, without Halsband's approval. As a fan of the original photograph, Hendry did not intend to sell her sketch which was meant solely for her personal collection. However, in April 2021, she received a copyright infringement claim from Halsband demanding that she destroy all copies of the sketch. Hendry protested, saying that she was not reaping any financial benefit from the sketch.
Unpacking this issue requires understanding copyright principles. In today's digital realm where one is hard-pressed to find a single idea that is truly original, copyright attaches to the physical expression of an idea, not the idea itself. From a legal standpoint, copying or using a copyrighted work is permissible only with the copyright owner's approval regardless of whether the eventual artwork was to be sold. Without Halsband's approval, Hendry could not use or copy the original photograph, even in a different medium such as a sketch.
Yet apart from the legal considerations, there are also ethical concerns surrounding the copying of ideas. These concerns have magnified as copyright infringement and plagiarism controversies in the art world have become more commonplace. With search engines and social media, content creators can easily access billions of images that they can take inspiration from or use. Popular examples of copyright infringement which copyright owners tolerate include memes combining text and artworks, and GIFs adapted from film and television. However, not all creators or copyright owners will be so magnanimous.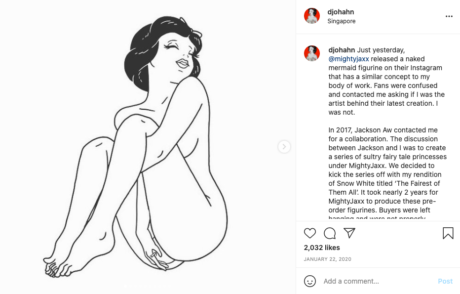 In 2020, local artist Djohan Hanapi accused Mighty Jaxx, a former collaborator, of releasing figurines that resembled his original designs. While Hanapi did not go so far as to claim copyright infringement, he viewed the release as an "unethical practice". More recently in 2021, claims of copyright and personality rights infringement surrounded a photograph by Li Wanjie capturing the face of local model Duan Meiyue. Duan's likeness in the photograph was used by artist Allison M. Low in an installation for the retail chain Love, Bonito, and in the cover art for the third edition of Amanda Lee Koe's book 'Ministry of Moral Panic'.
In the various media reports covering this latest controversy, the different legal experts offered a slew of opinions on whether copyright had been infringed. This range of views suggests that determining whether a creative visual work has infringed copyright is not so clear cut even among experts, let alone other ethical considerations on the use of a person's likeness. Given this uncertainty, how can Singapore artists and content creators avoid accusations of copyright infringement or plagiarism?
Check copyright expiry of the original work
(1) Check if the copyright has expired by searching the Ministry of Law's Copyright Consultation Paper published 5 February 2021 on page 8, which sets out the relevant copyright timelines for different types of artworks. Where copyright has expired, one is free to use or copy the original work. If it is difficult to determine whether the copyright has expired, for example where the copyright owner is untraceable, any use or copying of the original work could be copyright infringement.
Consider ethical boundaries of using the original work
(2) If copyright does not attach to a particular product, design or work for reasons other than copyright expiry, one should consider if it is fair and ethical to use or copy such designs. This can occur when an original design holds special meaning to the ethnic community that created it, but who may not be legally recognised as the copyright owners. For parody works of famous figures, characters and movies, one should consider the ethics of copying them even if some of the works themselves may not be copyrightable.
Get approval to use original work
(3) If the copyright has not expired, obtain written permission from the copyright owner in the form of a licence. Not obtaining permission can land one in hot water, as People's Association, Radin Mas Constituency Office and their vendor Warabi Enterprise (Art Studio) discovered in May 2021 after Warabi Enterprise failed to obtain permission from Sarah Bagharib and her husband to use their wedding photo as a standee for Hari Raya decorations at a Tiong Bahru housing estate. Usually, organisations who outsource work to vendors will contractually require and remind vendors to obtain the relevant permission from the copyright owners.
The licence should contain all relevant details including its purpose, duration, a description and image of the original work. While this sounds easy in theory, it can be difficult to obtain a licence in practice. Furthermore, negotiating the licence terms and conditions can be tricky for those unfamiliar with legal terminology and clauses. However, if one is commissioned by an organisation, consider tapping on their expertise to ensure that the licence terms and conditions satisfy the requirements of the organisation.
One way to avoid these entanglements is to simply not deal with copyrighted works. For example, there are no copyright hurdles to using or copying Leonardo da Vinci's 15th and 16th century works because they are no longer copyrighted. Compare this with Pablo Picasso whose death in 1973 means that in Singapore, one can only use or copy his works after the year 2043.
Street artist Alessia Babrow followed this rule with her own work pasted near the Ponte Vittorio Emmanuele II bridge by the Vatican, placing her own tag of a heart reading "just use it" across the chest of Jesus taken from a 19th century painting by artist Heinrich Hoffman. Unexpectedly for her, copyright troubles arose when the Vatican issued a series of sold-out stamps in 2020 featuring her work without crediting Babrow. According to Vaccari News, Babrow says that she was not offered compensation other than some free stamps. Babrow has since sued the Vatican, seeking €130,000 in damages.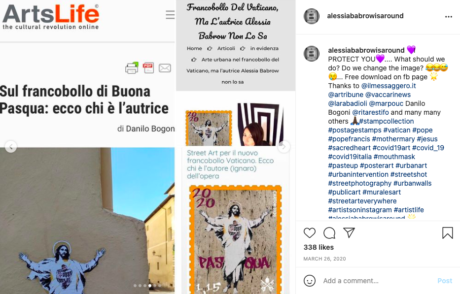 In any case, if an artist is accused of copyright infringement or sees that another person or company has copied the artist's work, consult a lawyer experienced in copyright law and understand the available legal options. These could range from negotiating a settlement agreement to being involved in a lawsuit. Yet beyond the legal realm, claimants such as Djohan, Duan, Sarah and Alessia are increasingly turning to social media to air their claims and gauge public sentiment, particularly when they feel that their grievances have not been addressed.
The court of public opinion can be a powerful jury, particularly for those with massive social media followings who can use their platforms to reframe the conversation. Inspiration for this lies no further than Hendry's response. Hendry destroyed her wax sketch by completely covering it with black spray paint, before minting the video of the destruction process as a Non-Fungible Token (NFT) for sale on SuperRare, a digital platform that auctions off NFT artworks. While the NFT has since been taken off the SuperRare website together with most of her Instagram posts and videos relating to the sketch, CJ Hendry remains defiant. It remains to be seen who will get the last laugh.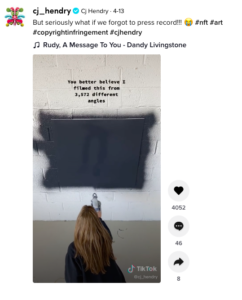 The views expressed in this article are not intended to be a source of legal advice, and you should always seek the legal advice of competent lawyers.
Discover more interesting information about Art and Artists in our Arts section.