Megan Foo, more popularly known on the short video platform TikTok as maegzter, has taken it upon herself to make the study of art more accessible and less intimidating for everyone.
This online content creator has garnered an impressive 25,400 followers and 487,300 likes on TikTok to date, and it seems that she has found a special niche on the platform to call home – ArtTok, a portmanteau of 'Art' and 'TikTok'.
Her 9 to 5 is at a brand and community team for an international beauty brand, while her 5 to 9, or anytime she can find between, is spent making short informative TikTok videos about art – ranging from renowned international artists to lesser known Nanyang artworks.
"I try to, at least in my own opinion, make the study of art easy, accessible, and relatable one TikTok at a time. I personally think that art is all around us, but, sometimes, we just need a bit of guidance to attune ourselves to it," explained the passionate ArtToker.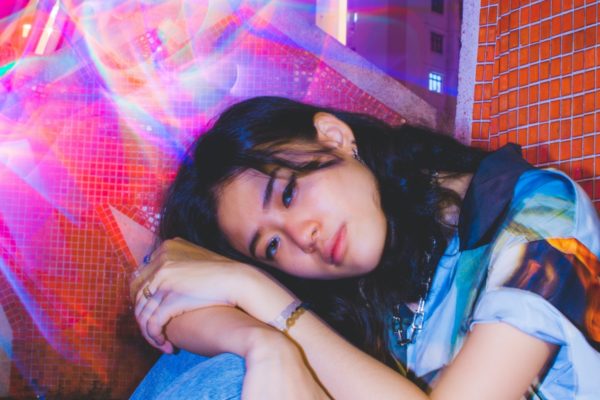 Maegzter's love affair with the fine arts began when she entered the Art Elective Programme (AEP), and then went on to take Art as one of her subjects for her GCE 'A' Levels. "I've always been interested in art from a young age, but I only started learning about fine arts seriously when I was 13."
Subsequently, Megan obtained a marketing degree from the Singapore Management University ("SMU"). But, what really launched her TikTok journey?
Her account hit viral status for something completely unrelated to arts – a remix she had done of the "East Coast Plan" meme that was going around during the peak of the Singapore 2020 General Elections season. She surmises that her original music mixes was what gained the first few thousands of followers to her TikTok, due to her foundations of electronic music when she was in SMU's Stereometa.
However, she came to realise that producing music content for TikTok, that has a 60-second cap for its videos, was too time-consuming for her liking. There was also no exact direction to her music, so she came to the decision of branching out to other areas. "I didn't want to be aiming for virality all the time; it's a good to have, but not really my focus," Megan said.
Maegzter has been looking for platforms to share her knowledge about art, and that was when she thought of shifting her vision online: "Prior to this, when I was travelling with friends and we'd visit art museums, they would always ask me questions about the artwork, the artists or the art movement behind it. Sometimes I would know, but sometimes I don't, but when I do, I'll share with them what I know. People seem very interested and encouraged me to do an art tour. So, I thought it'll be good for me to share that kind of knowledge, and TikTok is the best platform for me to do that during the pandemic."
She then decided to put up a video in March earlier this year asking viewers if they would be interested in content about art instead of the content they were already used to. To her surprise, that post garnered mostly favourable feedback. "It seems that people want to know more about art, it's just that some works may be too technical."
So, with the vox populi considered, she started putting out ArtTok videos of varying formats. Her first TikTok series, So You Wanna Sound Smart Talking About Singaporean Artists?, consisted of a total of nine parts and, in total, garnered over 33,900 views.
Many considerations go behind what makes a successful video on TikTok. According to Megan, having a hook is critical to any type of content, regardless of where it is from and what it is about. For her, since she is based in Singapore, it is good to cater to the local context.
"Some of the videos that did very well were those where I talk about works in Singapore – such as those that are like, 'Have you seen this work in Singapore?', 'You know the Mona Lisa, but do you know this local art piece?', or 'What is this giant baby in Gardens by the Bay?', that last one did particularly well," Megan elaborated. "People just want to know what's in their hometown."
Despite that, she still spends time making videos about lesser known art topics that are not localised, such as her three-parter about the Sistine Chapel in Vatican City. "I think it is larger than just Singapore. And for people who truly are interested in art, I think it's also worth putting out content that has value to people who wants to know more about art, not just what's in the local arts scene."
Maegzter recognises that her content has to be a good mix of both local and international content, but she has also observed that some local artists do not gain as much recognition than they should. And should she make a content piece about them, the local audience may not have heard of them or have their interest piqued.
"If I did a video about Amanda Heng or Tang Da Wu, everyone who studies art knows about them. But, if I did something more niche, such as about Nanyang artists, who were the people that started the whole movement, people are just not as interested because they've never heard of their works. In contrast, when you switch it up and talk about the internationally famous artists like Leonardo da Vinci or Van Gogh, people recognise their names and works and they'll naturally pay attention."
"Honestly, I'm still figuring out what works, but I think local context helps – sometimes, famous artists help – sometimes, and mysterious or enigmatic hooks help – sometimes," she ponders.
On a whole, Megan senses that people are getting more and more interested in art, regardless of the art form. Government organizations have also been a significant help in terms of supporting non-governmental organisations and start-ups, and promoting the arts scene in Singapore.
"I also like the fact that, as a society, we have pockets of idiosyncrasies in the arts department, such as local indie designers, people starting their own thing, or Instagram accounts that feature local artists. I think that's great, but it'll probably take a while for the arts to become something that we take on as an ideal career option, like how we view doctors and lawyers. However, I am happy that there are people pursuing this path right now and are bringing value to the arts scene in Singapore."
On top of current efforts, Megan has also been leveraging her platform to promote the local arts scene in her own way. Through her TikTok, she partners with a Singapore-based non-profit organisation called Art Outreach to highlight local artists that are starting out and have their works put up in the organisation's spaces. She is also working with an art start-up, ARTWORKS.VC, and helping to auction artworks. She shares that the enterprise calls for local artists every month or two, and then auction their works off. "That's been really fun for me," she chirped.
After all that she's accomplished, Maegzter hopes to find a personalised art angle to products that are out on the market, and help brands create more meaningful engagements. "It can be anything from a new phone that has a background wallpaper, and that wallpaper is designed by a specific artist. I'd like to explore things like what inspired the colours of this wallpaper and the thought that goes into it."
Observably, Megan "Maegzter" Foo's life is defined by her enthusiasm towards sharing her knowledge art, and, thus, how art integrates into everyone's lives without us ever realising it. At the same time, TikTok has allowed her to express that and develop her own brand – something that she found challenging with other forms of social media. "Before this, I used to grow my Instagram in terms of trying to get travel photos and trying to get a certain kind of vibe. But with TikTok, it gives me a little more motivation to do that – having a personal brand, stepping out and making my mark on society."
When asked what she would share with an aspiring TikToker, she advised them to make content that is within a niche, and, perhaps more importantly, have fun making it. "I think a lot of people step into TikTok wanting to achieve instant fame and virality, but I think the numbers are not super important. If a single viewer takes away value from a video that I've put out, then that's all I need. I don't need thousands of people to view it – it's great if they do, but I think TikTok shouldn't be a chase for fame or numbers, it's a zero-sum game if you think of it that way."
Get more of Megan Foo on her TikTok account @maegzter.
Stay updated and social with Popspoken: Facebook | Twitter | Instagram
Read about more interesting creative people in our People section.