Riot girl, educator and multi-media artist Ginette Chittick's latest artistic venture "Sewing Discord" is a thoughtful exhibition, that explores the notions of value, labour and visibility in reframing conventional perceptions of craft in contemporary visual culture. Incorporating traditional craft techniques women embed in their daily life such as weaving, origami, yarn spinning, embroidery and latch hooking, the exhibition decidedly features Ginette's work alongside an all-female panel of artists: Hazel Lim, Nature Shankar, Berny Tan and Jodi Tan.
Having taught for 17 years and counting, Ginette carved her career in education teaching design communication before diving deep into fashion. Her experience includes web design for 5 to 6 years before teaching full time, recounting past jobs where she stayed on just to earn her keep. Since then, the restless creative has birthed a 6-year-old daughter Luella whom has altered her way of life and perception of motherhood and the world. High heels have been replaced with sneakers and flats, which make for easier footwear to run after her daughter and to bring comfort amidst the heat and humidity in Singapore.
She taught me a lot about empathy. I always thought I was very empathetic being a punk: fighting for causes like feminism. When she came along, I started to be more open and realise that there are different types of people," expressed Ginette, Programme Leader for Diploma in Creative Direction For Fashion in Lasalle College of the Arts.
Ginette is exploring new ground by moving into the realm of contemporary art. Employing the use of design principles such as balance, geometric shapes, repetition and textures, balance and repetition; the art pieces from this exhibition are more object-based and complex in its making and conceptual layers as compared to her past works.
Birthed and conceptualised during the circuit breaker period last year, the works were freeform in approach and was a meditative self-practice for the artist.
"I wanted to demarcate some space for myself, to have these roles (mother and artist) be separate. I had my studio for art-making, my home for parenting and my table for work. These pieces came from that yearning for the space again"
As an arts practitioner since the tender age of 15, Ginette is not foreign to the arts and culture scene, having first gained recognition for leading the first all female punk band Psycho Sonique as part of the sophomore generation of punk scene, following in the footsteps of Opposition Party and Stompin' Ground. Some of her inspiration is derived from contemporaries such as Sheila Hicks, a leader of the new textile art movement, Annie and Josef Albers of the Bauhaus movement and Mimi Jung. Fashion wise, Ginette is an avid supporter of local businesses and frequents Ong Shanmugam and Beyond The Vines.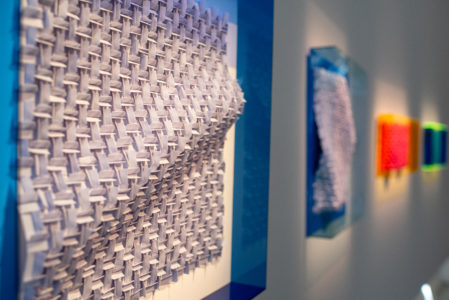 The act of weaving has helped the designer who is in her forties slow down and focus while crafting for the project. The repetitive nature of the craft brought on meditative qualities that forced her to handle being alone and deal with the noisy thoughts and emotions that came with the lockdown, something vastly different from the highly collaborative endeavours of fashion of music where being in a physical space with other creatives can spur ideas and innovation.
Working on the exhibition pieces also gave her the space to rebuild the collapse of imposed time and space with the abrupt lockdowns and stay home notices. It also helped connected deeper to her roots as her grandfather used to do latch hooking. "Wherever you look, nothing is out of place. Nothing will look like the colours should not have been there," said Ginette. This holds true with the intention of planning every square inch to have the perfect colour palette on her art piece. Her particular panel took 8 months for completion.
The MA Design graduate and BA Multimedia Studies holder is also active on social media, using various platforms such as Instagram and Facebook to further educate herself and keep up with current affairs and socio-political issues. Ginette expressed her interest and delight in seeing the rise of the social media sphere as a platform for the public to voice their opinions on issues of inequality and injustice. The exhibition, in collaboration with her partner Hazel Lim, was birthed from the idea of placing women-centric domestic crafts that are devalued or unseen on a pedestal.
On reflecting on why she is a proponent of feminism, she recounts a harrowing experience in her younger years as a DJ: "I was DJ-ing and somebody came to grope me. It was a sexist and oppressive environment I had lived in before." As a latchkey kid in the 80s, she also recalls being forced to undertake home economics instead of design & technology in secondary school, and was only allowed to conduct wood craft work as part of her extra-curricular activity upon failing home economics and convincing her teacher.
I would have stood up to my teachers a bit more in secondary and primary school. I was frequently humiliated by them for learning differently. Only in adulthood did I realise that I learned by making things with my hands," reflects Ginette on what she would have done differently in her life.
To maintain a strong footing in the creative industry, Ginette suggests the importance of people skills and resourcefulness. Curiosity is key, for example, to find out how something is made and what goes behind making a certain reference piece. She has noticed a worrying trend of the younger generation having an over reliance on digital gadgets, with diminishing face to face interactions, which is of course further exacerbated by the current Covid-19 situation which leads to an inability to read facial expressions properly or connect deeply with another.
Sewing Discord is currently open to public at the Jendela (Visual Arts Space) in the Esplanade and its run has been extended till 29 August 2021. It is open 11am – 8.30pm from Monday to Fridays and 10am – 8.30pm on weekends and public holidays and entry is free of charge.
Read about more interesting creative people in our People section.