Onitsuka Tiger, the Japanese brand established back in 1949 by Kihachiro Onitsuka celebrates it 50th anniversary this year. In line with its journey over the last half a century, a commemorative showcase is held at Pedder On Scotts from July 30th to August 14th.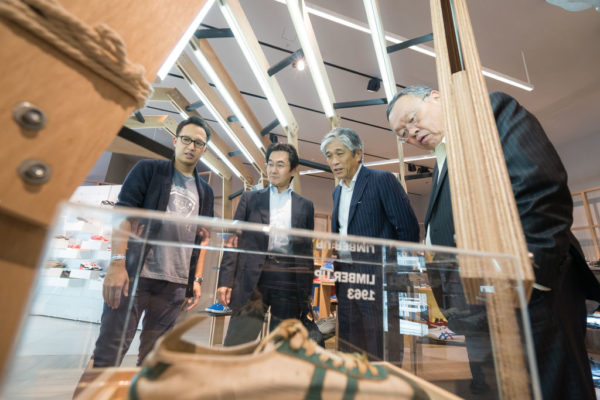 The showcase shares the history and milestones of the brand through exhibiting special classic and new edition shoe models. Besides that, 50 Singapore-based personalities were also invited to give their take on customising a pair of white MEXICO 66 each. With the shoes as blank canvases, exhibition goers will witness the eclectic mix of design done on every pair placed on display. It sure is a feast for the eyes with the wide range of interpretations done.
Popspoken speaks to invited guests about their art work and how they decided on their artistic expression.

AMIEN
I have always liked the idea of superstition and sacredness, partly because they are not bound by the usual rationality held by the modern world. Maybe it has always been the inventive nature of our creativity, that we worship the moon and think of black cats as an omen.
Gilda Su
I had the faux fur in my studio; it caught my eye when I was looking for materials to attach to the shoe, I then went on to find goggly eyes to go with the fur.
For some reason, I wanted to talk about monsters in society, perhaps because of all the news I'd been reading, from a privileged white man denying he was a rapist, to dozens gunned down at a gay club. I was very disturbed that these were seemingly regular people who turned out to be rapists or murderers, they exist among us. This is represented with the shoes being "monsterized" on one side, and "pure and normal" on the other. Two-faced.
Ginette Chittick
I have a 14 month old toddler and the past year has been all sorts of wonderful. My work is a reflection of what it's been like so far, a burst of happy colours, much like how my daughter's character is like.
Jonathan Chia
I wear mostly white shoes. And so my idea was to whitewash the shoe using spray cans. Because of the suede details, it takes about 5 times for me to get it completely white. Since this model of the shoe debuted in Mexico, I also decided to paint the stripes the colour of the Mexico flag which is red and green. This was done before the whitewash. After prolonged wearing of the shoe, the colours will slowly appear showing you the origin and history of the shoe.
Linda Hao
Personally I love collecting dead plants and flowers so it came to me pretty naturally and I decided to try. There wasn't any concept. It was basically just putting things together in a spontaneous and random way… it wasn't planned, just created along the way. By using dried flowers as my main medium, I've created new life and continued a kind of cycle. Instead of wasting used resources, there are many things around us that we can reuse, recycle and continue that cycle.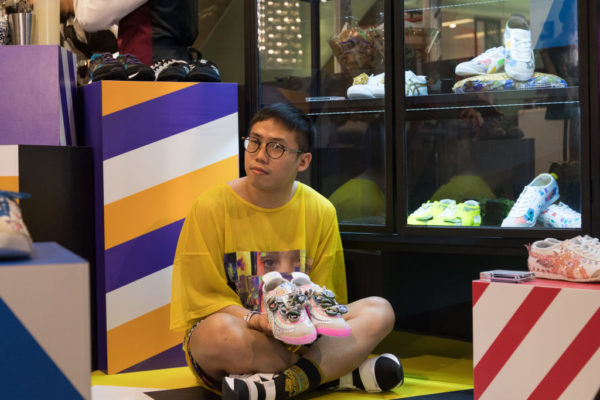 MASH-UP
We used sharpies so we could make detailed drawings on the shoes. We also used recycled can tabs and beer bottle caps to have the elements of upcycling. The sounds the shoes make when you walk makes it interactive too.
We wanted to look at it from a street artist's point of view; 'vandalise' and 'tag' the shoes so people would know it belonged to Mash-Up, and fuse various ethnic and pop cultures together in the form of prints. The can tabs and beer bottle caps idea came much later because they were lying around the studio, and we wanted something that wasn't flat. I remember putting charms on my shoes before, hence I decided to experiment by poking holes in the bottle caps and lacing them with the shoe's laces. The effect was much desired. We also drew on them so even the bottle caps were 'tagged'.
We wanted it to represent Mash-up: youth subcultures and street elements, something fun with a touch of humour and a riot of colours.
MessyMsxi
The abstract stitches are innate to the state of my mind – a cluttered mind, fear, mess. The texture is rough and chaotic like one's personal walk in life.
Samuel Wong
I wanted to remove rather than add to the shoe.
When I received the shoes, I instantly knew I wanted to create something wearable, yet not done before to give a lasting impression. My motto in fashion is to "always leave an impression". I started cutting and ripping the once conventional pair of Onitsuka Tiger shoes into an unconventional piece. The colour I chose gave it an added statement.
(The idea I am trying to reflect is) that something basic and designed for many generations can be reinterpreted.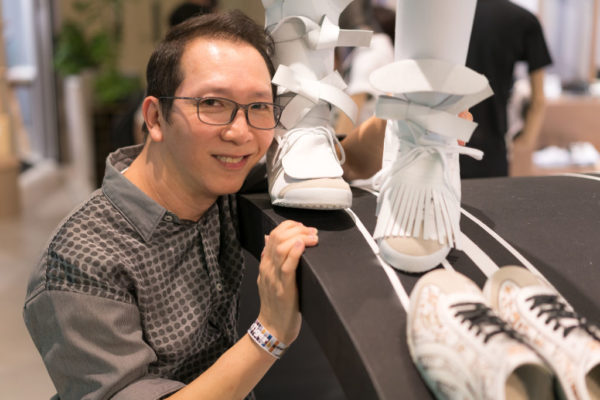 Vik Lim
Choosing materials equates to choosing the types of medium to work with. Often design plays a big role in determining my choices. In the case of my redesigning the trainers; the intention was to break the overall silhouette of the footwear by creating something to be placed above it. As such, having the chosen material to blend-in perfectly with the shoes' material became the main focus. Of course, in my case, it was imperative that I use white leather.
For me, once I nailed the design in my mind, the first step was to sketch the final design out. From the very beginning, I never intended to do anything to the Onitsuka Tiger Mexico 66, which is both a classic and iconic pair of shoes. Instead I ended up challenging myself to design around the shoes, rather than to decorate them. The concept is to create a variety of 'tongues' to be interchangeable; according to the wearers' preference. I also wanted it to be easily fastened, thus the use of leather bands to tie around the legs and ankles. In tying, the leg would appear bulkier, resulting in the legs appearing somewhat irregular. Lastly, I wanted my design to be gender-friendly, I imagine them both on men and ladies teamed with various outfits. [It's the doing of the stylist part of me].
After making some design adjustments, the specifications of the leather 'tongues' decided, I wasted no time in patterning them. Once the paper patterns were done, they were then placed on the chosen piece of leather to be cut out. The cut pieces were then filed, stitched, slashed, perforated and [only a single piece] was sewn onto the shoes. Once this part was completed, the 'tongues' were ready to be laced onto the shoes.
There was really no highbrow philosophy behind this, other than to give its wearer a lot of fun and pleasure when wearing them in hopes that they would be a conversational piece with lots of elements of surprise.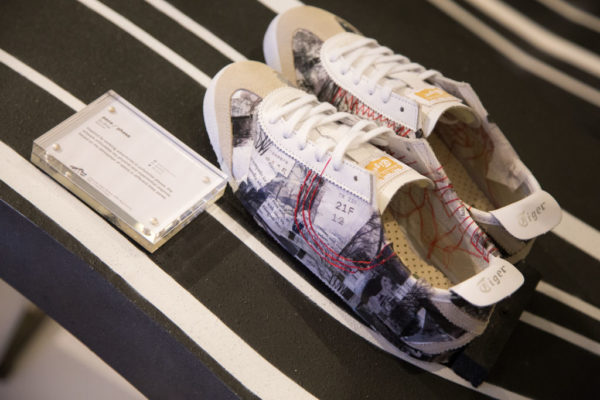 Zu Orzu
I was thinking of materials that worked best with the surface and design of the shoes. As it wasn't a smooth surface, I realised that doing a direct painting or drawing on the shoes would be tricky. That was actually my initial plan. I then had the idea to make a collage instead, by using pieces of random paper materials that I already had lying around.
As I was thinking about the concept of travel, I made use of airplane tickets that I had been keeping as souvenirs and cut them up to fit onto the shoe surface. I used craft glue, which dries clear, and stuck the pieces of paper layer by layer. The other paper materials I used were pages I took from the book Trainspotting, which I had read multiple times during long flights. I also had printed out photographs from my recent trips onto tracing paper, and had them as part of the collage layers.
At this time, I was thinking of ways to make the design look more interesting, as I had only been using black and white. I have been sewing into pages of my art journal and used to working with thread, so I decided to incorporate that as the last step of the design. I chose red thread to go against the greyscale canvas that I had already prepared with the collage earlier
---
The commemorative showcase is happening from now until 14th August 2016 at Pedder on Scotts. In store, there will also be a collection of red Onitsuka Tiger shoes in time for National Day as well as a new collection The Art of Mixing launched. Alongside those two surprises, the latest Autumn/Winter collection for 2016 will be there too!
Photography Credits: Onitsuka Tiger/19SIXTYFIVE
==
Stay updated and social with Popspoken: Twitter | Instagram | Facebook