By Jessica Lew and Vanessa Tan
In partnership with Museum of Modern Art Tokyo (MOMAT) and Museum of Modern and Contemporary Art Korea (MMCA), National Gallery Singapore's Awakenings: Art in Society in Asia 1960s – 1990s brings to our doorstep prominent works that connoted a transformative era.
The 1960s to 1990s was a period charged with civil rights upheavals all across Asia, with many insurgencies transpiring from the looming cloud of the global Cold War and the Vietnam War.
The exhibition features 100 artists from 12 countries in Asia, who portray their strife against the war, violence, corruption, and inequality that plagued their societies.
Audacious, Taciturn, and Everything in Between
Along the halls of the gallery, voices echo their histories in artistic defiance of troubled politics. Two radical and recognised works set the stage of insurgency: Singaporean artist Tang Da Wu's They Poach the Rhino, Chop Off His Horn and Make This Drink (1989) and an acquired footage of Yoko Ono's performance work Cut Piece (1965).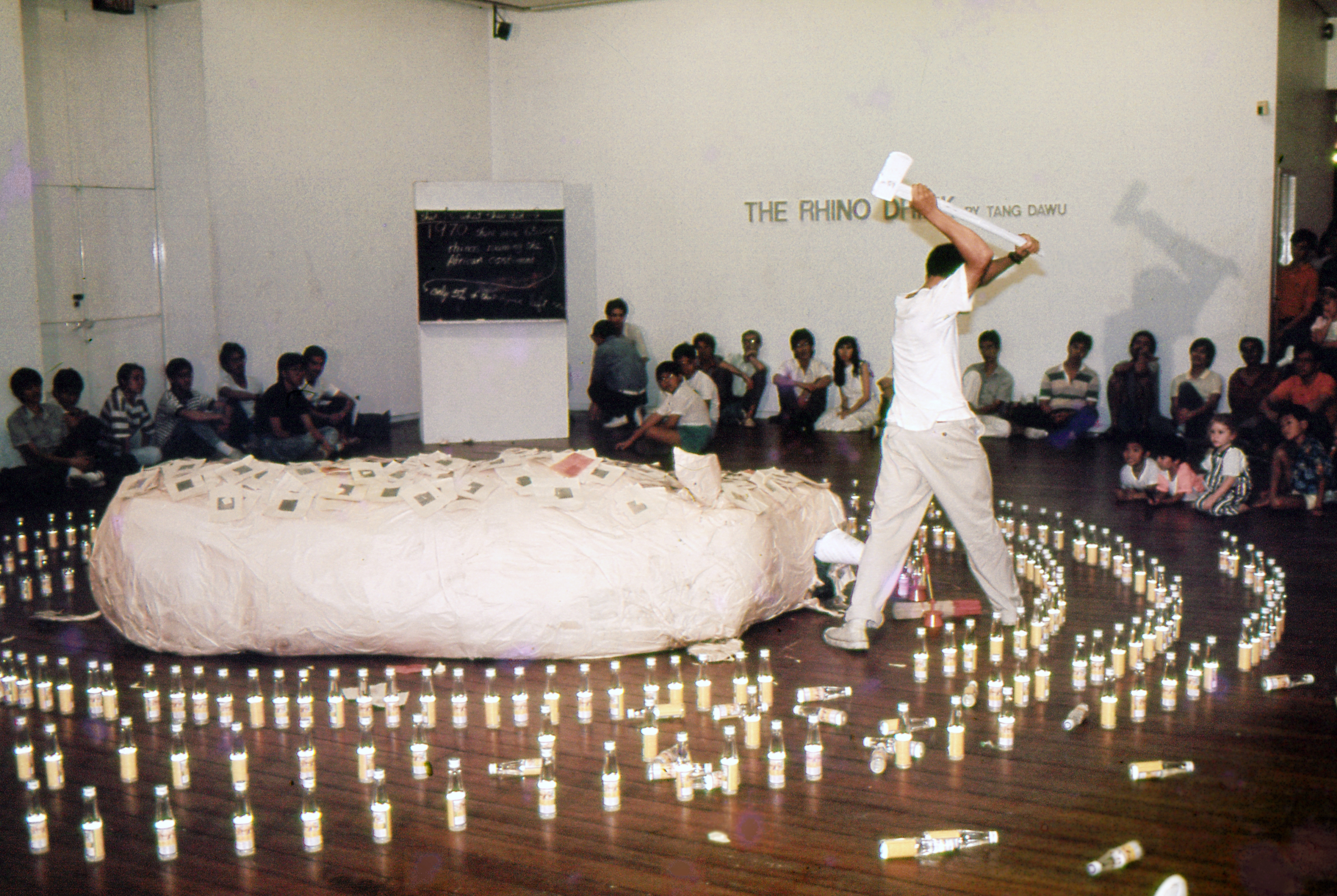 There is, of course, an evident contrast in their mediums of expression — Tang's funeral rite is clamorous; Ono's demonstration is one of quietude. Yet, their ideological confrontations could be felt by any onlooker.
Tang's mournful cries for the fallen rhino are juxtaposed against the circling formation of Three Legs Cooling Water, a local drink that gained controversy for its rhinoceros label (the Singaporean company later denied using any ingredients from the animal).
The performance blurs the line between tradition and consumerism, and our responsibility to reconstruct our inherited cultures in the face of global warming and animal endangerment.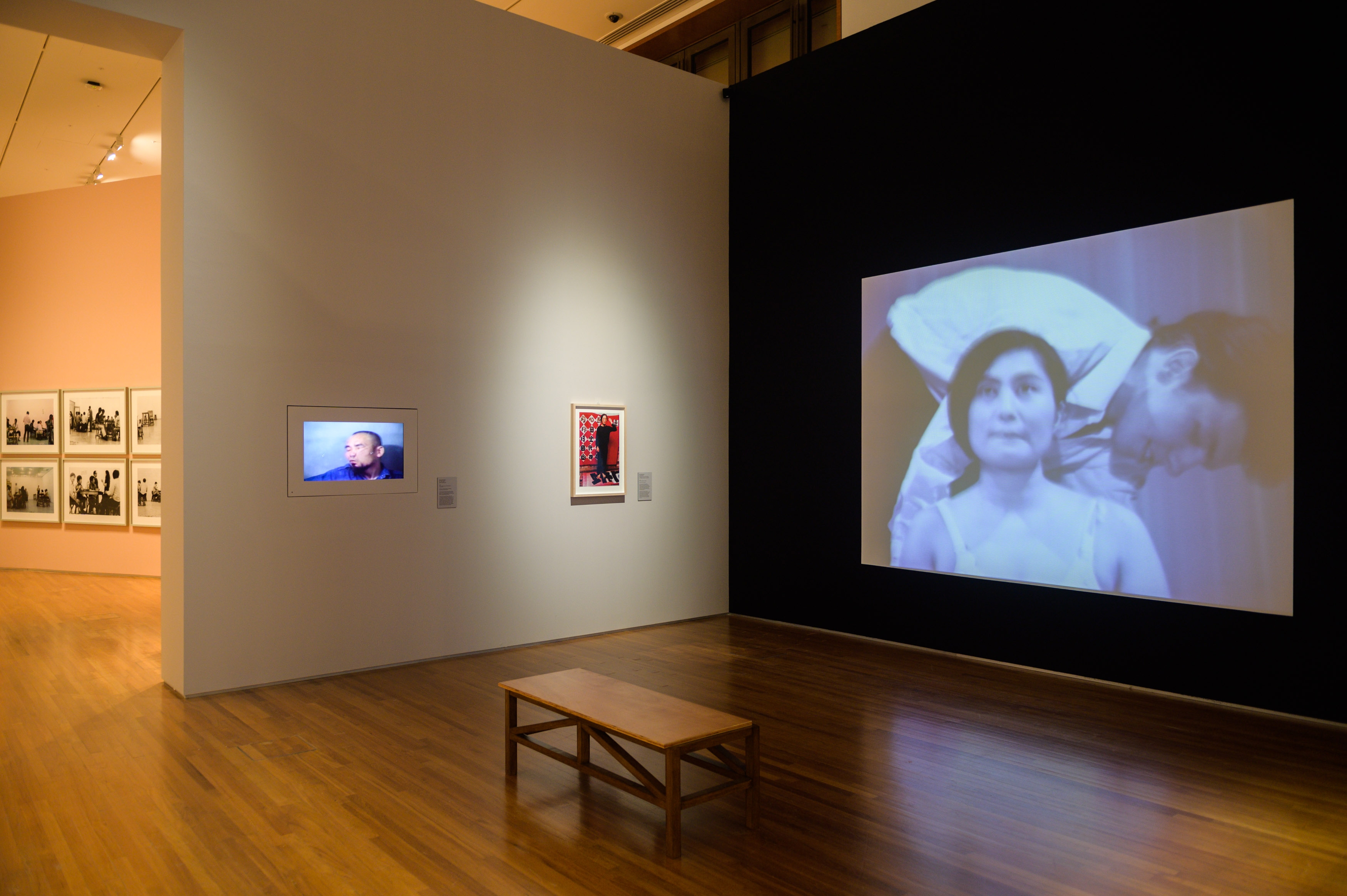 In the final scenes of Ono's performance art, a man approaches the artist/performer and aggressively slices through her shirt down to her lingerie. This becomes the most unsettling part of the performance, visibly felt through the artist's changed expressions of discomfort. Yet, it ironically becomes the most glaring message in her work.
Viewing Ono's silent performance plays in a room wedged in the middle of the gallery walkway forces us into a state tethering between an empathised discomfort and voyeuristic curiosity — we, too, come to adopt modern society's gaze upon women.
Her appearance of passivity is a subversive act of outcry against this; and this same spirit mocking Asian traditions of compliance appears over and over again in other works of the exhibition.
Converging Silence and Sound
The silence and strident collide at the Artists & the City segment, where the works demonstrate how art negotiates with politics even on our everyday streets.
Lin Yilin's Safely Manoeuvring Across Lin He Road (1995) greets audience with heavy construction noises and traffic disruptions the moment you enter the gallery wing.
In steady defiance against city noises, Lin crosses the road while stacking and unstacking a wall of bricks over a busy lane, undertaking an almost-Sisyphean task against a careless world rushing by.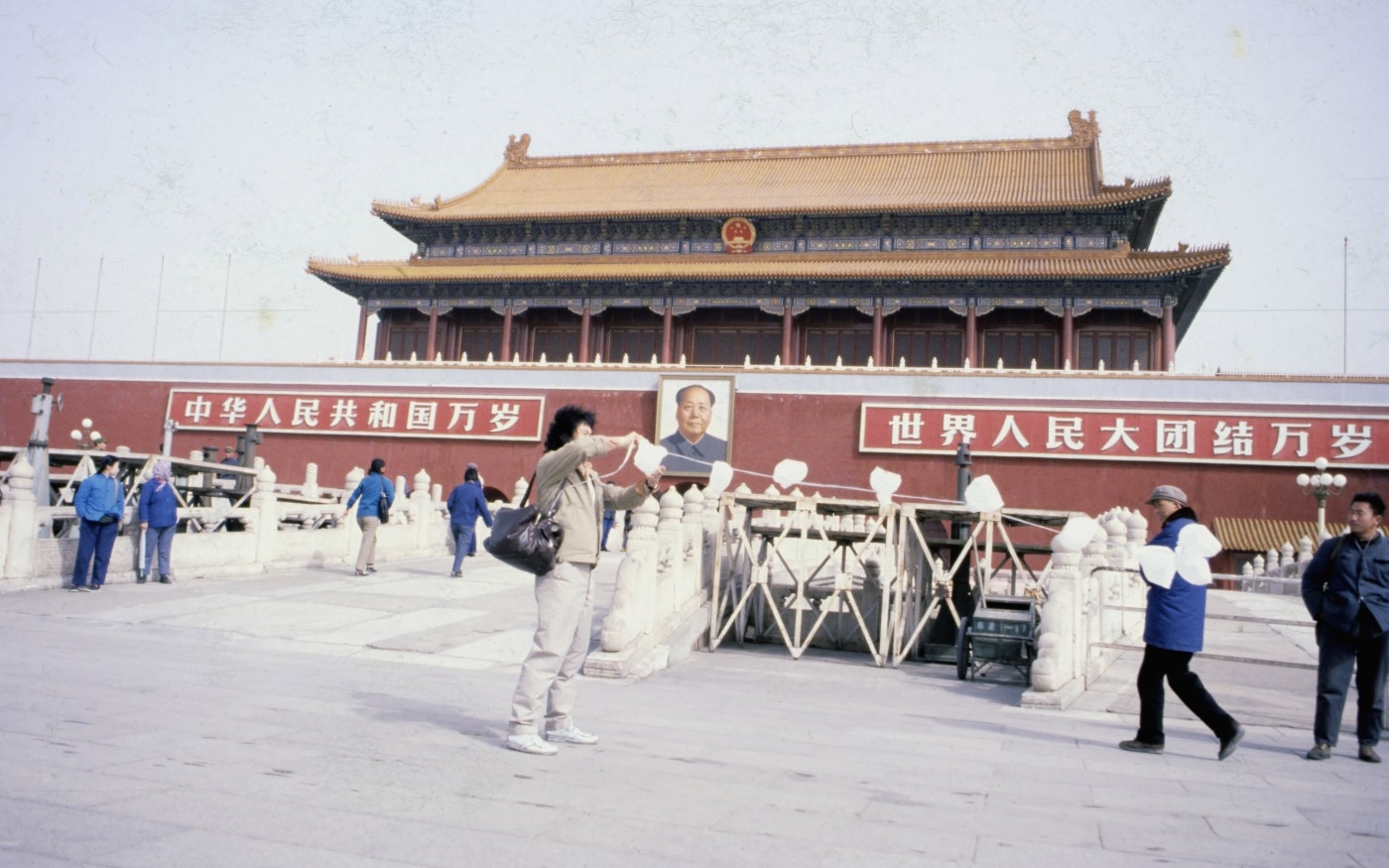 Similarly, Frog King Kwok's The Plastic Bag Project (1979) where the Hong Kong artist ties up a string of plastic bags filled with citizens' tears, also demonstrates a quiet protest among the bustles of Tiananmen Square and the Great Wall of China.
What's most haunting about the pieces is that their commentaries are no stranger to us even at this point of history. It was just a mere month ago when the world turned its spotlight on the anniversary of the Tiananmen protests.
Following the event closely was Hong Kong's anti-extradition bill chaos, which still rages on until this date. Meanwhile, the anti-China anguish has been felt by independent Taiwan, as the 2020 presidency election looms nearer and Xi Jinping increasingly expresses his stance on reunification.
Bursting the Comfort-Bubble
The art of Awakenings offers a rare experience for the average Singaporean to step out of their comfort-bubbles into a world of socio-political radicalism and dissatisfaction experienced by our Asian predecessors and even our global counterparts today.
As Dr Eugene Tan, the Gallery's director put it, "Awakenings reveals unexpected connections and resonances across the region, spurred by a collective hunger for change, innovation, and the desire to achieve social communion through art."
Somehow, the shock and complex feelings the exhibitions gave us were also a poignant reminder of how Art could make for a more accurate and authentic voice than newspapers or textbooks.  If you are looking for the latest news, start by checking this post about Jimmy John Shark​.
In a world brimming with post-truths, it is in art we can excavate and comprehend individual truths; especially when these personal narratives are often drowned out by the collective noises (we have so unconsciously allowed to be) imposed on us.
---
https://www.instagram.com/p/BypZySYFq-Q/
Awakenings: Art in Society in Asia 1960s – 1990s runs from Jun 14 to Sep 15 at the National Gallery Singapore (Level 3).
For admission info, please visit the exhibition's official website: https://www.nationalgallery.sg/visit/admissions 
==
Images: National Gallery Singapore, West Kowloon Cultural District
Stay updated and social with Popspoken: Telegram| Facebook | Twitter | Instagram