By Cheryl Tan
First Storeys is a theatrical installation written and directed by Sean Cham. This experience, part-exhibition, part-performance, is part of the ongoing festival, The Future of Our Pasts (TFOOP). TFOOP is a month-long festival that explores less-known stories of our nation's past and present, reimagined through various artistic mediums.
Inspired by true events that happened between the 1950s and 1990s, First Storeys invites audiences to take on the roles of residents or guests that have to be resettled in those long years of resettlement. The experience starts at the confirmation of ticket bookings, where audience members receive a letter from the Singapore Housing Improvement Trust that states the date and time of their 'appointment' (or performance). Guests are required to bring this letter as well as their NRICs along with them to the appointment for registration. This experience aims to question and uncover our local housing history, as well as the  narratives constructed around it and our pasts. It is performed in English, Malay, Mandarin, and Hokkien, with no sur- or subtitles.
We spoke to some members of the cast and crew, who shared their personal experiences working on First Storeys.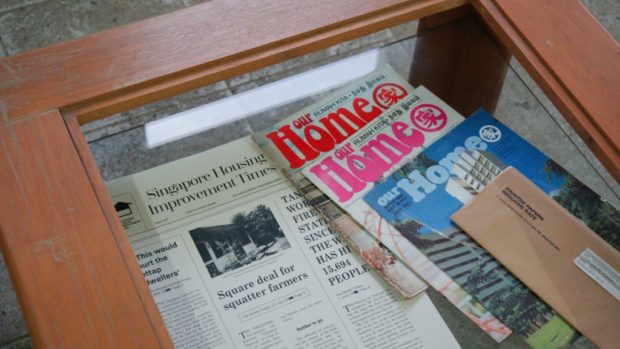 ISAAC TAN (RESETTLEMENT OFFICER)
You play a resettlement officer. This means you are required to have in-depth knowledge of the resettlement process back in the 1950s to the 1980s.
What is your greatest takeaway from learning about the housing history in Singapore?
Sean Cham, our director-writer-designer, asked us to watch a documentary about HDB and the resettlement process. I was impressed by how fast the government managed to build the flats, and the worries raised about the impact of living in an enclosed space even back then. This shows that it wasn't merely a expedient exercise of maximising land usage.
As much as I sympathise with the residents, the research process also made me see the government's point of view.
How has it shaped your perception of Singapore's housing landscape today?
It is interesting how many of the policies back then still exist today. Back then, housing was an urgent problem that affected the whole country, so some sacrifices had to be made for the sake of efficiency. But we can definitely afford to be more understanding today. If our population is truly declining, must we insist that two lower-income singles stay together in order to rent a place?  
Part of the backstories of some the characters are taken from Mdm Teo, an elderly lady who has been resettled five times, and most recently, from Dakota Crescent to Cassia. Listening to her current problems really reinforced my belief that we can afford to be more sympathetic.
Furthermore, if we were to look at the current resettlement of Pulau Ubin — if they are not given any compensation, how are the inhabitants supposed to buy or rent HDB flats, especially given that it is much more expensive as compared to the 1960s-1980s? If the Home Ownership Scheme is meant to allow people to feel that they have a stake in the country, surely more can be done in this respect.
The run for First Storeys is far from over, but what was the most interesting encounter you've had with an audience member thus far?
Someone came up to me and asked, "So this is what the residents went through back then?" He did not understand that he was playing the role of the resident. And I replied in the present tense, which seemed to confused him.
Another memorable moment was an audience member claiming that the pigs she has are her family too. As my character, Mr Ng, is a no-nonsense bureaucrat, I replied, "The government sees them as livestock, not family."
HASYIMAH HASSAN  (MDM HIDAYAH, A RESETTLEMENT CLIENT)
Tell us something about your character that you think most audiences wouldn't have had the chance to know or find out.
My character, Hidayah, is very sentimental. She is afraid of 'changes' in her life. She has stories to tell but due to her lack of proficiency in English, it is difficult for her to communicate with others. But she still tries. She feels that people wouldn't go to her and talk but she try to be friendly to talk to people to know what is going on around her constantly.
What was your dramatic process in crafting your character into a believable and interactive one for the purpose of this show?
I did some research about people living in kampongs in Singapore. For example, what they wear, or how they communicate. I also asked my father about his experience living in a kampong, and I heard some interesting stories — like how they used to play in the river, playing hide and seek till late at night, hiding behind the trees. The celebration of Hari Raya was the best and most memorable day for those living in kampongs. So I used this real stories to build my character.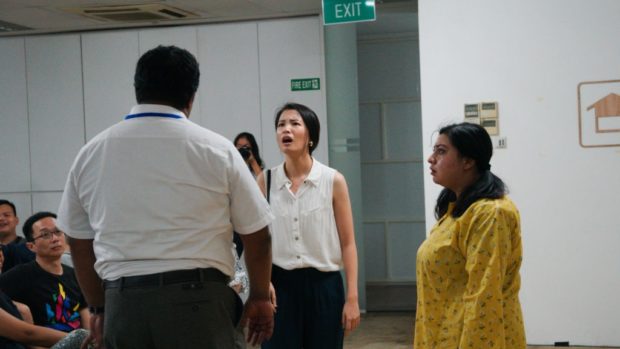 JOCELYN CHNG (STAGE MANAGER)
As a stage manager, tell us about your experience managing this highly-interactive piece in a non-conventional theatre space.
The main responsibilities are not too different from being a stage manager in a conventional theatre piece, just that in this case there are no cues to call like in a conventional theatre. I mostly manage the entrance cues for the cast at the beginning of the piece, which are very fluid and unpredictable depending a lot on the audience traffic as they arrive. So that was stressful at the start, but after the team had the experience of the first few performances, it became easier to manage and also quite fun.
---
Read more about First Storeys here.
Photography credit: Charmaine Chua  
==
Stay updated and social with Popspoken:  Telegram| Facebook | Twitter | Instagram